Shero Shayari
Hey guys welcome to poetry tadka and now you can read shero shayari hindi mai, shero shayari love, shero shayari on dosti, hindi shero shayari, hindi shero shayari in hindi font, shero shayari love sad, shero shayari in english, shero shayari image and many more.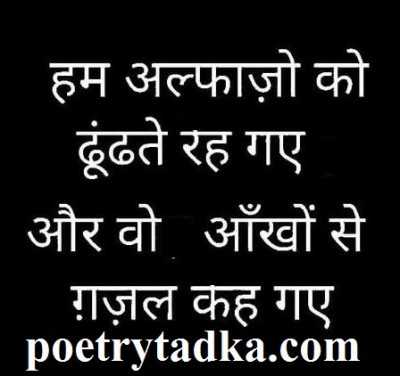 हम अल्फाजो को ढूंढते रह गए
और वो आँखों से ग़ज़ल कह गए !!
रोमांटिक हिंदी शेरो शायरी
We kept looking for Alfz,
And he said ghazal with his eyes !!
Romantic Hindi Shero Shayari.

तुम्हारी खुशियों के ठिकाने बहुत होंगे मगर
मेरी बैचेनियों की वजह सिर्फ तुम हो।
There will be many places for your happiness but
You are the only reason for my restlessness.
बेहिसाब मोहब्बत है मुझे
एक लापरवाह शख्स से
Behisaab mohabbat hai mujhey
Aik laparwaah sakhs se.

सजा कोई भी दो मगर नजर के सामने रहो
क्योंकि तुम्हारे बिना जीने की आदत नहीं मुझे।
Saja koi bhi do magar nazar ke samne raho.
Kyonki tumhare bina jeene ki aadat nahin mujhey.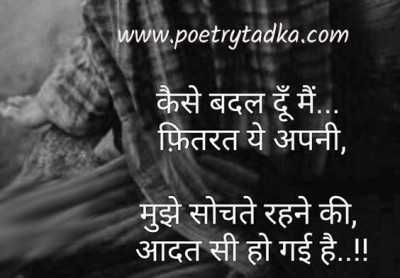 शायर कहकर बदनाम न कर मुझे !
मैं तो रोज़ शाम को दिनभर का हिसाब लिखता हूँ !!
Don't defame me by calling a poet!
I write the account of the whole day in the evening !!

अगर सब कुछ मिल जाये ज़िन्दगी में
तो किसकी तमन्ना करोगे
कुछ अधूरी ख्वाहिशें तो
ज़िन्दगी जीने का मज़ा देती हैं।
Agar sab kuchh mil jaaye zindagi mein
to kisakee tamanna karoge
Kuchh adhooree khwahishen to
zindagi jeene ka maza detee hain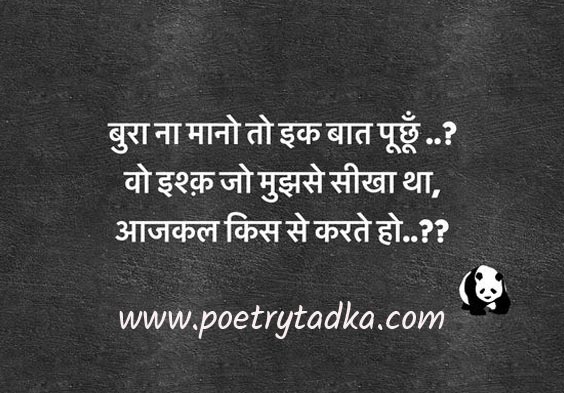 इतना भी गुमान न कर अपनी जीत पर ऐ बेखबर !
शहर में तेरे जीत से ज्यादा चर्चे तो मेरी हार के हैं !!
Don't be so proud of your victory, O ignorant one!
There are more discussions in the city
about my defeat than your victory.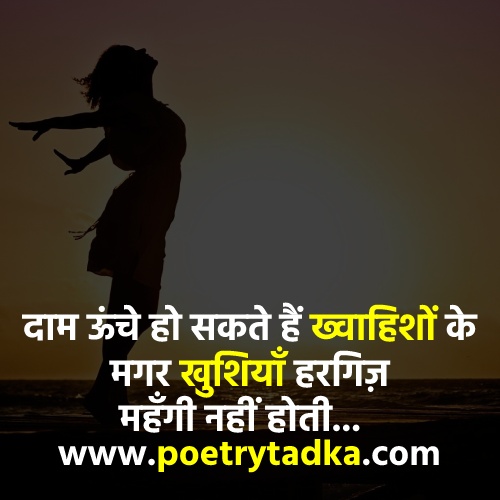 कोई नहीं याद करता वफ़ा करने वालों को,
मेरी मानों बेवफा हो जाओ ज़माना याद रखेगा
No one remembers the loyal ones,
Be unfaithful to me, the world will remember.

दाम ऊंचे हो सकते हैं ख्वाहिशों के
मगर खुशियाँ हरगिज़ महँगी नहीं होती
Prices may be high,
but happiness is not always expensive