Waqt Shayari in Hindi ! Time Shayari ! समय शायरी
Latest Shayari on waqt, time Shayari, Samay Shayari and many more waqt shayari collection at poetry tadka. We hope you guys like these shayari coleection. So go below and read latest waqt shayari in Hindi at your loving website.
अगर जिंदगी में बुरा वक़्त ना आये,
तो हम अपनों में पराये और परायों में
अपने कभी नहीं ढूंढ पाएंगे।
agar jindagi mein bura waqt na aaye,
to ham apnon mein paraaye aur paraayon mein
apne kabhi nahin dhoondh paenge.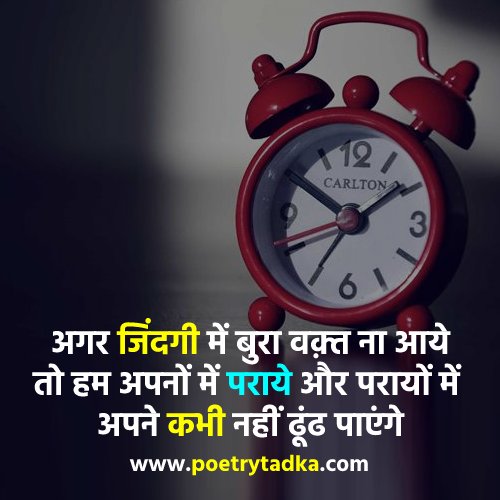 जो लोग मेरे बुरे वक्त में मेरे साथ है
उनके लिए मेरे पास एक ही शब्द है
मेरा अच्छा वक्त सिर्फ तुम्हारे लिए होगा
Jo log mere bure wakt
mein mere saath hai.
Unke liye mere paas
ek hee shabd hai.
Mera achchha wakt sirf
tumhaare liye hoga.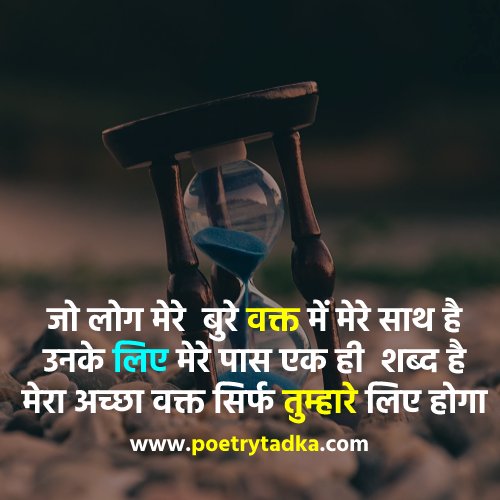 वक्त देखकर साथ छोड देने वालों
एक बात ज़रूर याद रखना
वक्त बदलने में देर नहीं लगती।
Those who leave by seeing the bad time,
Remember one thing for sure.
It doesn't take long for the times to change.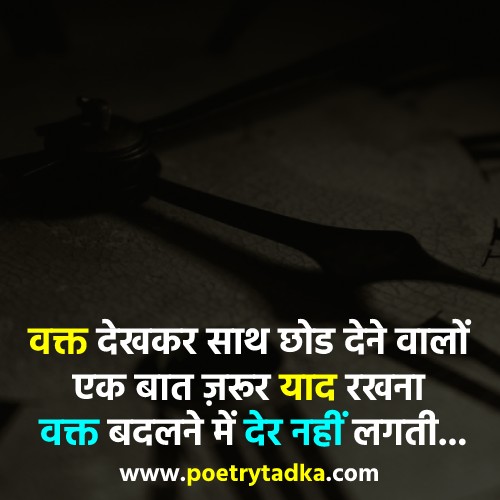 ए बुरे वक़्त, ज़रा अदब से पेश आ.
वक़्त नहीं लगता, वक़्त बदलने में।
O bad Samay, be kind.
It doesn't take Samay
to changing Samay.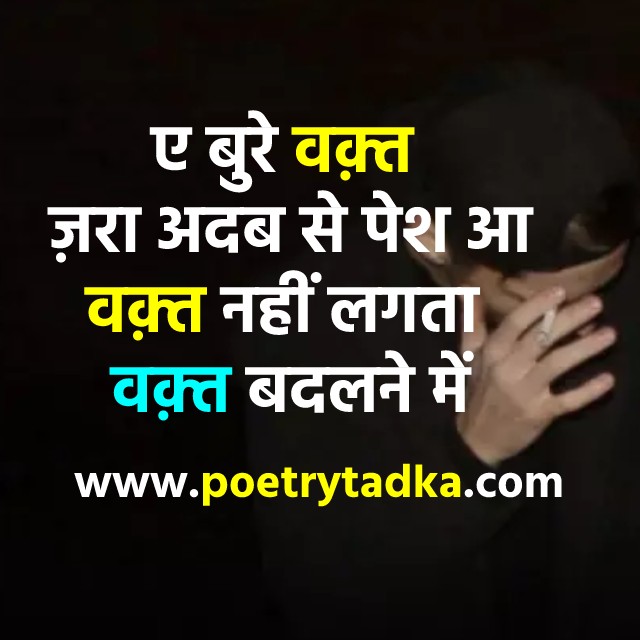 हर वक्त इंसान ही नहीं गलत होता,
कभी कभी वक्त भी गलत होता है।
Not only humans are wrong all the time,
sometimes times are wrong.