Rishte Shayari
Looking family Rishte Shayari in Hindi to express your relation in front of the world. Please be with us and read latest relation shayari. So go below and red रिश्ते शायरी collections.
पहले घर कच्चे, और रिश्ते पक्के हुवा करते थे,
अब घर पक्के और रिश्ते कच्चे हो गए हैं!
Pahle ghar kachche aur rishte pakke hua karte the.
Ab ghar pakke aur rishte kachche ho gaye hain.

दुनिया में सबसे बड़ी जीत
परिवार के साथ जुड़े रहना.
Duniya ki sabse badi jeet
parivar ke sath jude rahna.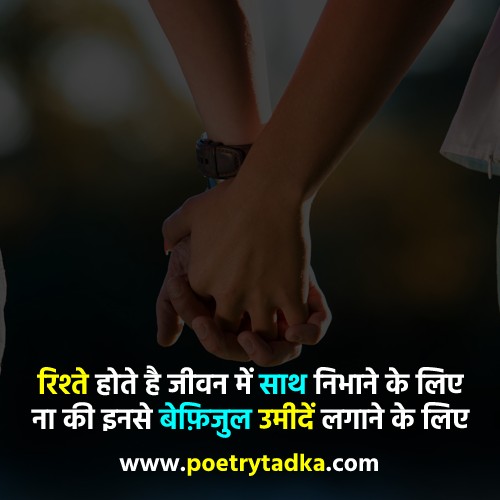 रिश्ते होते है जीवन में
साथ निभाने के लिए.
ना की इनसे बेफ़िजुल
उमीदें लगाने के लिए.

Relationships are there
to live together in life.
Not to put unreasonable
expectations on them.
रिश्ते तो बहोत देखे है हमने मगर
सच्चे रिश्त तो सिर्फ परिवार में ही मिलते
बाकी तो दिखावा है जमाने का।

We have seen many relationships but
true relationship can be found only in family
The rest is just a show of the times.
कभी कभी हम किसी को यादो में पूरी रात जागते रहते है
और उन्हें हमारी कदर तक नही होती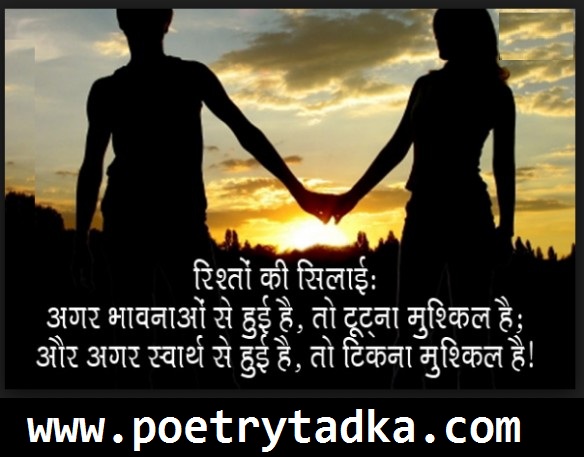 अभी गुमनाम हु तो रिश्ता तोड़ लिया है मुझसे
ग़र कल को मशहूर हो गया तो कोई रिश्ता मत निकाल लेना