मैंने लोगों से मुतासिर होना छोड़ दिया
क्योंकि लोगो वो नहीं होते जो नज़र आते हैं

आजकल लोग वफादार कम
और अदाकार ज़यादह हो गए हैं


mainne logon se mutaasir hona chhod diya
kyonki logo vo nahin hote jo nazar aate hain

aajakal log vaphaadaar kam
aur adaakaar zayaadah ho gae hain

Qaraar milta he nahin tere bagair, hum saj sanwar kar bhi udaas rahte hain. From sad shayari topic to girlfirien at poetry tadka website.

Mai udaas nagri ka akela warish hun, udaas logon se pahchaan hai meri.

Ek Nazar mudkar dekhne wale kya ye khairaat fir nahin hogi.

Ek muddat se mayyassar hi nhin hai... Woh lafz, jis ko "" QARAR " Kehte hain..!!


Sad shayari post karna mera pesha hai aur khush mizaaz rahna mera shauk.
Tum kia dogey taqleef,
kia karogey mujhey udaas arthat sad. Meri muskarahat par sajayen kanp uthti hai.

sad shayari, सैड शायरी
Tarapte hain na roote hain, na hum faryad karte hain
Sanam ki yaad me har dam khuda ko yaad karte hain

Unhin ke ishq me hum naala-o-faryaad karte hain
Elaahi dekhiye kis din hame wo yaad karte hain

Shab-e-faraaq me kia kia saanp lehraate hain seene pe
Tumhari kakul-e-peechan ko jab hum yaad karte hain

Sad Shayari, Sad Shayari in hindi, सैड शायरी
sad shayari, सैड शायरी
Badalna Chahte ho na.....?
Badal Jaao
Meri Hadd se nikalna hai...??
Nikal Jao
Magar Thahro
Zara thahro
Agar youn door jakar bhi
kahin par chain na aaya
Hamari yaad me gar dil
kisi ka ho nahin paya
to fir kis tum tarah wapas
hamare paas aaoge
Agar wapas bhi aana hai
to jana kis liye hai fir
Tumhe samjha raha hun main
sanbhal jao
Agar fir bhi badalna hai
meri had se nikalna hai
badal jaoooo
suno tum beshak badal jaoooo
Sad Shayari, Sad Shayari in hindi, सैड शायरी
Jaate huye jee bhar ke usey dekh to lun main...
Aye aankhiyan zara thara tujhey rone ki padi hai
Separation of two love sad shayari of the day at poetry tadka. Hindi Sad Shayari, Sad Shayari in hindi, सैड शायरी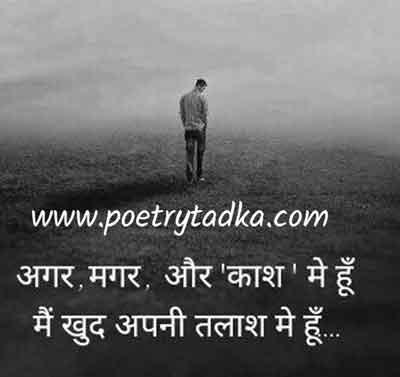 sad shayari, सैड शायरी

Rakhte nahin khyaal bhi apna tere liye..
Hum bey khyaal log hain kuch to khyaal to kar.

Ab kisi aankh ka jaadun nahin chalta mukhpar
Wo nazar bhool gai hai mujhey paththar karke

Read unlimited Sad Shayari and download Sad Shayari images in hindi fonts from सैड शायरी page of poetry tadka website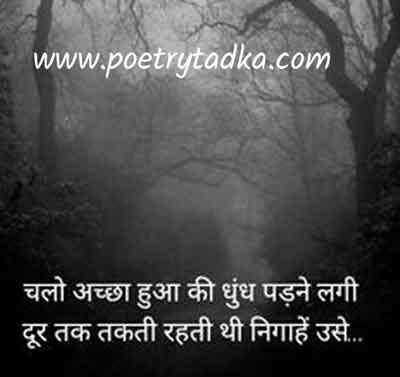 Ye jo tum nazar andaaz kar rahe ho
Khamoosh hun andha nahin
sad shayari, सैड शायरी

Kho ja jaoun kahin jamaane me... Mere haathon me apna haath rahne de.
Sad Shayari, Sad Shayari in hindi, सैड शायरी
अब तो आदत बन चुकी है,
तुम दर्द दो और हम मुस्कुराएंगे

sad shayari, सैड शायरी

Kia khabar ab wo kahan rahta hai
Khush rahe yaar jahan rahta hai

Kis zzazizi se lo mujhey mangte rahe
Dil tha ke ek sakhs ki zidd par ada raha

Sad Shayari, Sad Shayari in hindi, सैड शायरी

Kisi ne bharosa toda to kisi ne dil
Aur logon ko lagta hai bahot badal gaye hain hum

Hum apni dairy me jane jana tumhari furqaten likha karnegey
Kahan ho, kis tarah ho, kiske sang ho aksar chand se poocha karengey..

Red more sad shayari collections from 2nd page of poetry tadka website.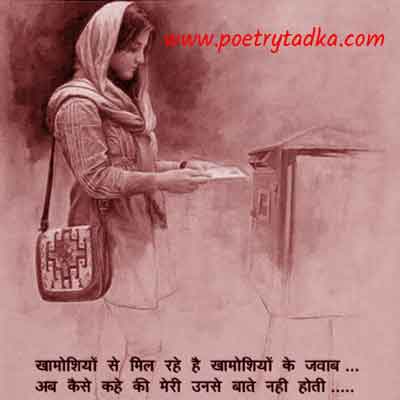 sad shayari, सैड शायरी
Main Janti hun kahan tak udaan hai uski...
Ye.. mere hathon se nikla hua parinda hai

Main tum aur barish Sad Shayari, Sad Shayari in hindi, सैड शायरी
Rota to hoga khud bhi barish ko dekh dekh
Aankhon ko jisne bakhsi hai barsaat doshton


ये जो हम-दर्द मिलते है न यकीन मानों उन्हीं से दर्द मिलते हैं.

sad shayari, सैड शायरी

Ab youn hee khamoosh nahin hun mai
Apni khamooshiyon ko jalaya hai

Waqt ne khatam kar diye sab waseele shauk ke
dil tha ulat palat gaya aankh thi bujh bujha gai

Read all in one Sad Shayari, Sad Shayari in hindi, सैड शायरी
If you looking more 2 line sad shayari, sad shayari in hindi for girlfriend, boyfriend and zindagi sad shayari and pyar ka dard sad shayari with images please do visit next page of poetry tadka website.