Sad Shayari
संसार में कौन है जो सुखी है, सब दुखी हैं। कोई अपने दुःख से दुखी है तो कोई दूसरों के सुख के दुखी है 😔 . Sad Shayari is that the expression of your sorrows and grievances that each soul experiences in their everyday life. The most effective issue to specific your true sad feelings is to concentrate. We have posted some specific sad shayari that you simply find our at this page. So visit daily based for read latest Sad Shayari from Poetry Tadka website and you can't stop cry after reading these 2 line Sad Shayari in Hindi. And one thing to say, you can filter the world, but you can't find out kind of सैड शायरी हिंदी में लिखी हुई that posted at Poetry Tadka website.


New Sad Shayari
जब थोड़ा सा मुस्कुराने लगते हैं, हादसे फिर से सर उठाने लगते हैं 🥺🥺
तुम्हारे साथ जीने की तमन्ना ने तुम्हारे बगैर रहने पर मजबूर कर दिया 🥺
वो जिसके बिना 🥺 एक दिन नही गुजरता था ना यारों अब से उसके बगैर पूरी जिन्दगी गुजारनी है 🥺
मेरी गलती बस यही थी के मैंने हर किसी को खुद से ज़्यादा जरूरी समझा।
दुख इस बात का नहीं, कि तुम मेरी ना हुई.
दुख इस बात का है, तुम यादों से ना गयी !!
Dukh is baat ka nahin, ki tum meri na hui.
Dukh is baat ka hai, ki tum yaadon se na gayi.

तेरे बदलने का दुःख नहीं है मुझको
मैं तो अपने यकीन पर शर्मिंदा हूं
Tere badalne ka dukh nahin hai mujhko
main to apne yaqeen par sharminda hun.

कितना पागल है ये दिल कैसे समझाऊँ इसे,
कि जिसे तू खोना नही चाहता है,
वो तेरा होना नही चाहता है।
Kitna pagal hai ye dil kaise samjaoun isey,
ki jisey too khona nahin chahta
wo tera hona nahin chahta.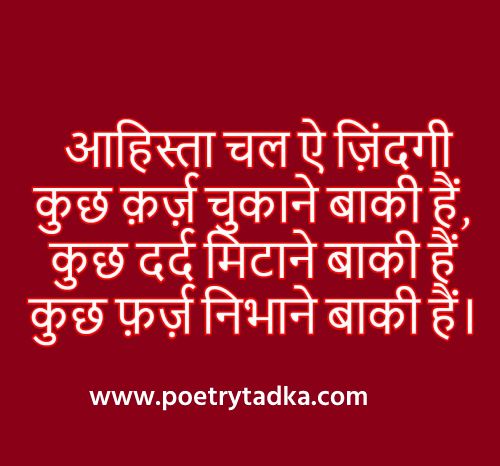 तू किसी और को मयस्सर है,
इससे बढ़कर सजा क्या होगी।
Too kisee aur ko mayassar hai,
Isase badhakar saja kya hogee.

वक़्त से पहले बहोत हादसों से लड़ा हूँ,
मै अपनी उम्र से कई साल बड़ा हूँ।
Vaqt se pahale bahot haadason se lada hoon,
Mai apanee umr se kaee saal bada hoon.

कितने दुख देते हो,
थक तो नहीं जाते।
kitane dukh dete ho,
thak to nahin jaate.

तेरे बाद मैंने मोहब्बत को,
जब भी लिखा गुनाह लिखा।
Tere baad mainne mohabbat ko,
Jab bhi likha gunaah likha.

चेहरों को बेनक़ाब करने में,
ए बुरे वक़्त तेरा हज़ार बार शुक्रिया।
Cheharon ko benaqaab karane mein,
E bure waqt tera hazaar baar shukriya.

बहुत दर्द देती हैं तेरी यादें
सो जाऊं तो जगा देती हैं
जग जाऊं तो रुला देती हैं
Bahot dard deti hain teri yaden
so jaoun to jaga deti hain
jag jaoun to rula deti hain.
मुझे मुर्दा समझकर रोले,
अब अगर मै ज़िंदह हूँ,
तो तेरे लिए नहीं हूँ।
Mujhe murda samajhakar role,
Ab agar mai zindah hoon,
To tere lie nahin hoon.

लगता है इस बादल का भी दिल टूटा है,
बोलता कुछ भी नहीं बस रोये जा रहा है।
Lagta hai is baadal ka bhee dil toota hai,
Bolata kuchh bhee nahin bas roye ja raha hai.

काश चाहने वाले
हमेशा चाहने वाले ही रहते!!!
पर लोग अक्सर बदल जाते है
मोहब्बत हो जाने के बाद
क्या करोगे अब मेरे पास आकर
खो दिया तुमने बार बार आज़मा कर
Kya karoge ab mere pas aakar
kho diya tumne baar baar aajmakar.

इश्क़ अधूरा रहा तो क्या हुआ,
हम तो पूरे बर्बाद हुए।
Ishq adhoora raha to kya hua,
Ham to poore barbaad hue.

अल्फ़ाज़ सिर्फ चुभते हैं,
खामोशियां मार देते हैं।
Alfaaz sirph chubhate hain,
Khaamoshiyaan maar dete hain.