Friendship Shayari
Friendship Shayari in Hindi is a great choice to express your feeling with best friend. Now days social media is good platform to share best friend Shayari in Hindi to friends. And poetry Tadka has earn good reputation for best friend ki Shayari in Hindi. फ्रेंड की फ्रेंडशिप से बढ़कर ही शायद ही इस दुनिया में कुछ अनमोल चीज है ! दोस्ती दुनिया का सबसे खूबसूरत रिश्ता होता है . कितनी छोटी सी दुनिया है मेरी एक में हूँ और एक दोस्ती तेरी ।
दावे मुझे दोस्ती के नहीं आते यार,
एक जान है जब दिल चाहे मांग लेना।
Dawe mujhe dosti ke nahin aate yaar,
ek jaan hai jab dil chaahe maang lena.

यहाँ क़दम क़दम पर नए फनकार मिलते हैं,
लेकिन क़िस्मत वालों को सच्चे यार मिलते हैं।
Yahaan qadam qadam par naye fankaar milate hain,
lekin qismat vaalon ko sachche yaar milate hain.
Best friend Shayari and Friendship Shayari.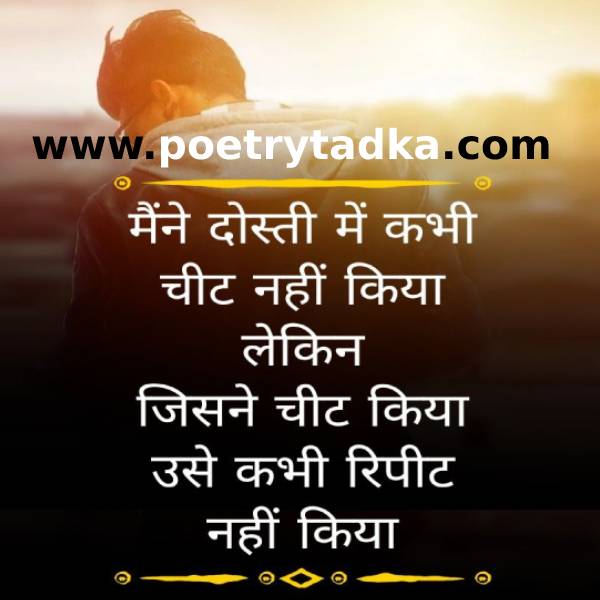 सबने कहा दोस्ती एक दर्द है, हमने कहा क़ुबूल है।
सबने कहा इस दर्द क साथ जी नहीं पाओगे,
हमने कहा तेरी दोस्ती के साथ मरना भी क़ुबूल है।
sabane kaha dosti ek dard hai,
hamane kaha qubool hai.
sabane kaha is dard ka saath jee nahin paoge,
hamane kaha teree dosti ke saath marana bhee qubool hai.

शर्तें लगाई नहीं जाती दोस्ती के साथ,
कीजिये मुझे क़ुबूल मेरी हर कमी के साथ।
sharten lagaee nahin jaatee dostee ke saath,
keejiye mujhe qubool meree har kamee ke saath.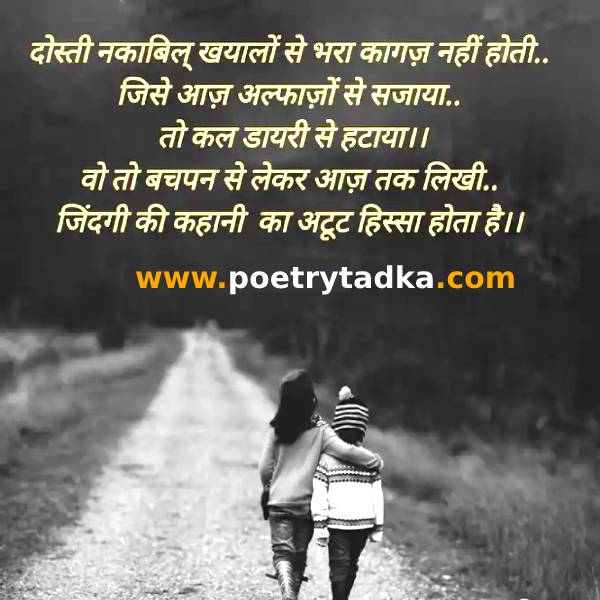 दम नहीं किसी में की मिटा सके हमारी दोस्ती को,
जंग तलवारों को लगता है जिगरी यार को नहीं।
dam nahin kisee mein kee mita sake hamaaree dostee ko,
jang talavaaron ko lagata hai jigaree yaar ko nahin.

दिल से ख्याल-ए-दोस्त भुलाया न जायेगा,
सीने में दाग है की मिटाया न जायेगा।
dil se khyaal-e-dost bhulaaya na jaayega,
seene mein daag hai kee mitaaya na jaayega.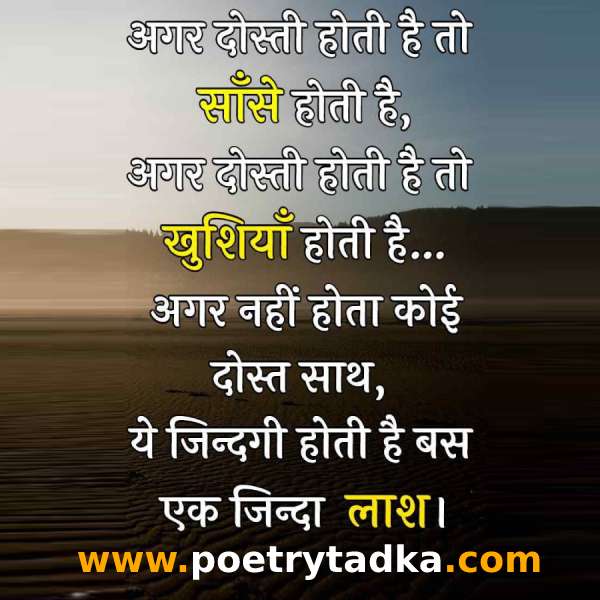 किसी से रोज मिलकर बातें करना दोस्ती नहीं,
बल्कि किसी से बिछड़ कर याद रखना दोस्ती है।
kisee se roj milakar baaten karana dostee nahin,
balki kisee se bichhad kar yaad rakhana dostee hai.

जो दिल को अच्छा लगता है उसी को दोस्त कहता हूँ,
मुनाफ़िक़ बनकर रिश्तों की सियासत मैं नहीं करता।
jo dil ko achchha lagata hai usee ko dost kahata hoon,
munaafiq banakar rishton kee siyaasat main nahin karata.

Attitude Friendship Shayari in Hindi.
मुलाक़ातें ज़रूरी है अगर दोस्ती निभानी है साक़ी,
लगाकर भूल जाने से तो अक्सर पौधे सूख जाते हैं।
mulaaqaaten zarooree hai agar dostee nibhaanee hai saaqee,
lagaakar bhool jaane se to aksar paudhe sookh jaate hain.

इरादा तो दोस्ती का था,
लेकिन मोहब्बत हो गयी।
iraada to dostee ka tha,
lekin mohabbat ho gayee.

Hey friendship shayari lovers If you would like read more collection of Friendship Shayari in Hindi please visit next page of this post.