kabhi kisi ke zajbaato ka majaak na banaana
na jaane kaun sa dard lekar koy jee raha hai

Dosti Shayari And Friendship Shayari

एक दोस्त ने दोस्त से कहा
फ्रेंडशिप का मतलब क्या होता है
दोस्त ने मुस्कराकर कहा
पागल एक दोस्त हे तो है
जिसका कोई मतलब नहीं होता
और जहाँ मतलब हो
वहां दोस्त नहीं होता
ek dost ne dost se kaha
friendship ka matalab kya hota hai
dost ne muskaraakar kaha
paagal ek friend he to hai
jisaka koee matalab nahin hota
aur jahaan matalab ho
vahaan dost nahin hota
dost ek aisa chor hota hai jo aankhon se aansoo chehare se pareshaani
dil se maayooshi zindagi se dard aur bas chale to to haatho ke lakeeron se maut tak chura le

Dosti Shayari, Friendship Shayari

जो तुम्हे ख़ुशी में याद आये तो
समझो तुम उससे मोहब्बत करते हो
और जो तुमको गम में याद आये तो
समझो वो तुमसे मोहब्बत करता है
jo tumhe khushee mein yaad aaye to
samajho tum usase mohabbat karate ho
aur jo tumako gam mein yaad aaye to
samajho vo tumase mohabbat karata hai

ham to bichhade they tumako apana ahsaas dilaane ke lie
magar toone to mere bina hee zeena seekh liya

Dosti Shayari, Friendship Shayari

न जाने सालों बाद कैसा समां होगा,
हम सब दोस्तों में से कौन कहा होगा,
फिर अगर मिलना होगा तो मिलेंगे ख्वाबों मे,
जैसे सूखे गुलाब मिलते है किताबों मे

Dosti Shayari और Friendship Shayari

Na jane saloon baad kaisa sama hoga,
Hum sab doston mei se kaun kaha hoga,
Phir agar milna hoga to milenge khwabon mai,
Jaise sukhe gulab milte hai kitabon mai.

बहुत खूबसूरत होते है ऐसे रिश्ते
जिन पर कोई हक भी ना हो
और कोई शक भी न हो

bahut khoobasoorat hote hai aise rishte
jin par koy haq bhi na ho
aur koy shak bhi na ho

Dosti Shayari, Friendship Shayari

एक जैसे दोस्त सारे नही होते,
कुछ हमारे होकर भी हमारे नहीं होते,
आपसे दोस्ती करने के बाद महसूस हुआ,
कौन कहता है तारे जमीन पर' नहीं होते

Dosti Shayari, Friendship Shayari

Ek jaise dost sare nahi hote,
Kuch hamare hokar bhi hamare nahi hote,
Aapse dosti karne ke baad mehsus hua,
Kaun kehta hai 'taare zamin par' nahi hote


छू ले आसमान ज़मीन की तलाश ना कर
जी ले ज़िंदगी खुशी की तलाश ना कर
तकदीर बदल जाएगी खुद ही मेरे दोस्त
मुस्कुराना सीख ले वजह की तलाश ना कर

chhoo le aasamaan zameen ki talaash na kar
jee le zindagi khushi ki talaash na kar
takadeer badal jaegi khud hi mere dost
muskuraana seekh le vajah ki talaash na kar

Dosti Shayari, Friendship Shayari

Dosti Shayari, Friendship Shayari

Mil jati hai kitno ko khushi,
Mit jate hain kitno ke gum,
Message isliye bhejte hai hum,
Taki na milne se bhi apni dosti na ho kam.


chu le aasmaan Friendship shayari in hindi Friendship Shayari in Hindi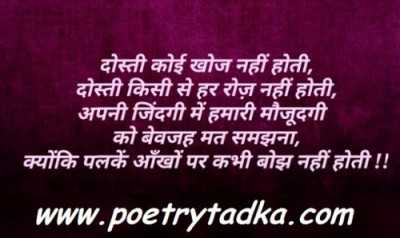 dosti vo nahin jo jaan deti hai,
dosti vo bhi nahin jo muskaan deti hai,
are sachchi dosti to vo hai..
jo paanee mein gira hua aansu bhi pahchaan leti hai
Friendship Shayari, Dosti Shayari

अपनी जिंदगी में ऐसे दोस्त को शामिल करो
जो आइना और साया बनकर आपके साथ रहे
क्योंकि आइना झूठ नहीं बोलता
और साया साथ नहीं छोड़ता
apanee jindagee mein aise dost ko shaamil karo
jo aaina aur saaya banakar aapake saath rahe
kyonki aaina jhooth nahin bolata
aur saaya saath nahin chhodata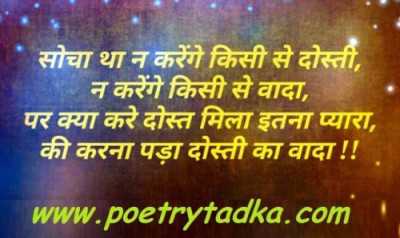 Friendship Shayari, Dosti Shayari

unake dedaar ke lie dil tadapata hai
unake intajaar mein dil tarasata hai
kya kahen is kambakht dil ko
apana ho kar kisi aur ke lie dhadakata hai

फ्रेंडशिप की कोई वजह नहीं होती
फ्रेंडशिप सजा नहीं होती
फ्रेंडशिप में होती है ईमानदारी
फ्रेंडशिप में दुन्यादारी नहीं होती
दोस्त जान से प्यारा होता है
दोस्त से जान प्यारी नहीं होती
Friendship kee koee vajah nahin hotee
Friendship saja nahin hotee
Friendship mein hotee hai eemaanadaaree
Friendship mein dunyaadaaree nahin hotee
Friendship jaan se pyaara hota hai
dost se jaan pyaaree nahin hotee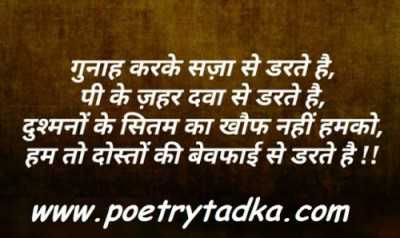 kamiyaan to mujhamen bhi bahut hai,par main beemaan nahin
main sabako apna manta hun sochta faiyadah ya nuqasaan nahin
ek shauk hai khaamoshi se jeene ka,koy aur mujhamen gumaan nahin
chhod doon bure waqt mein dosto ka saath vaisa to main insaan nahin

फ्रेंडशिप का रिश्ता एक परिंदा की तरह होता है
सख्ती से पकड़ोगे तो मर जायेगा
नरमी से पकड़ोगे तो उड़ जायेगा
और मोहब्बत से पकड़ोगे तो
साडी उम्र आपके साथ रहेगा
dostee ka rishta ek parinde kee tarah hota hai
sakhtee se pakadoge to mar jaayega
naramee se pakadoge to ud jaayega
aur mohabbat se pakadoge to
saadee umr aapake saath rahega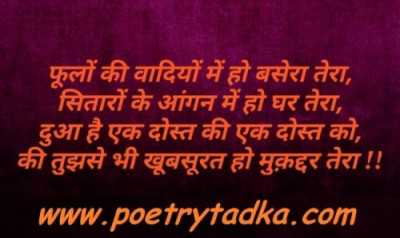 ऐ दोस्त जरा सभल कर चलना 
यहा ऐसे बहुत लोग मिलेंगे 
जो सिर्फ वक्त गुजारने की लिए मिलेंगे

aye dost jara sabhal kar chalana
yaha aise bahut log milenge
jo sirph waqt gujaarane kee lie milenge

Friendship Shayari, Dosti Shayari

mohabbat kya hai mat poch ise bus raaz rehne do
ye aisa lafz hai jis ki wajahat door nahi hoti
niklo ge to har mod par mil jayegi lashen
dhundo ge to is saher main koi katil nahi milega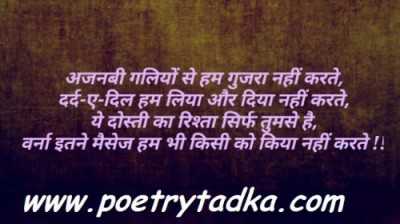 udaas nahin hona, kyonki main saath hoon
saamane na sahee par aas-paas hoon
palkon ko band kar jab bhi dil mein dekhogey
main har pal tumhaare saath hoon
Friendship Shayari or Dosti Shayari

हर नज़र को एक नज़र की तलाश है
हर चेहरे में कुछ खास है
आपसे दोस्ती हम यू ही नहीं कर बैठे
क्या करें हमारी पसंद हे कुछ खास है
har nazar ko ek nazar kee talaash hai
har chehare mein kuchh khaas hai
aapase dostee ham yoo hee nahin kar baithe
kya karen hamaaree pasand he kuchh khaas hai

If you would like read more collection of Friendship Shayari or Dosti Shayari in Hindi please visit next page of this post.