Dil Shayari
Welcome to Dil Shayari in Hindi ! दिल शायरी page by poetry tadka website. Dil Shayari, दिल शायरी, दिल शायरी हिन्दी में, Shayari on Dil in Hindi and many more Dil Shayari at poetry tadka.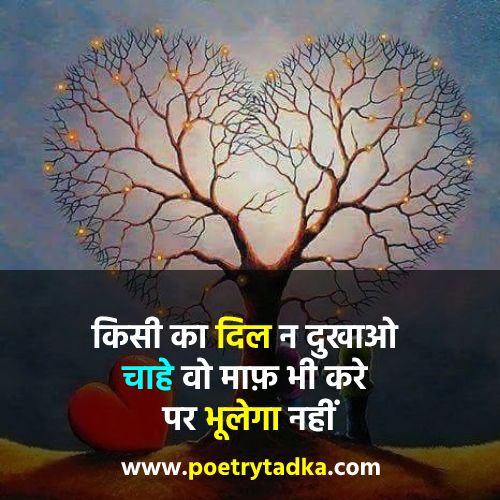 किसी का दिल न दुखाओ
चाहे वो माफ़ भी करे
पर भूलेगा नहीं
Kisi ka dil na dukhao
chahe wo maaf bhi kare
par bhoolega nahin.

जरूरी नहीं दिल को चुभे कोई बात ही
बात ना होना भी दिल को चुभता है.
Zaroori nahin ki dil ko chube koi baat
baat na hona bhi dil ko chubhta hai.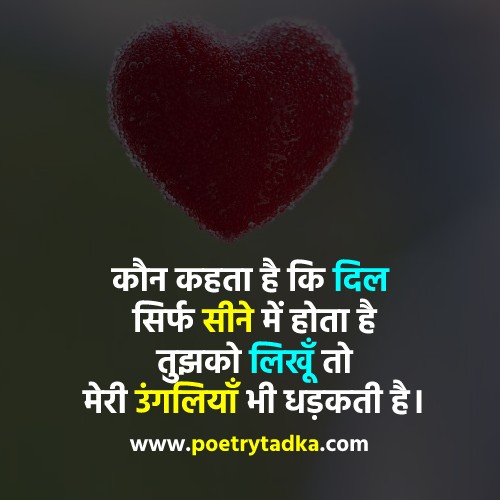 कौन कहता है कि दिल
सिर्फ सीने में होता है,
तुझको लिखूँ तो
मेरी उंगलियाँ भी धड़कती है।

Kaun kahata hai ki dil
sirph sine mein hota hai.
Tujhako likhoon to meri
ungaliyaan bhi dhadakati hai.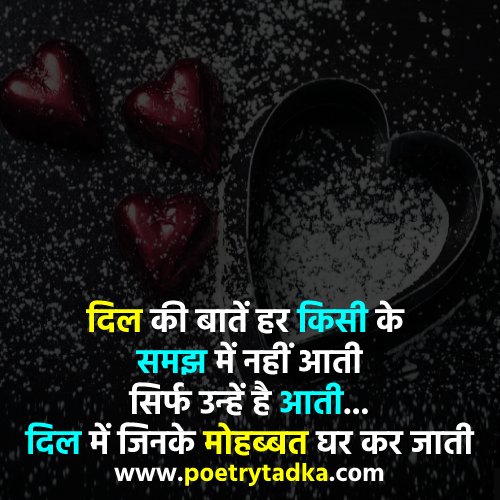 दिल की बातें हर किसी के,
समझ में नहीं आती।
सिर्फ उन्हें है आती,
दिल में जिनके मोहब्बत घर कर जाती।

Dil ki baaten har kisi ke,
samajh mein nahin aati.
Sirph unhen hai aati,
dil mein jinake mohabbat
ghar kar jaati.
दिल भी वही है धड़कन भी वही हैं

बस सुनने वाले की नीयत बदल गई है
दिल मेरा भी कम खुबसुरत तो न था"""

मगर मरने वाले हर बार सूरत पे ही मरे... :)