Lajawab Shayari
लाजवाब शायरी is one more popular topic of poetry tadka website. And now you can read latest Lajawab Shayari in Hindi at this page. So we hope you guys like our Lajawab Status in Hindi.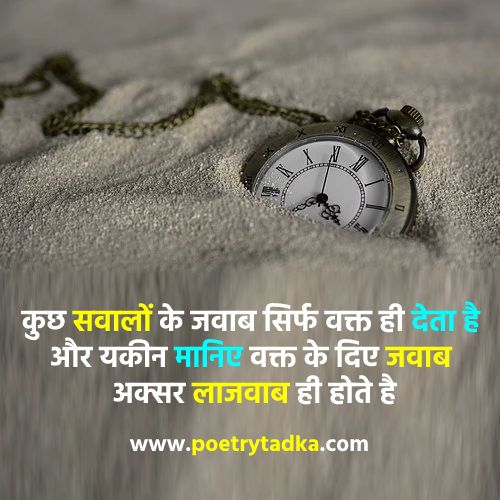 कुछ सवालों के जवाब सिर्फ वक्त ही देता है
और यकीन मानिए वक्त के दिए जवाब
अक्सर लाजवाब ही होते है

Kuch sawalon ke jawab sirf waqt he dta hai
aur yaqeeb maniye waqt ke diye jawab
aksar lajawab he hote hain.
जो नहीं है हमारे पास वो ख्वाब हैं
पर जो है हमारे पास
वो लाजवाब है...!!

Jo nahin hai hamaare paas
vo khvaab hain.
Par jo hai hamaare paas
vo Lajawab hai...!!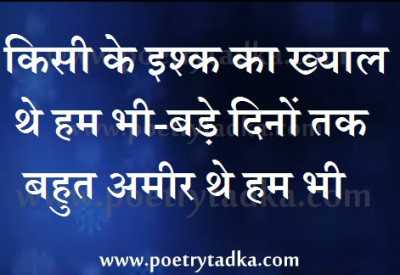 किसी के इश्क का ख्याल थे हम भी

बड़े दिनों तक बहुत अमीर थे हम भी
तेरे खुशियों के खातिर हम अपनी जान गवा देते

काश तुम इतनी बात समझ लेते हमे अपना बना लेते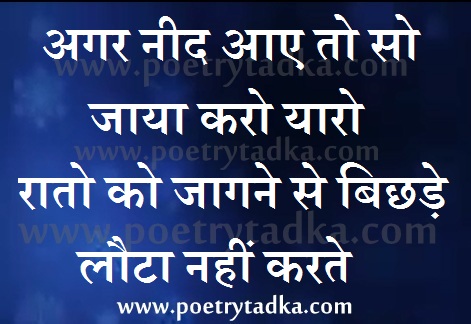 अगर नीद आए तो सो जाया करो यारो

रातो को जागने से बिछड़े लौटा नहीं करते