Shayari in Hindi
Shayari is such a medium through which we can express our heart very easily. And the biggest thing is that Poetry Tadka Hindi Shayri has made a different identity in the world for Shayari in Hindi. And we hope you like this Hindi Shayari collection too. Now days social media is is great platform to share our feeling front of any one to any spacial moment. Hindi Shayari is a best way to express your feeling to other. And now at poetry Tadka you can read a huge collection of like Sad Hindi Shayari, Friendship, Romantic, Life Shayri In Hindi and many more.

तुम शायरी की बात करती हो,
मैं तो बातें भी कमाल करता हूँ।
Tum Shayari ki baat karti ho,
Main to baten bhi kamaal karata hoon.

As you know this website has achieved a lot of love and support from Shayari lovers. If someone talks about शायरी , then immediately the image of Poetry Tadka comes in the mind. This is because we understand you and put Hindi Shayari according to you. Hope you like this हिंदी शायरी .
ना जाने क्यों तुझे देखने के बाद भी,
तुझे ही देखने की चाहत रहती है!
Na jane kyon tujhey dekhne ke baad bhi,
tujhey he dekhne ki chahat rahti hai.

मैं आईनों से मायूस लौट आया था,
मगर किसी ने बताया बहोत हसीन हूँ मैं।
Main aaeenon se maayoos laut aaya tha,
magar kisee ne bataaya bahot haseen hoon main.

कहते थे तुझको लोग मसीहा मग़र यहां,
एक शख्स मर गया तुझे देखने के बाद।
Kahate the tujhako log maseeha magar yahaan,
ek shakhs mar gaya tujhe dekhane ke baad.

❤❤ Hindi shayari ❤❤.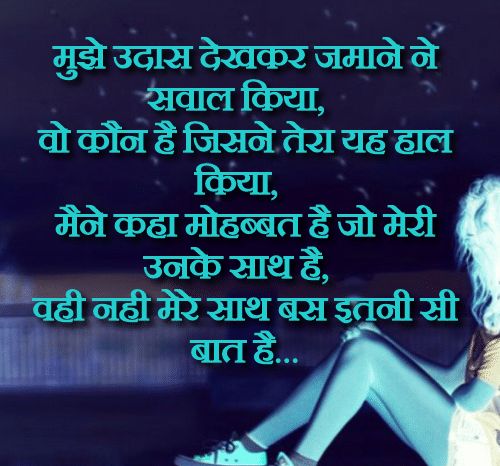 वो एक शख्स समझता था मुझे,
फिर वो भी समझदार हो गया।
Vo ek shakhs samajhata tha mujhe,
phir vo bhi samajhadaar ho gaya.

ख़्वाहिश-ए ज़िंदगी बस इतनी सी है अब हमारी,
की तेरा साथ हो और ज़िन्दगी कभी ख़त्म न हो।
Zindagi Ki Khwahish bas itani si hai ab hamaari,
ki tera saath ho aur zindagi kabhi khatm na ho.

हिंदी शायरी of the day 2022.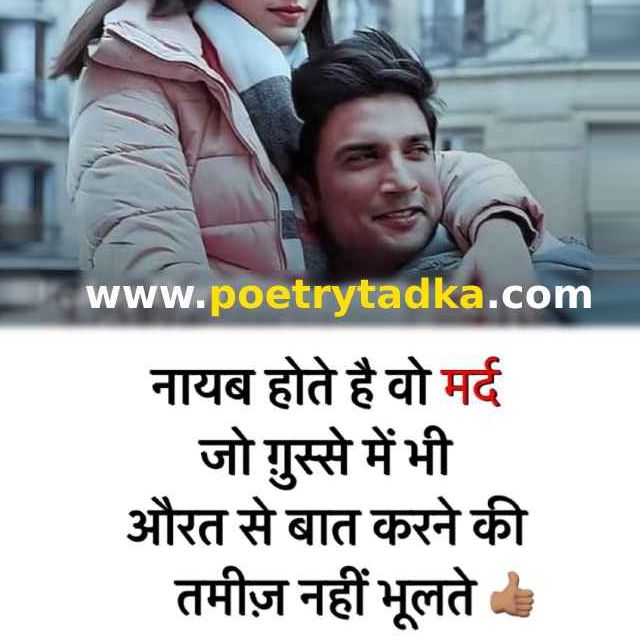 मैं हूँ और साथ तेरी बिखरी हुई यादें हैं,
क्या इसी चीज़ को कहते हैं गुज़ारा होना।
वो मेरे बाद भी खुश होगा किसी और के साथ,
मीठे चश्मों को कहाँ आता है खरा होना।
Main hoon aur saath teree bikharee huee yaaden hain,
kya isee cheez ko kahate hain guzaara hona.
Vo mere baad bhee khush hoga kisee aur ke saath,
meethe chashmon ko kahaan aata hai khara hona.

New Hindi Shayari. बेहतरीन शायरी इन हिंदी। हिंदी शायरी लिखा हुआ चाहिए डाउनलोड।

ये जो तुम हमारी बाते हमारी
शायरी पढ़ कर मुस्कुराते हो
देखना एक दिन दिल में समा जायेंगे हम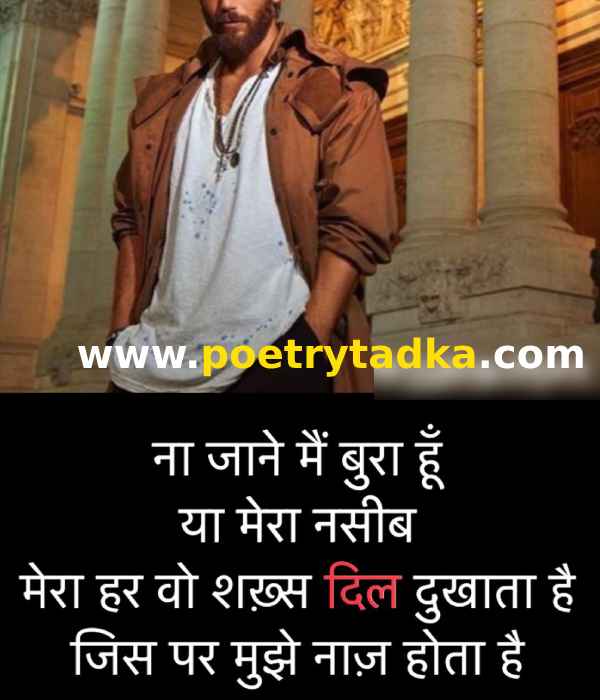 कुछ मजबूरियां हैं वरना,
कहाँ रहा जाता है तेरे बिन।
Kuchh majabooriyaan hain varana,
kahaan raha jaata hai tere bin.

दिल की जिद हो तुम वरना,
इन आँखों ने बहुत लोग देखे हैं।
Dil kee jid ho tum varana,
in aankhon ne bahut log dekhe hain.

हिंदी शायरी लिखा हुआ। Read Best Shayri in Hindi.
तुमने देखा ही नहीं हमसे बनाके वरना,
तुम्हे वो मक़ाम देते की ज़माना देखता।
Tumane dekha hee nahin hamase banaake varana,
tumhe vo maqaam dete kee zamaana dekhata.

किसी दिन हम न होंगे,
और हमारी मुस्कुराती तस्वीर रह जाएगी।
Kisee din ham na honge,
aur hamaaree muskuraatee tasveer rah jaegee.

Wait wait there is not ending of Hindi Shayari collection. Please go on below pagination and read latest Poetry Tadka shayari in Hindi.