Shayari Sangrah
Welcome to Shayari Sangrah | शायरी सुंग्रह | शायरी संग्रह website page by poetry tadka. at this page read and wownload latest Shayari Sangrah like शायरी संग्रह इमेज, शायरी संग्रह दिल से and many more शायरी संग्रह at poetry tadka.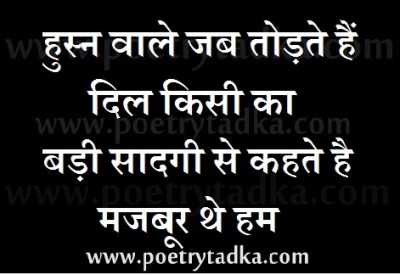 हुस्न वाले जब तोड़ते हैं दिल किसी का,
बड़ी सादगी से कहते है मजबूर थे हम
Husn wale jab todte hain dil kisi ka
badi sadgi se kahte hain mazboor the ham.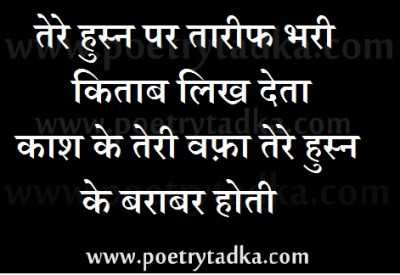 तेरे हुस्न पर तारीफ भरी किताब लिख देता

काश के तेरी वफ़ा तेरे हुस्न के बराबर होती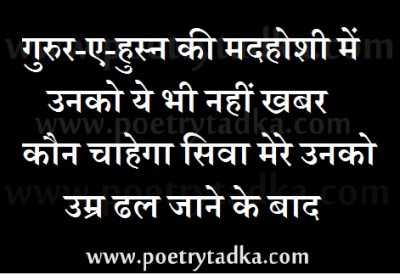 गुरुर-ए-हुस्न की मदहोशी में, उनको ये भी नहीं खबर

कौन चाहेगा सिवा मेरे, उनको उम्र ढल जाने के बाद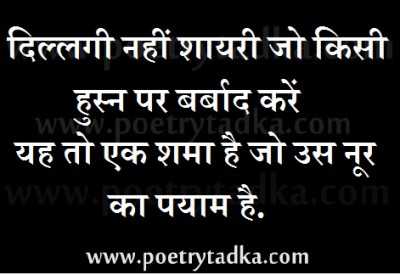 दिल्लगी नहीं शायरी जो किसी हुस्न पर बर्बाद करें

यह तो एक शमा है जो उस नूर का पयाम है.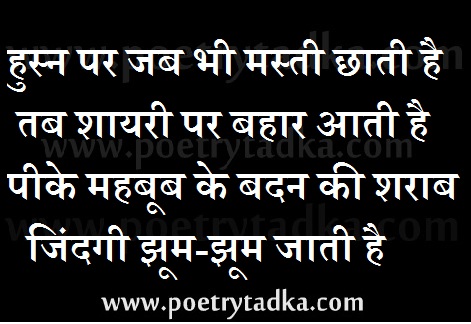 हुस्न पर जब भी मस्ती छाती है,तब शायरी पर बहार आती है

पीके महबूब के बदन की शराब, जिंदगी झूम-झूम जाती है