Love Shayari
Last Updated
Latest collection of Love Shayari in Hindi for 2022. Love Shayari for great bond like husband, wife and girlfriend, boyfriend in Hindi at poetrytadka. And if you are looking shayari on another category please click from the tag menu and read a huge collection of Love Shayari in Hindi. लव शायरी हिंदी में लिखी हुई by poetry tadka.

तुझे देखने के सौ बहाने थे,
हाय वो भी क्या ज़माने थे।
Tujhe dekhane ke sau bahaane the,
Haay vo bhee kya zamaane the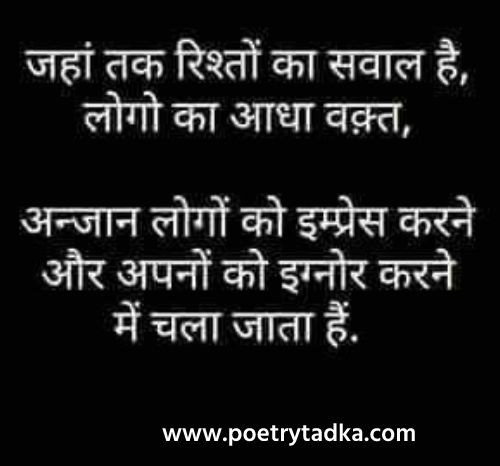 मत रूठा करो मुझसे
अनपढ़ सा हूँ
तेरे सिवा कुछ नहीं आता।
Don't anger to me,
I am like illiterate.
I have nothing except you.
I love you very very much janu.
मेरी एक ही जान है,
और वो भी बहुत ज्यादा शैतान है।
I have only one soul,
and that too is too
much of a Shaitan.
Love you, kiss you,
hug you Meri Sona.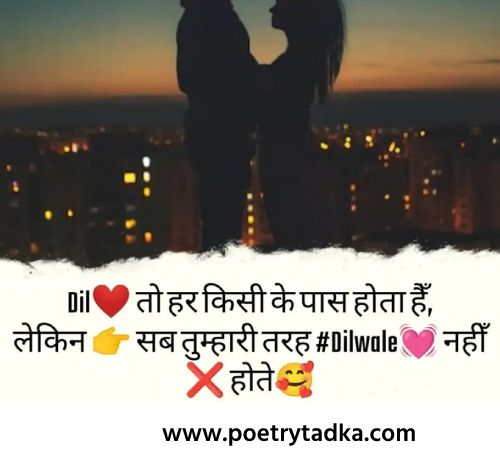 उसको पाने का कहाँ सोचा था,
अच्छा लगा सो मोहब्बत कर ली।
Usako paane ka kahaan socha tha,
Achchha laga so mohabbat kar lee.
एक ख्वाब हकीकत हो जाये,
तेरा साथ मयस्सर हो जाये।
Ek khvaab hakeekat ho jaaye,
Tera saath mayassar ho jaaye.
मैं चाहूँ भी तो वो अल्फ़ाज़ न लिख पाऊँ,
जिसमे बयान हो जाये की कितनी मोहब्बत है तुमसे।
Main chaahoon bhee to vo alfaaz na likh paoon,
Jisame bayaan ho jaaye kee kitanee mohabbat hai tumase.
कितना प्यार करते हैं तुमसे हमें कहना नहीं आता,
बस इतना जानते हैं तुम्हारे बिन रहना नहीं आता।
Kitana pyaar karate hain tumase hamen kahana nahin aata,
Bas itana jaanate hain tumhaare bin rahana nahin aata.
हाथ पकड़ा और तुझे सीने से लगाया,
इतना काफी है या फिर सारा ख्वाब सुनाऊँ।
Haath pakada aur tujhe seene se lagaaya,
Itana kaaphee hai ya phir saara khvaab sunaoon.
वो मेरा सुलझा हुआ समझदार शहजादा,
मैं उसकी बिगड़ी नवाब जादी।
vo mera sulajha hua samajhadaar shahajaada,
main usakee bigadee navaab jaadee.
रब से कुछ और मंगा ही नहीं जाता,
तुम ही तो हो सबकुछ मेरा।
rab se kuchh aur manga hee nahin jaata,
tum hee to ho sabakuchh mera.