Dard Bhari Shayari
Dard Bhari Shayari is a most popular topic of this website. And we would like to continue on top for Dard Shayari. So we are working on update for fresh Dard Bhari Shayari in Hindi. और एक बात और बताना चाहूंगा अगर आप दर्द भरी शायरी खोज रहे हैं तो यहाँ से अच्छी शायरी आपको कहीं नहीं मिलेगी। क्योंकि इस वेबसाइट पर 2022 दर्द शायरी का भण्डार है।

रोज पिलाता हूँ एक जहर का प्याला उसे
एक दर्द जो दिल में है, मरता ही नहीं है।
Roz pilata hun ek jahar ka pyala usey
Aik dard jo dil me hai, marta he nahin.
सबसे ज्यादा दर्द तब होता है
जब हम अपना दर्द किसी को
बता नहीं पाते।

Sabse jyada dard tab hota hai
jab ham apna dard kisi ko
bata nahin paate.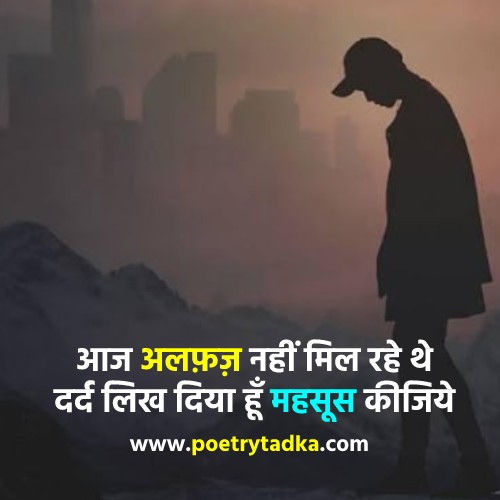 कभी कभी ये क्यों लगता है,
कि तुम मेरी पूरी ज़िन्दगी हो।
और मैं तुम्हारा लम्हा भी नहीं।
kabhee kabhee ye kyon lagata hai,
ki tum meree pooree zindagee ho.
aur main tumhaara lamha bhee nahin.

आज अलफ़ज़ नहीं मिल रहे थे,
दर्द लिख दिया हूँ महसूस कीजिये।
aaj alafaz nahin mil rahe the,
dard likh diya hoon mahasoos keejiye.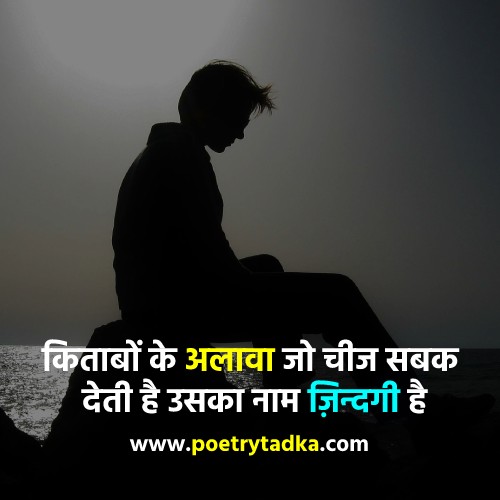 किताबों के अलावा जो चीज सबक देती है,
उसका नाम ज़िन्दगी है।
Kitaabon ke alaava jo cheej sabak detee hai,
usaka naam zindagee hai.

दर्द तो रोज का तमाशा है,
आज तो सदीद है साईं।
Dard to roj ka tamaasha hai,
aaj to sadeed hai saeen.
हम अपने दर्द का शिकवा तुमसे कैसे करें,
मोहब्बत तो हमने की है तुमतो बेक़ुसूर हो।
Ham apane dard ka shikava tumase kaise karen,
mohabbat to hamane kee hai tumato bequsoor ho.

कभी तोडा कभी जोड़ा कभी फिर तोड़कर जोड़ा,
नाकारा कर दिए दिल को तेरी पेवन्द कारी ने।
Kabhee toda kabhee joda kabhee phir todakar joda,
naakaara kar die dil ko teree pevand kaaree ne.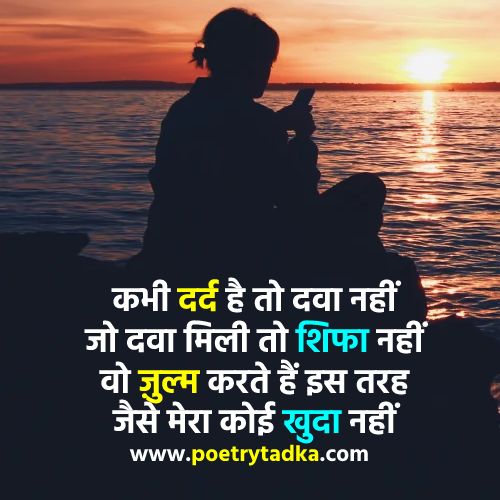 कभी दर्द है तो दवा नहीं,
जो दवा मिली तो शिफा नहीं।
वो ज़ुल्म करते हैं इस तरह,
जैसे मेरा कोई खुदा नहीं।

Kabhi dard hai to dava nahin,
jo dava milee to shipha nahin.
Wo zulm karate hain is tarah,
jaise mera koee khuda nahin.