Tumhaari baat lambi hai daleelen hai bahane hain
Hamari baat itni hai hamari zindagi ho tum
तुम्हारी बात लम्बी है दलीलें है बहाने हैं
हमारी बात इतनी है हमारी जिंदगी हो तुम

romantic Shayari for girlfriend

Tumhari giraft mera hausala badhati hai
Mujhe tum apni mohabbat me mubtala rakhna

तुम्हारी याद मे जीने की आरजू है अभी
कुछ अपना हाल सभालू अगर इजाजत हो
Tumhari yaad me jeene ki aarzoo hai abhi
Kuch apna haal sanbhaloo agar ejajat ho

तूने छुआ मेरी रूह को, कुछ इस तरह
कि सदियों तक वो तेरी ग़ुलाम बन गई
Romantic Shayari images for girlfriend
Tumhaari need me thoda khalal to padna tha
Hamaare khwaab kisi aur ko bhi aa rahe the

Tumhari mohabbat ke rang audhkar hee main khushnuma hoon
Too to to hai mujhme main kahan hun romantic Shayari in Hindi for boyfriend

बख्सा है हमको हुस्न तुम्हारी निगाह ने
तुम लेके आये हमे हद इ गुरूर तक
Bakhsa hai humko husn tumhaari nigaah ne
Tum leke aaye hamen had-e guroor tak
खुदा महफूज रखें आपको तीनों बलाओं से
वकीलों से, हक़ीमों से, हसीनो की निगाहो से
रोमांटिक शायरी
Tumhari aankh ke aansoo hamari aankh se nikle
Tumhey firr bhee sikayat hai muhabbat hum nahin kartey

Ab koi khwaab naya dil me utarta he nahin
Bahot he sakht pahra hai tumhari chahat ka

Main dar raha hoo tumhari nasheeli aankhon se
Loot len na kisi roz kuchh pile ke mujhe


sau baar marana chaaha unakee nigaahon mein doob ke
vo har baar nigaahen jhuka lete hain, marane bhee nahin dete hain
Latest Romantic Shayari Of The Day In Hindi.

jis ke milne ke liye 1 arse se baithe the
kamaal ka shaks nikla aaye to bhi alvida kehne

kuch dil mazboriyan thi kuch kismat ke maare the
saath wo bhi chod gaye jo jaan se zayda pyare the

dil main tumhari apni kami chod jayenge
aankho main intezaar ki lakeer chod jayenge
दिल मैं तुम्हारी अपनी कमी छोड जायेंगे
आँखों में इंतजार की लकीर छोड जायेंगे

tumne to sikh liya jeena zamane ke saath
hum to kuch bhi na kar sake tujhe chahne ke siva

Latest Romantic Shayari Romantic Shayari in Hindi
Accha lagta hai tera naam mere naam ke sath
jaise koi subah judi ho koi saam se saat

mang gi to pyar ki har nishani wapas manggi
magar dete waqt to inke iraade kuch aur hi the

jaisa tum sochte ho waise hum nahi
aur jaisa hum sochte hai waisa tum soch nahi sakte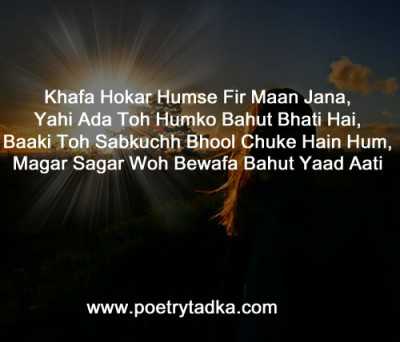 Khafa Hokar Humse Fir Maan Jana,
Yahi Ada Toh Humko Bahut Bhati Hai,
Baaki Toh Sabkuchh Bhool Chuke Hain Hum,
Magar Sagar Woh Bewafa Bahut Yaad Aati

Rshayari in English with picture
तुम्हारी याद में जीने की आरजू है अभी
कुछ अपना हाल सभालू अगर इजाजत हो
Tumhaari yaad me jeene ki aarzoo hai abhi
Kuch apna haal sabhaloo agar ijajat ho

Tumhare siwa koi manzil mera hai he nahin
Merey sabhi raastey tuum pe hee tamaam hotey hainn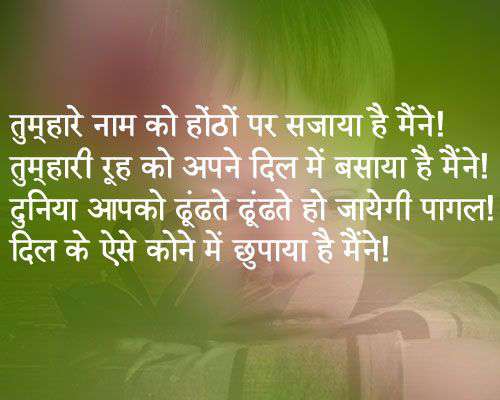 नहीं लिखते हथेलियों पर अब तुम्हारा नाम
कारोबार में सबसे हाथ मिलाना पडता है

tumhaare naam ko honthon par sajaaya hai mainne
tumhaaree rooh ko apane dil mein basaaya hai mainne
duniya aapako dhoondhate dhoondhate ho jaayegee paagal
dil ke aise kone mein chhupaaya hai mainne

main itna bewafa nahi ke apno ko bhul jaon
lekin jab koi yaad nahi karta to accha nahi lagta

bewafa se wafa kar ke gujri hai zindagi
main baras raha hoon tezz barish ki tarah
बेवफा से वफा कर के गुजरी है जिंदगी
मैं बरस रहा हूँ तेज बारिश की तरह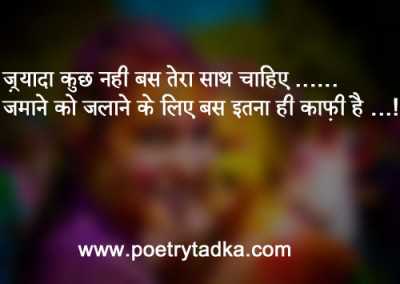 zyaada kuchh nahee bas tera saath chaahie
jamaane ko jalaane ke lie bas itana hee kaafee hai

मसरूफियत में आती है बेहद तुम्हारी याद
फुर्सत में तेरी याद से फुरसत नहीं मिलती
Masrofiyat me aati hai behad tumhari yaad
Fursat me teri yaad se fursat nahin milti

Mana charche hain tumhari khoobsoorti ke aajkal
Magar shayari hamari bhi in dinon urooz pe hai
badanaam karate hain log mujhe jisake naam se !
qasam khuda kee jee bhar ke kabhee usako dekha bhee nahin !!
!

एहसास-ए-मुहब्बत के लिए बसइतना ही काफी है !
तेरे बगैर भी हम, तेरे ही रहते हैं !!
Romantic shayari
is a paragraph that we express for better relationships. And
romantic shayari
is a powerful force that makes you feel a heart touch to your partner like husband, wife or boyfriend and girlfriend in a deeper way.