Romantic Shayari
Looking very romantic Shayari in Hindi for your caring partner with images for girlfriend & boyfriend. If yes then these romantic Shayari collections are dedicated for you. Because romantic Shayari means is poetry tadka romantic page. So please be with us and read सदाबहार रोमांटिक शायरी collection.

क्या हुआ मेरे लब तेरे लब से लग गए,
नाराज़ हो रही हो तो बदला हे लेलो तुम।
kya hua mere lab tere lab se lag gae,
naaraaz ho rahee ho to badala he lelo tum

चूम लूँ तेरे गालों को दिल की ख्वाहिश है,
ये में नहीं कहता ऐसी दिल की फरमाहिश है..
तुम्हारा तो गुस्सा भी
इतना प्यारा लगता है
कि दिल करता है दिन भर
तुम्हें ही तंग करते रहें

Tumhaara to gussa bhi
itna pyara lagta hai ki
dil karta hai din bhar
tumhen hi tang karte rahen.
याद बनकर जो तू मेरे साथ रहती है
तेरे इस एहसान का सौ बार शुक्रिया

Yaad bankar jo too mere saath rahti hai
tere is ehsaan ka sau baar shukriya.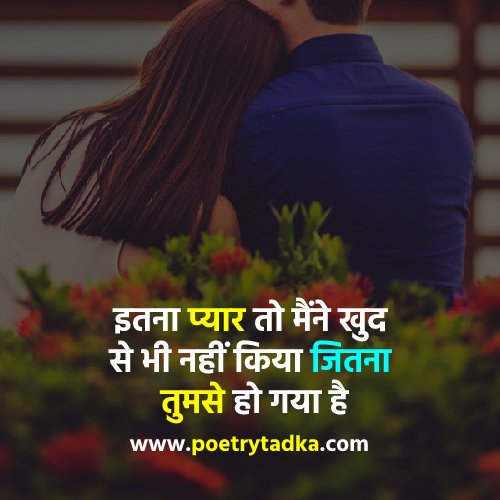 इतना प्यार तो मैंने खुद
से भी नहीं किया जितना
तुमसे हो गया है

Itna pyar to maine khud
se bhi nahin kiya jitna
tumse ho gaya hai.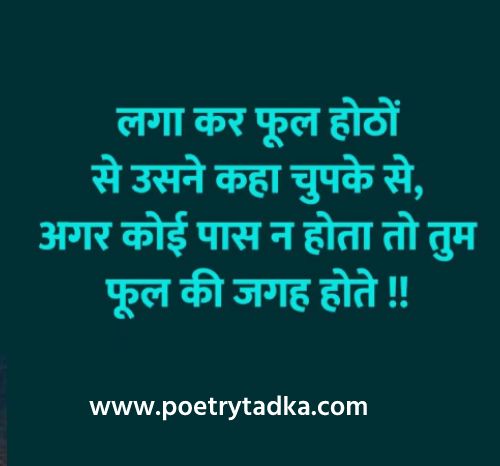 अगर मिलती मुझे दो दिन की बादशाही,
तो मेरी रियासत में तेरी तस्वीर के सिक्के चलते।
Agar milatee mujhe do
din kee baadashaahee.
To meree riyaasat mein teree
tasveer ke sikke chalate.

रख के तेरे लब पर लब,
सब शिकायतें मिटा देंगे।
Rakh ke tere lab pe lab,
Sab shikaayaten mita denge.

मेरे वजूद मे काश तू उतर जाए
मैं देखु आईना ओर तू नज़र आए.

Mere wajood me kaash
too utar jaye.
main dekhu aaina aur
too nazar aaye.
तेरे बगैर सब होता है,
बस गुज़ारा नहीं होता।
Tere bagair sab hota hai,
bas guzaara nahin hota.

न तुम्हें होश रहे ना मुझे होश रहे,
इस तरह टूटकर चाहो मुझे पागल करदो।
Na tumhen hosh rahe na mujhe hosh rahe,
is tarah tootakar chaaho mujhe paagal karado.