Poetry Tadka
Welcome to Poetry Tadka Dil Se For Hindi Lovers. We want to thank you guys for making this website No. 1 for Hindi post. And still working on daily new posts on Poetry, Quotes, Status, Wishes,Jokes and many more in 2022.
प्रेम से बढ़कर त्याग है,
सुंदर रिश्तों से बढ़कर
इस दुनिया में कुछ भी नहीं है...
शुभ प्रभात.
Prem se badhakar tyaag hai,
Sundar rishton se badhakar
is duniya mein kuchh bhee nahin hai...
Good Morning.

इश्क़ करना है तो रात की तरह करो
जिसे चांद भी कुबूल हो और उसका
दाग़ भी कुबूल हो..
Ishq karana hai to raat kee tarah karo
jise chaand bhee kubool ho aur usaka
daag bhee kubool ho..
आसमान में चिड़िया की चहक
और घर में बेटी की महक अनमोल है
Aasamaan mein chidiya kee chahak
aur ghar mein betee kee mahak anamol hai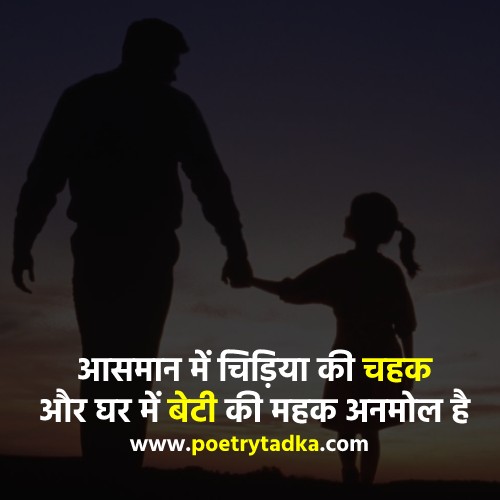 जो लोग अच्छे होते है वो हमेशा
मेरे मन के बेहद करीब रहते है
और उनमे से एक आप हो।
शुभ रात्रि
Jo log achchhe hote hai vo hamesha
mere man ke behad kareeb rahate hai
aur uname se ek aap ho.
Good Night.

जिसको अपना समझा उसने कभी समझा ही नहीं,
वो नासमझ मुझे समझदार बना गई।
Jisako apana samajha usane
kabhee samajha hee nahin,
vo naasamajh mujhe
samajhadaar bana gaee.