Emotional Shayari
We have published latest emotional Shayari in Hindi on life, emotional love shayari, emotional shayari in english, heart touching emotional sad shayari and many more इमोशनल शायरी at poetry tadka. वो तो अपनी एक आदत भी नहीं बदल सके और हम पागल एक उनके लिए खुदकी जिंदगी बदल बैठे थे।
हम अधूरे लोग हैं हमारी न
नींद पूरी होती है न खवाब
Ham adhoore log hain hamari na
neend poori hoti hai na khwab.

तेरी याद आई है आंखे भर गई
गमों की शाम यूं ही गुजर गई..!
Teri yaad aai aankhen bhar gai,
gamon ki sham youn he gujar gai.

हमें उससे ही शिकायत है कहें कैसे उससे हम
वो सबका हो जाता है आये जिसके हिस्से हम।
Hamen usse he shikayat hai kahen kaise usse hum.
Wo sabka ho jata hai aaye jiske hisse hum.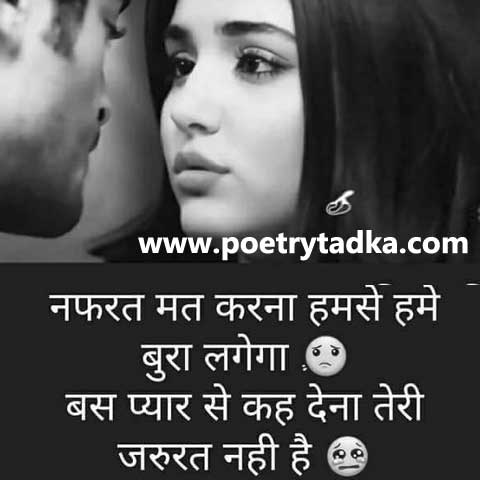 नफरत मत करना हमसे हमे बुरा लगेगा
बस प्यार से कह देना तेरी जरुरत नही है
Nafrat Mat Karna Hamse Hame Bure Lagega
Bus Pyar Se Kah Dena Teri Jaroorat Nahin.

उदास कर देती है हर रोज़ ये शाम,
ऐसा लगता है जैसे भूल रहा है कोई धीरे धीरे..!!
Udas kar deti hai har roz ye sham,
aisa lagta hai jaise bhool raha hai koi dheere dheere.

ना उम्मीद सी हो रही है सब उम्मीदे,
दिल था किसी दिन तेरे सीने से लगकर
जी भर के रोने का..!!
Na-ummeed si ho rahi hain sari ummeeden
dil tha kisi din tere seene se lipatkar
jee bhar rone ka.
अच्छा हुआ तुम्हारी आँखों में ये आंसू ख़ुशी के है
मुझे तो लगा तुम मुझसे बिछड़ के रोये हो
Achcha hua tumhari aankho me ye khushi ke aansu hin
Mujhey to laga tum bichad ke roye ho.

महल मेरा रेत का बनवाते हो,
और पता बारिश को देते हो!!
Mahal mera ret ka banwate ho,
aur pata barish ko dete ho.

खुशी में इंसान दूसरों को ढूंढता है
और तन्हाई में खुद ढूंढता है ..!
Khushi me insan doosron ko dhoodhta hai
aur tanhai me khud ko dhoodhta hai.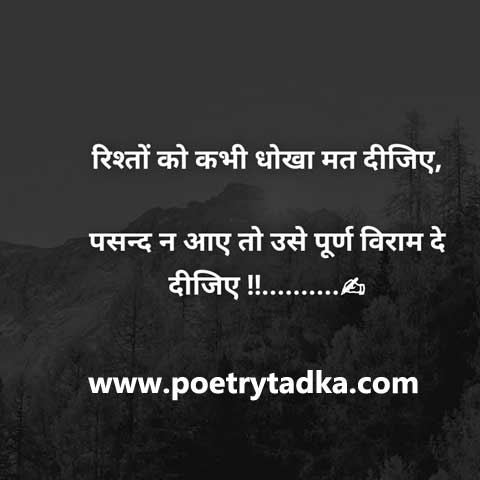 रिश्तों को कभी धोखा मत दीजिए,
पसन्द न आए तो उसे पूर्ण विराम दे दीजिए !!.
Rishton ko kbhi dhokha mat dejiye.
pasand na aaye to usey poorn viraam de dejiye.

मैं उस किस्मत का सबसे पसंदीदा खिलौना हूँ,
जो रोज़ जोड़ती है मुझे फिर से तोड़ने के लिए.
Mai us kismat ka sabse pasandeeda khilauna hun,
jo roz jodti hai mujhey fir se todne ke liye.

लोग पूछते हैं, मैं क्या करती हूँ.
उन्हें क्या बताऊँ, मौहब्बत की थी,
अब रोज मरती हूँ.
Log poochte hain main kia karti hun,
Unhen kia bataoun mohabbat ki thi,
ab roz marti hun.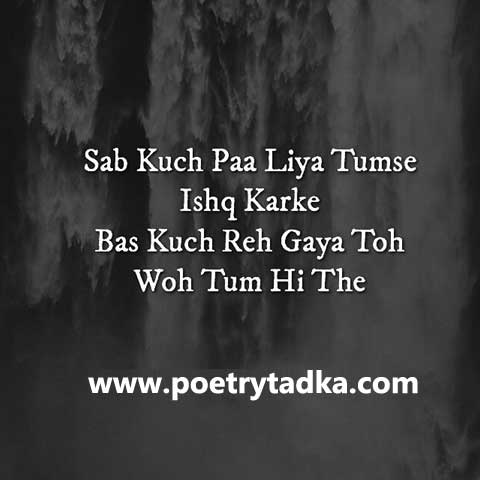 सबकुछ पा लिया तुमसे इश्क़ करके
बस कुछ रह गया वो तुम ही थे.
Sabkuch Pa Liya Tumse Ishq Karke
Bus Kuch Raha Gaya wo tum he they.

एक शख्स ही काफी होता है गाम बाँटने के लिए
महफिलों में तो बॉस तमाशे बनते है
Ek Sakhs Hi Kafi Hota Hai Gaam Bantne Ke Liae
Mahfilo Me To Baas Tmashe Bante Hai.

जब सुनने वाला कोई नहीं होता.
तो लोग अपनी बात स्टेटस में कह देते है
Jab Sun Ne Wala Koi Nahi Hota.
To Log Apni Baat Status Me Keh Dete Hai.