Two Line Shayari
Last Updated
This poetry tadka two line post collection and here you can see two line shayari,
2 line shayari
, two line shayari in Hindi,
2 line shayari in Hindi
and many more
2 line love shayari
at this website. Hey guys you are looking short two line shayari to express your feeling on love and sad moments if yes please visit this 2 line shayari page and read awesome
two line shayari
in Hindi.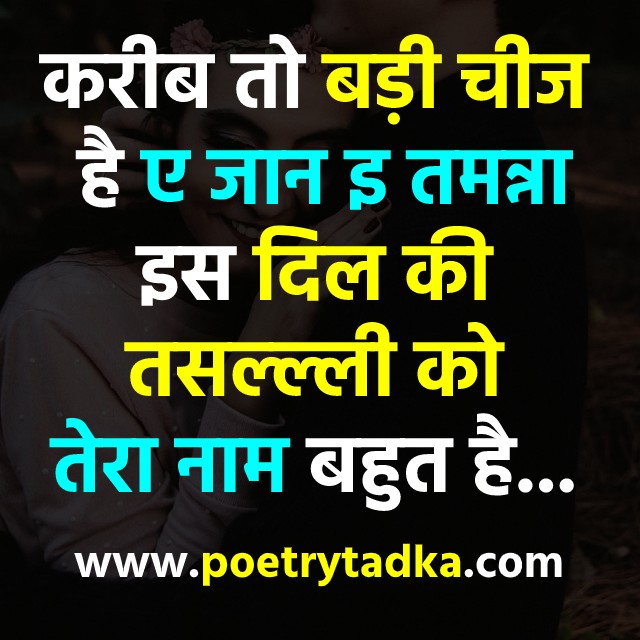 करीब तो बड़ी चीज है ए जान इ तमन्ना,
इस दिल की तसल्ल्ली को तेरा नाम बहुत है।
There is a big thing close
to me, my love and desire.
Your name is a lot for the
comfort of this heart.

जो करीब थे वो जाने कब दूर हो गये_
और ! जो दूर थे वो जाने कब करीब हो गये♥
कभी तकदीर का मातम कभी दुनिया का गिला....
मंजिल-ऐ-इश्क में हर गम पे रोना आया ...!!
@Two line sher
तुझे सब का ख्याल है पर मेरा नहीं ......
मुझे बस तेरा ख्याल है और किसी का नही ...!!
@Two line sad shayari
Tujhey sabka khyaal hai par mera nahin,
Mujhey bus tera khyaal hai aur kisi ka nahin.
@Two line shayari in hindi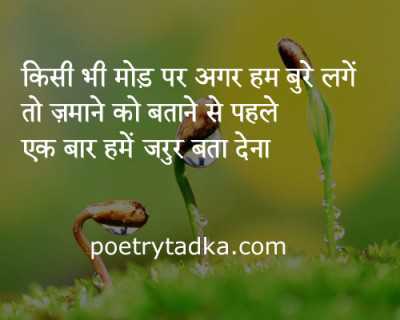 किसी भी मोड़ पर अगर हम बुरे लगें
तो ज़माने को बताने से पहले एक बार हमें जरुर बता देना