Happy Birthday Status in Hindi for Whatsapp
This page is all about birthday statuses like "best friend," "brother," "wife birthday," "sister birthday status," "husband birthday status," and many more in Hindi. These happy birthday status updates are short, but they wish you everything that brings you happiness—today and always. Happy birthday, sis! May all your dreams and wishes come true! I hope your special day brings you much joy.
हैप्पी बर्थडे बहना
आज दिन बहुत खास है,
बहन के लिए कुछ मेरे पास है,
तेरे सुकून के खातिर ओ बहना,
तेरा Brother हमेशा तेरे साथ हैं.
Happy birthday Sister.
Aaj din bahut khaas hai,
bahan ke lie kuchh mere paas hai,
tere sukoon ke khaatir o bahana,
tera brothair hamesha tere saath hain.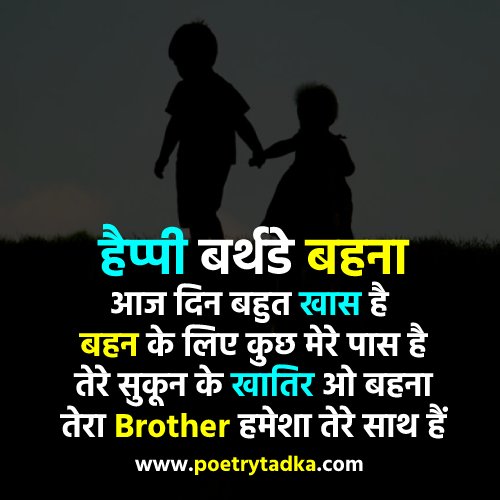 कहते हैं की हर चीज़ की एक इन्तेहा होती है !
फिर ये मुहब्बत क्यूँ किसी से बे इंतेहा होती है !!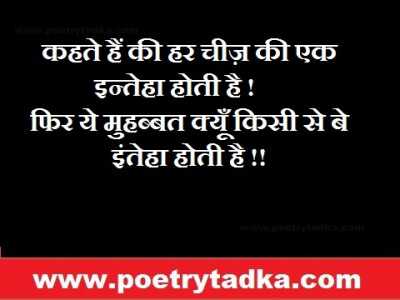 मिला दो उन फूलों को जो दूर हो गए !
भुला दो उन भूलों जो मजबूर हो गए !
प्यार के दरिया में जिंदगी की नाव हो !
रहने दो उन बातों को जो मगरूर हो गए !!
जो झुकते है ज़िन्दगी में वह बुजदिल नहीं होते !
यह हुनर होता है उनका हर रिश्ता निभाने का !!
मोहबत को जो निभाते हैं उनको मेरा सलाम है !
जो बीच रास्ते में छोड़ जाते हैं उनको हमारा ये पेगाम हैं !
वादा-ए-वफ़ा करो तो फिर खुद को फ़ना करो !
वरना खुदा के लिए किसी की ज़िंदगी ना तबाह करो !!