Life Shayari
We have submitted some life Shayari in Hindi at this page. Also you can find out life Shayari in English at poetry tadka. मंज़िल मौत है, जीवन के सफ़र का आनंद लो. जिन्दगी जिसका बड़ा नाम सुना है हमने एक कमजोर सी हिचकी के सिवा कुछ भी नहीं ।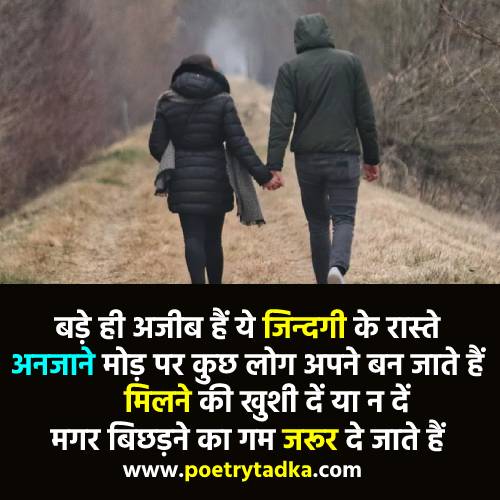 बड़े ही अजीब हैं ये जिन्दगी के रास्ते,
अनजाने मोड़ पर कुछ लोग अपने बन जाते हैं,
मिलने की खुशी दें या न दें,
मगर बिछड़ने का गम जरूर दे जाते हैं।
Bade he ajeeb hain ye zindagi ke raste,
anjaan mod par kuch log apne ban jate hain.
Milne ki khushsi den ya na den
magar bichdne ka gham zaroor de jate hain.

हर पल नया साज है जिंदगी
एक नई आवाज है जिंदगी
कितना हंसे, कितना रोए
इसका हिसाब है जिंदगी
Har pal naya saaz hai zindagi
aik nai aawaz hai zindagi.
Kitna hanse ktna roye
iska hisab hai zindagi.

वो लोग कभी किसी के नहीं होते जो दोस्त
और रिश्तों को कपड़ों की तरह बदलते हैं।
Wo log kabhi kisi ke nahin hote jo dost
aur riste kapdon ki trah badalte hain.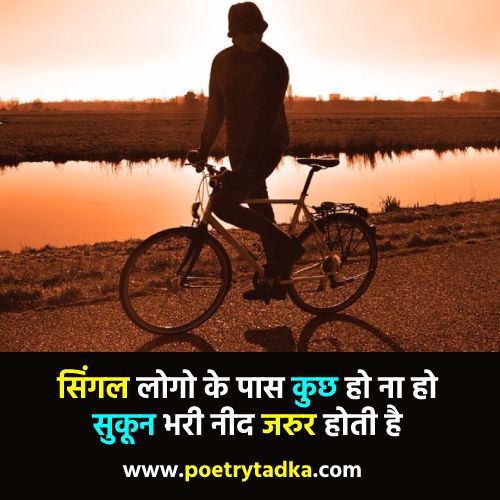 मुझे किसी बेहतर " Partner" की तलाश नही है,
बस कोई ऐसा हो, जो मेरी "खामोशियो" को समझ सके"
Mujhe kisi behtar sathi ki talash nahin hai,
bus koi aisa ho jo meri khamoshiyon ko samajh sake.

बहुत थक गया हूँ लाइफ में परवाह करते करते
जब से लापरवाह हुआ हूँ आराम से हूँ
Bahut thak gaya hun life me parwaah karte karte
Jabse laparwaah hua hun aaram se hun.

सिंगल लोगो के पास कुछ हो ना हो,
सुकून भरी नीद जरुर होती है ।।
Single le me kuch ho ya na ho,
sukoon bhari neend zaroor hoti hai.
जीवन हमें हमेशा दूसरा
मौका जरूर देता है.
जिसे कल कहते हैं।
Jeean hamen hamesh doosra
mauka jaroor deta hai.
Jise kal kahte hain.

छोटी सी ज़िन्दगी है
हंस कर जियो क्योंकि
लौट कर यादें आती है वक़्त नहीं।
Chhotii si zindgi hai
hanskar jiyon kyonki
lautkar yaden aati hai waqt nahin.

जो खुद खुश रहते है,
उनसे दुनिया खुश रहती है.
Jo khud khush rahte hain
unse duniyan khush rahti hai.
Yahi to khasiyat hai,
Zindai ke vo bhi karj
chukane padate hain jo
kabhi lie he nahin.

Zindagi Hasne Ka Naam Hai,
Rona Kis Kaam Ka,
Jaane Wale Chale Gaye,
Unke Liye Dil Dukhana Kis Kaam Ka.!!

Zindagi mein kabhi kathin samai aaye to
Ghabhra ke udas naa ho jaana
Bas ye yaad rakhna ki muskil aur kathin
Role unahi ko diye jate hai jo
Achee Actor Hote hai....

ज़िन्दगी आपको वो नहीं देगी जो तुम्हे चाहिए,
ज़िंदगी आपको वो देगी जिसके तुम काबिल हो।
Life aapako vo nahin degee jo tumhe chaahie,
Life aapako vo degee jisake tum kaabil ho.

देर लगेगी मगर सही होगा,
हमे जो चाहिए वही होगा।
दिन बुरे हैं ज़िन्दगी नहं।
Der lagegee magar sahee hoga,
hame jo chaahie vahee hoga.
din bure hain Life nahan.

अकेले रह लीजिये लेकिन उनके साथ मत
रहिये, जो आपको महत्व नहीं देते है..
Akele ra lijiye lekin unke sath mat
rahiye jo aapko mahatva nahin dete.