Romantic Quotes
Hi friends at this page we have posted very romantic quotes in Hindi for girlfriend and cute romantic quotes for him. So go below nd read latest romantic quotes at poetry tadka.
जब से तुमने हाथ थामा है,
मेरे सारे सपने पूरे होने लगे है।
Ever Since You Have Held My Hand,
All My Dreams Have Started Coming True.
Jab Se Tumane Haath Thaama Hai,
Mere Saare Sapane Poore Hone Lage Hai.

कोई तो कहे गला दबा दूंगी,
कोई तो करे इतनी मोहब्बत मुझसे.
Koyi To Kahey Galaa Daba Dungi,
Koyi To Karey Itnee Muhabbat Mujhse.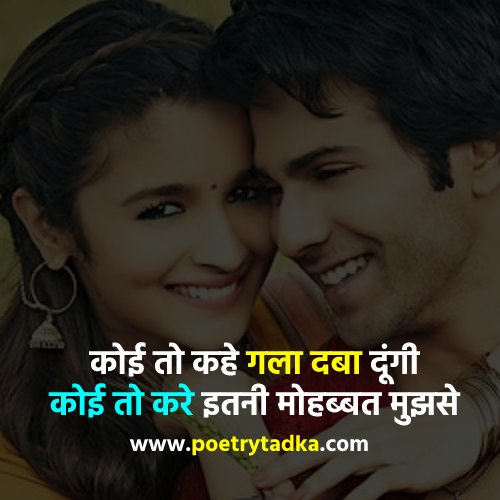 वो वक़्त वो लम्हे कुछ अजीब होंगे!
दुनिया में हम खुश नसीब होंगे!
दूर से जब इतना याद करते है आपको!
क्या होगा जब आप हमारे करीब होंगे?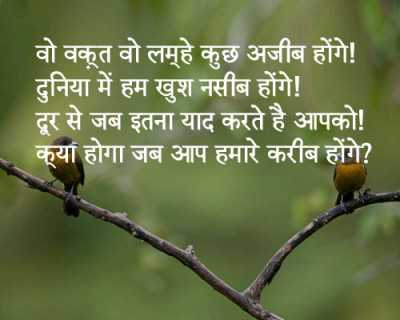 नज़र-नज़र का फर्क है हुस्न का नहीं !
महबूब जिसका भी हो बेमिसाल होता है !!
Chhupa Loon Is Tarah Tujhe Apni Baahon Me,
Ki Hawa Bhi Guzarne Ki Izaajat Maange,
Ho Jaoun Itna Madhosh Tere Pyaar Me,
Ki Hosh Bhi Aane Ki Izaajat Mange.