Sad Status
Welcome to the Sad Status in Hindi page. Are you looking for a sad status in Hindi? If so, join us, and poetry tadka will be a new sad status in Hindi for you every day. So go below and read a huge collection of Whatsapp sad status.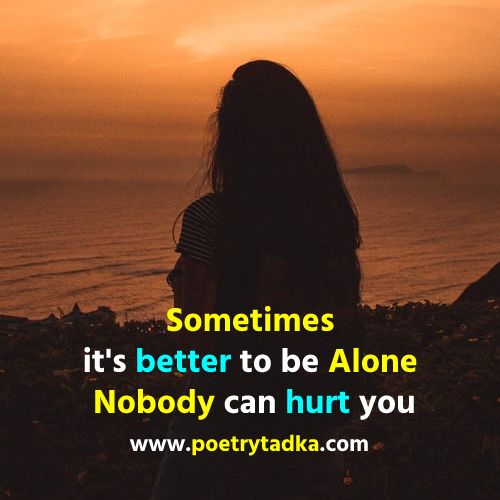 Kisi ke dard ko koi janta nahi hai,
dil ki aawaj ko koi sunta nahi hai,
kaise samjhaye hum dil ko hamare kyonki,
bechaini ko to koi samjhta nahi hai.
Log aapke dukh aur aansoo
ko nahin dekhte wo bus aapki
galtiyon ko dekhte hain.
Akele hi gujarti hai zindagi
Log tasalliya to dete hai Par
saath nahin.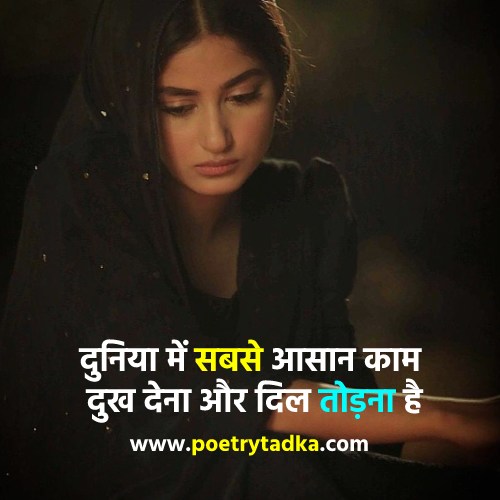 ज़िन्दगी अपनी थी
और बर्बाद उसने की है
Zindagi apni thi
aur barbad usne ki hai.
दुनिया में सबसे आसान काम किसी
को दुख देना और दिल तोड़ना है
Duniyan me sabse asan kam
dukh dena aur dil todna hai.
नासमझ थे वही अच्छा था,
परेशानियां बढ़ गई है,
जब से समझदार हुए है।
Nasamajh the wahi achcha tha
preshaniyan badh gai hain
jabse samajhdaar huye hain.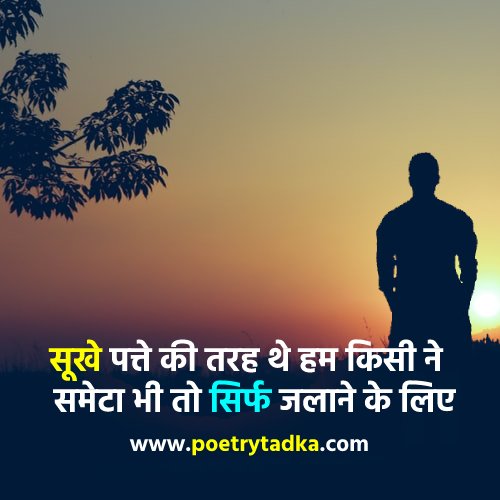 सूखे पत्ते की तरह थे हम
किसी ने समेटा भी तो
सिर्फ जलाने के लिए.
Sookhe patte ki tarah the ham
kisi ne sameta bhi to
sirf jalaane ke liye.
बहुत लडा मै तुमसे,
पर तुम्हारी यादों से हार गया.!
Bahot lada mai tumse,
par tumhari yadon se haar gaya.
समझ नही आ रहा दर्द में
जिंदगी है या जिंदगी में दर्द..
Samajh nahin aa raha ki dard me
zindagi hai ya zindagi me dard.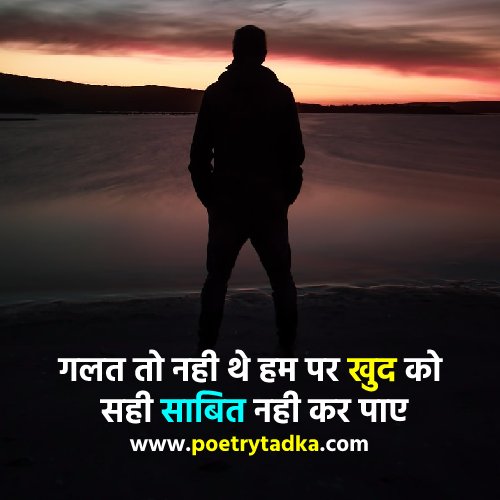 गलत तो नही थे हम पर खुद को
सही साबित नही कर पाए।
Galat to nahi the ham par khud ko
sahi saabit nahi kar paye.
दिल तो करता हैं की रूठ
जाऊँ कभी बच्चों की तरह,
फिर सोचता हूँ कि मनाएगा कौन?
Dil karta hai ki rooth
jaoun kabhi bachchon ki trah
fir sochta hun ki manayega kaun.
हजारों महफिलें हैं और लाखों मेले हैं,
पर जहाँ तुम नहीं वहाँ हम अकेले हैं..!
Hazaron mahfilen hai aur lakhon mele hain
par jahan tum nahin wahan hum akele hain.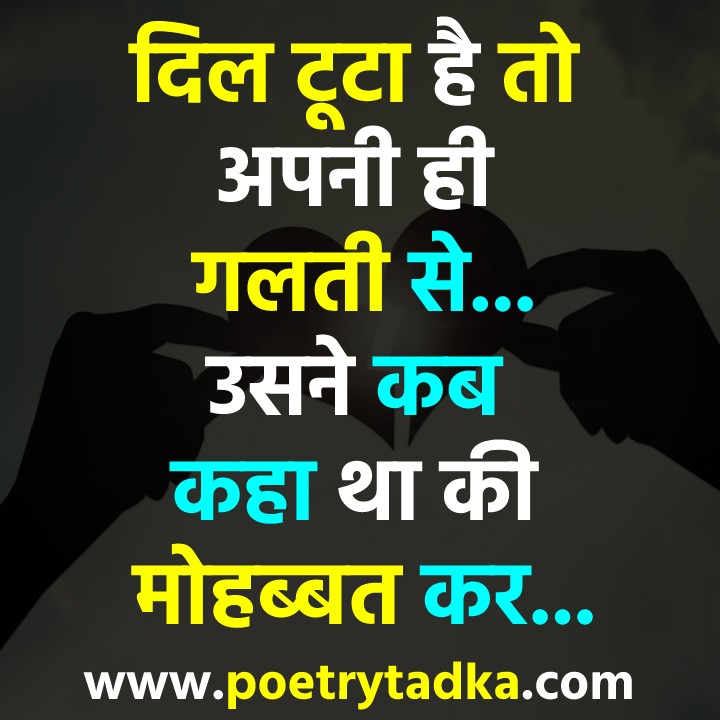 दिल टूटा है तो अपनी ही गलती से,
उसने कब कहा था की मोहब्बत कर।
Dil toota hai to apni hee galati se,
usne kab kaha tha ki mohabbat kar.
इतना भी रुलाया ना कर ऐ जिन्दगी..
सबके पास आँसूं पोछने वाले नहीं होते
Itna bhi na rulayakar aye zindagi
sabke pas aansoo pochhne wale nahin hote.
दिल टूटा है सम्भलने में कुछ वक्त तो लगेगा,
हर चीज इश्क तो नहीं कि एक पल में हो जाये.
Dil toota hai sambhalne me kuch to waqt lagega,
Har cheez ishq to nahin ki aik pal me ho jaye.
Also Read