Motivational Quotes
लोग आपके बारे में अच्छा सुनने पर शक करते हैं और बुरा सुनने पर तुरंत यकीन कर लेते हैं. Read best motivational quotes in Hindi with motivational images at poetry Tadka. Read and share your favorite Hindi motivational quotes on Facebook, Instagram, Google Plus and twitter with friends.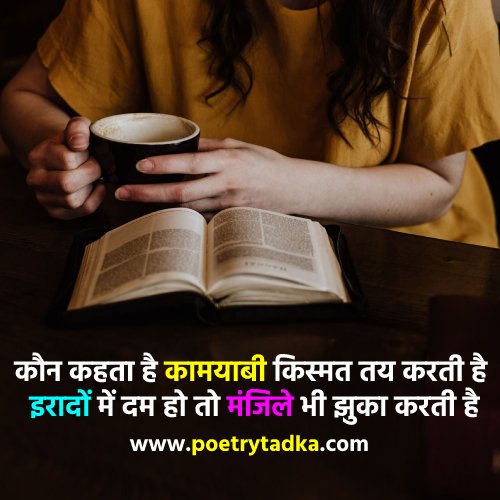 अपना कल बेहतर करने के लिए
अपना आज संवारों।
Apana kal behtar karane ke lie,
Apana aaj sanvaaro.

कौन कहता है कामयाबी किस्मत तय करती है,
इरादों में दम हो तो मंजिले भी झुका करती है।
Kaun kahta hai kamyaabi kismat tay karti hai
Iradon me dam ho to manjilen bhi jhuka karti hain.

हद में रहकर कभी कामयाबी नहीं मिलती
जीत के लिए हद पार करनी पड़ती है
Hadd me rahkar kabhi kamyabi nahin milti
jeet ke liye hadd paar karni padti hai.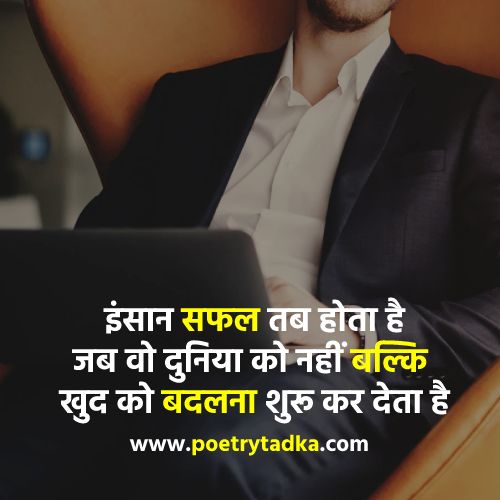 इंसान सफल तब होता है,
जब वो दुनिया को नहीं बल्कि
खुद को बदलना शुरू कर देता है ।।
Insaan safal tab hota hai
jab wo duniyan ko nahin balki
khud ko badalna suru karta hai.

निंदा से घबराकर अपने लक्ष्य को
न छोड़ें क्योंकि लक्ष्य मिलते ही
निंदा करने वालों की राय बदल जाती है।
Ninda se ghabrakar apne
lakshya ko na chhoden.
Kyonki lakshy milte he
ninda karne vaalon ki
rai badal jaati hai.

तुम नीचे गिरोगे तुम्हें कोई उठाने नहीं आएगा
और तुम जरा सा भी उड़ोगे तुम्हें
गिराने की कोशिश हजार करेंगे
Tum neche giroge tumhe koi uthane nahin aayega
aur tum zara sa bhi udoge to tumhe
girane ki koshsih hazar karengey.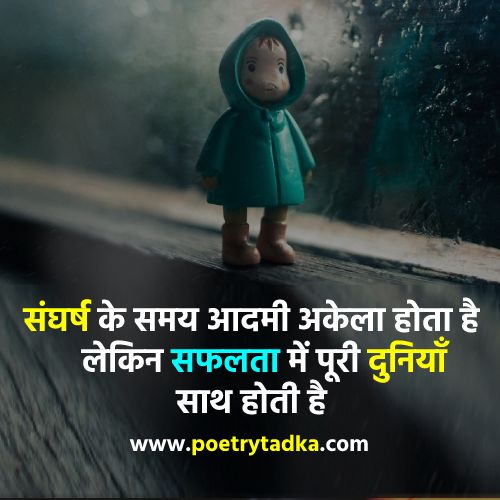 संघर्ष के समय आदमी अकेला होता है
लेकिन सफलता में पूरी दुनियाँ साथ होती है।
Struggle ke samay aadmi akela hota hai
lekin safalta me poori duniyan sath hoti hai.

संघर्ष से कभी डरना नहीं चाहिए
क्यूंकि यह भी एक कहानी है
जो सफल होकर सबको सुनानी है
Sanghars se kabhi nahin darna chahiye
kyonki yah bhi aik kahani hai
jo safal hokar sabko sunani hai.

कठोर परिश्रम सफलता की
गारंटी नहीं लेकिन इसके बिना
सफल होने का एक भी चांस नहीं।
Kathor parishram safalata ki
garanti nahin lekin iske bina
safal hone ka ek bhi chance nahin.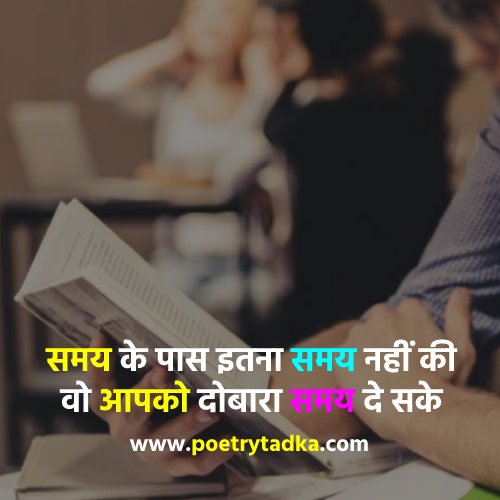 जिंदगी की असली उड़ान अभी बाकी है।
ज़िन्दगी के कई इम्तेहान अभी बाकी है।
अभी तो नपी है बस मुठ्ठी भर जमीन,
अभी तो पूरा आसमाँन बाकी है।
Zindagi ki asli udan abhi baki hai,
Zindagi ke kai imtehan abhi baki hai.
Abhi to napi hai bas muththi bhar jamin,
abhi to poora aasman baaki hai.

समय के पास इतना समय नहीं की
वो आपको दोबारा समय दे सके।
Samay ke pas itna samay nahin ki
wo aapko dobara samay de sake.

इतिहास सोते वक़्त सपने देखने वाले नहीं बल्कि
दिन में जागते हुए सपने देखने वाले रचते है।
Itihas sote waqt sapne dekhne wale nahin balki
din me jagte huye sapne dekhne wale rachte hain.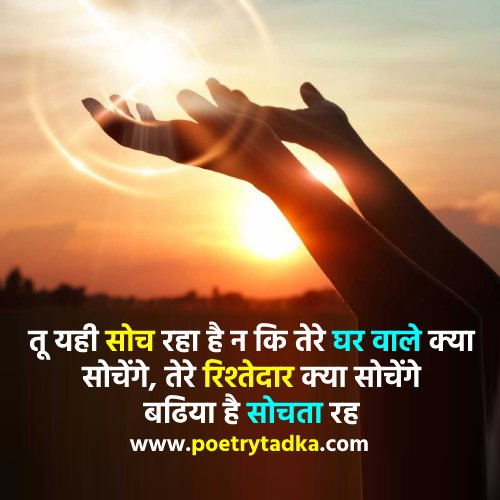 कोशिश कर हल निकलेगा
आज नहीं तो कल निकलेगा।
अर्जुन सा लक्ष्य रख, निशाना लगा,
मरुस्थल से भी फिर जल निकलेगा।
मेहनत कर पौधों को पानी दे
बंजर में भी फिर, फल निकलेगा।
Koshish kar hal niklega,
aaj nahin to kal niklega.
Arjun sa lakshya rakh, nishaana laga,
marusthal se bhi fir jal niklega.
Mehanat kar paudhon ko pani de,
banjar mein bhi fir, phal niklega.

तू यही सोच रहा है न कि
तेरे घर वाले क्या सोचेंगे,
तेरे रिश्तेदार क्या सोचेंगे
बढिया है सोचता रह..!!
Too yahi soch raha hai na ki
tere ghar wale kya sochengey
tere relative kya sochengey
badhiya hai sochta rah.

अपने आप को धक्का दें क्योंकि कोई और
आपके लिए ऐसा करने वाला नहीं है।
Apne aap ko dhakka de kyonki koi aur
aapke liye aisa karne wala nahin hai.