Motivational Quotes in Hindi
Last Updated
Best Motivational Quotes in Hindi with Motivational Image in Hindi like मोटिवेशनल कोट्स with Hind and English fonts. And we hope you guys like these Motivational Quotes in Hindi. Express your feeling with Hindi's largest collections Motivational Quotes website with poetrytadka. Read, Post and share your favorite Hindi Motivational Quotes on Facebook, Instagram, Google Plus and twitter with friends.
निंदा से घबराकर अपने लक्ष्य को
न छोड़ें क्योंकि लक्ष्य मिलते ही
निंदा करने वालों की राय
बदल जाती है।
Ninda se ghabaraakar apane
lakshy ko na chhoden.
Kyonki lakshy milate hee
ninda karane vaalon kee
raay badal jaatee hai.
कठोर परिश्रम सफलता की
गारंटी नहीं लेकिन इसके बिना
सफल होने का एक भी चांस नहीं।
Kathor parishram saphalata kee
guarantee nahin lekin isake bina
saphal hone ka ek bhee chaans nahin.

जिंदगी की असली उड़ान अभी बाकी है।
ज़िन्दगी के कई इम्तेहान अभी बाकी है।
अभी तो नपी है बस मुठ्ठी भर जमीन,
अभी तो पूरा आसमाँन बाकी है।
Jindagee kee asalee udaan abhee baakee hai,
Jindagee ke kaee imtehaan abhee baakee hai.
Abhee to napee hai bas muththee bhar jameen,
abhee to poora aasamaann baakee hai.

कोशिश कर हल निकलेगा
आज नहीं तो कल निकलेगा।
अर्जुन सा लक्ष्य रख, निशाना लगा,
मरुस्थल से भी फिर जल निकलेगा।
मेहनत कर पौधों को पानी दे
बंजर में भी फिर, फल निकलेगा।
koshish kar hal nikalega,
aaj nahin to kal nikalega.
Arjun sa lakshy rakh, nishaana laga,
marusthal se bhee phir jal nikalega.
Mehanat kar paudhon ko paanee de,
banjar mein bhee phir, phal nikalega.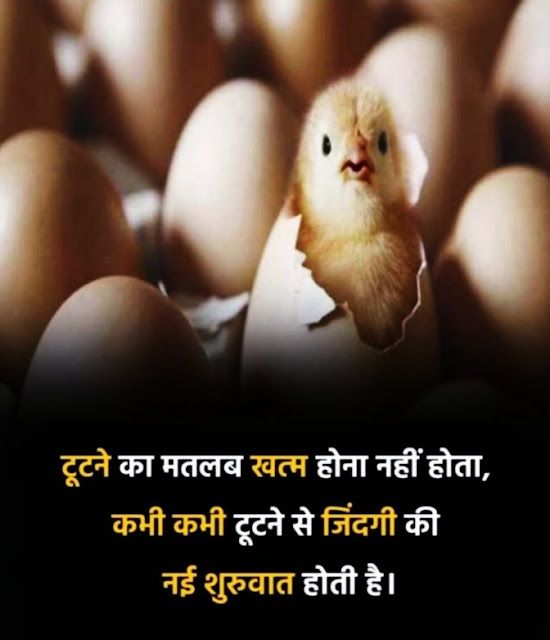 अपना कल बेहतर
करने के लिए
अपना आज संवारों।
Apana kal behtar
karane ke lie,
Apana aaj sanvaaron.