Hindi Quotes
Here we have published some selected Hindi Quotation with images. And we hope you guys like below quotes in Hindi. Read, Post and share your favorite Hindi Quotes on social platform like Facebook, Instagram, Whats app and twitter with friends. Daily new best Quotation in Hindi at Poetry Tadka हिंदी कोट्स website.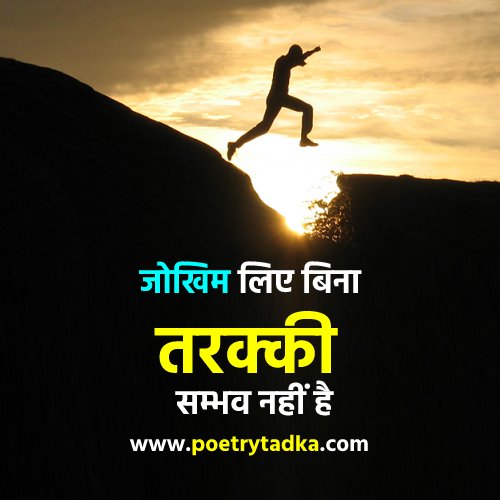 जोखिम लिए बिना
तरक्की सम्भव नहीं है।
Jokhim liye bina
tarakki sambhav nahin.

हार तो वो सबक है जो आपको
बेहतर होने का मौका देगी।
Haar to wo sabak hai jo aapko
behtar hone ka mauka degi.

खुद का बेस्ट वर्जन बनो
किसी और की कॉपी नहीं..
Khud ka best version bano
kisi aur ki copy nahin.
प्रत्येक कर्म बीज के समान होता है.
और जैसा आप बीज बोऐंगे वैसा ही फल पाएंगे.
Pratyek karma beej ke samaan hota hai.
Aur jaisa aap beej boyengey
vaisa hee phal payengey.

यदि आपका कर्म अच्छा है तो,
आपका भाग्य भी आपके पक्ष में होगा।
Yadi aapka karma achchha hai to,
aapka bhagya bhi aapke
pakshaya mein hoga.

ये दुनिया चलती है, मगर कुछ नियमों से।
उसी में से एक है कर्म, और वही सबसे बड़ा नियम है।
Ye duniya chalti hai magar kuch nayamon se.
Usi me se aik hai karma, aur wahi sabse bada niyam hai.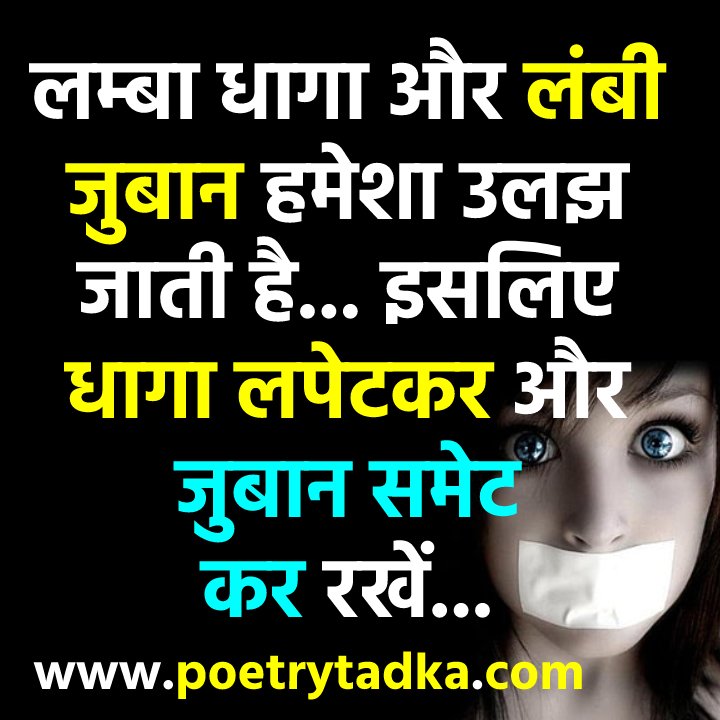 लम्बा धागा और लंबी जुबान हमेशा उलझ जाती है
इसलिए धागा लपेटकर और जुबान समेट कर रखें।
Lamba dhaaga aur lambi jubaan
hamesha ulajh jaati hai.
Isliye dhaaga lapetakar
aur jubaan samet kar rakhen.

"आशा" और "विश्वास" कभी गलत नही होते
बस ये हम पर निर्भर करता है कि हमने आशा
किससे की और विश्वास किस पर किया।
Aasha aur vishwas kabhi galat nahin hote.
Bus ye ham par nirbhair karta hai ki hamne aasha
kisse ki aur vishwas kis par kiya.

मजबूत होने में मजा ही तब हैं जब
सारी दुनिया कमजोर करने पर तुली हो..
Majboot hone me maja he tab hai jab
sari duniyan kamzor karne me tuli ho.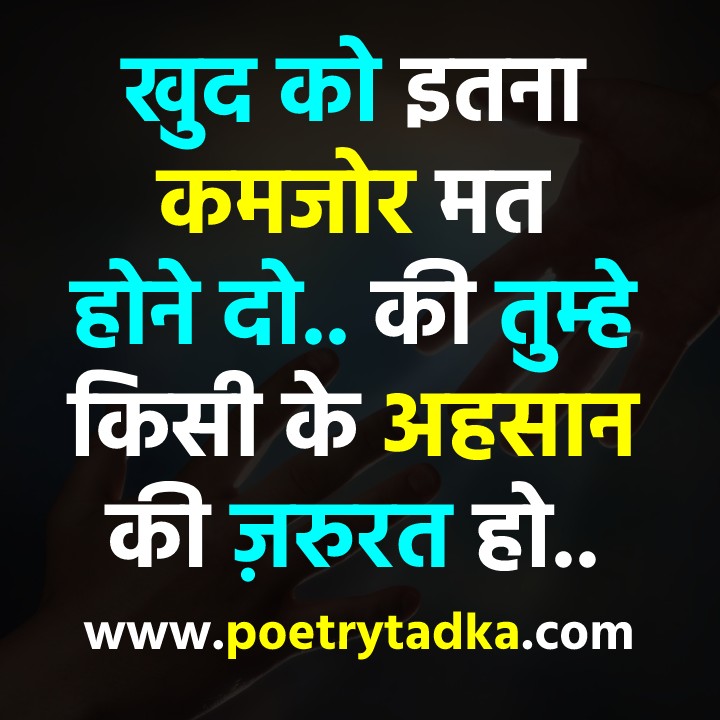 एक बात बोलू, उनका हमेशा सम्मान करना,
जो अपना काम छोड़कर आपको वक़्त देते है।
Ek baat bolun, unaka hamesha sammaan karna,
jo apna kaam chhodkar aapako waqt dete hain.

खुद को इतना कमजोर मत होने दो
की तुम्हे किसी के अहसान की ज़रुरत हो।
Khud ko itna kamjor mat hone do
ki tumhe kisi ke ahsan k zarurat ho.

उसकी इज्जत कभी मत करो,
जो आपकी इज्जत नहीं करता,
उसे अहंकार नहीं कहते,
उसे आत्म-सम्मान कहते हैं।
Uski izzat kabhi mat karo
jo aapki izzat nahin karta.
Usey ahankaar nahin kahte,
usey atmasammaan kahte hain.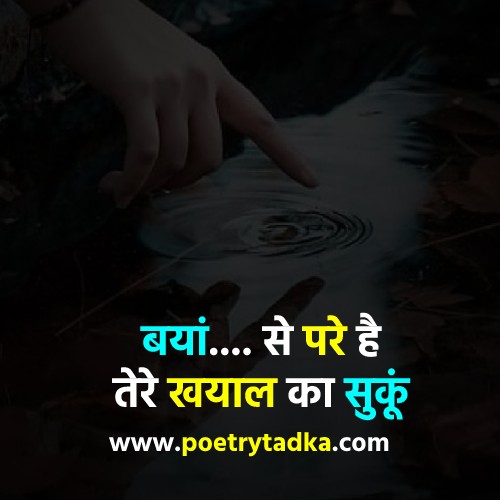 बयां से परे है
तेरे खयाल का सुकूं
Bayaan se pare hai
tere khayaal ka sukoon.

सपने को पाने के लिए
समझदार नहीं
पागल बनना पड़ता है
Sapne ko pane ke lie
samajhadaar nahin
paagal banna padta hai.

गलती नीम की नहीं कि वो कड़वा है
खुदगर्जी जीभ की है कि उसे मीठा पसंद है
Galti neem ki nahin ki wo kadwa hai
khugarzi jeebh ki hai ki usey meetha pasand hai.