Quotes in Hindi ! Best हिंदी कोट्स
जहाँ तक रिश्तों का सवाल है
तो लोगों का आधा वक़्त तो आज कल
अनजान लोगों को इम्प्रेस और
अपनों को इग्नोर करने में चले जाते हैं
Jahaan tak rishton ka savaal hai.
To logon ka aadha vaqt to aaj kal
anajaan logon ko impres aur apanon
ko ignor karane mein chale jaate hain.
मिलता तो बहुत कुछ है, जिंदगी में
बस हम गिनती उसी की करते हैं
जो हासिल ना हो सका।
Milata to bahut kuchh hai zindagee mein.
Bas ham ginatee usee kee karate hain
jo haasil na ho saka.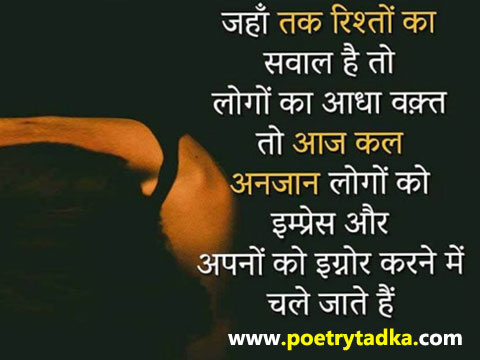 Best Positive quotes in Hindi for life motivation
Logon ko khone se mat daro
Daro is baat se ki
Kahin logon k dil rakhte rakhte
kahin khud ko na kho do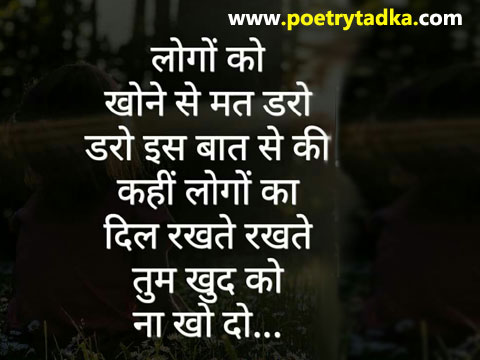 Best Quotes in Hindi | बेस्ट कोट्स हिन्दी में, That will change your perspective
Jeene Ka Bus Yahi Andaaz Rakho
Jo Tumhe Na Samjhe Nazar Andaaz Karo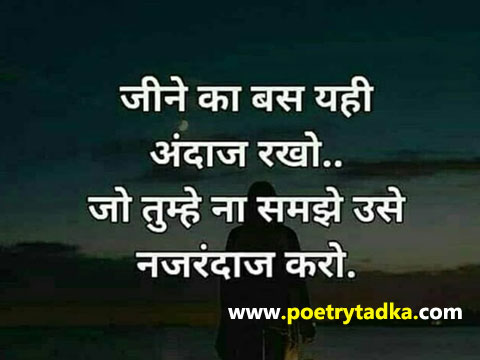 नसीब जिनके ऊँचे और मस्त होते हैं , इम्तेहान भी उनके जबरदस्त होते हैं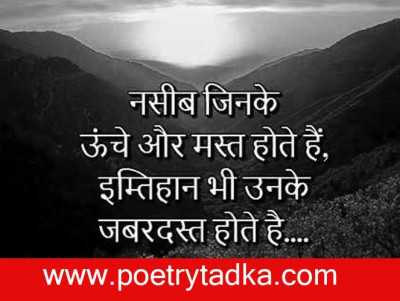 Jisko mai ki hawa lagi
usey na fir dawa lagi na dua lagi.