Love Status
Read and share daily new love status fonts for whatsapp and facebook profile from poetry tadka website. These below love status are avilable like 2022 Love Status In Hindi and लव स्टेटस in English at poetry tadka.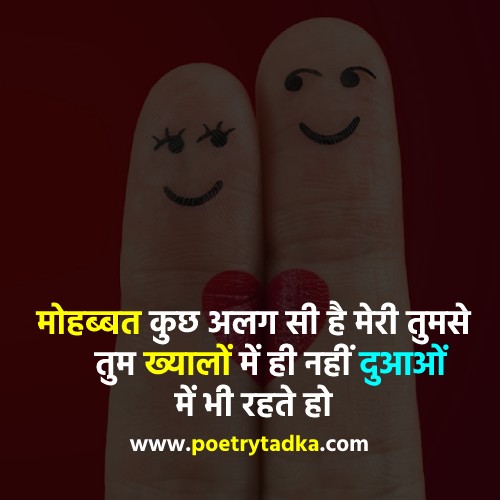 मोहब्बत कुछ अलग सी है मेरी तुमसे,
तुम ख्यालों में ही नहीं दुआओं
में भी रहते हो।
My love is different to you.
Not only do you live in thoughts
but also in my prayers.
Category : Love Status
प्रेम वो नहीं जो एक गलती पर साथ छोड़ दे।
प्रेम तो वो है जो सौ गलतियों को सुधार कर साथ दे।
Love is not that which
leaves you on one mistake.
Love is the one who helps you
by correcting a hundred mistakes.
Category : Love Status
तुम्हारे पैरों की मिट्टी उठाकर
सुरमा लगाऊं तो मानोगे
की मोहब्बत है
Pick up the soil from your
feet and apply antimony
then you believe
that I have love with you??
Category : Love Status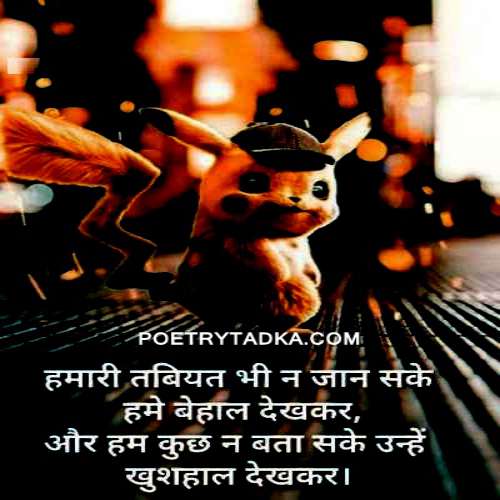 hmari tbiyat bhi naa jaan sake hme behaal dekh kar
aur hum kuch na bta sake unhe khushhaal dekh kar
हमारी तबियत भी ना जान सके हमे बेहाल देख कर
और हम कुछ न बता सके उन्हें खुशहाल देख कर
Category : Love Status
ab bas bhi kar kuch to raham kha zalim
chali ja meri nazar se door mai kahi shayar na bun jaau
अब बस भी कर कुछ तो रहम खा ज़ालिम
चली जा मेरी नज़र से दूर मै कही शायर ना बन जाओ
Category : Love Status