Funny Jokes in Hindi ! फनी जोक्स
Welcome to the Funny Jokes category of Poetry Tadka. Very funny jokes in Hindi with images to express your feelings with a huge collection of very funny jokes. Also find out the answer to Tell Me a Very Funny Joke in Hindi for Whatsapp.
Husband ने ऑफिस बैठे बैठे
facebook पे post किया....
पंछी बन के उड़ता फिरूँ
मस्त गगन में....'
तभी wife का comment आया ....
'धरती छूते ही धनियाँ ले आना,
अपने भवन में ......
वरना एक भी बाल बचने न दूंगी
तुम्हारे चमन में..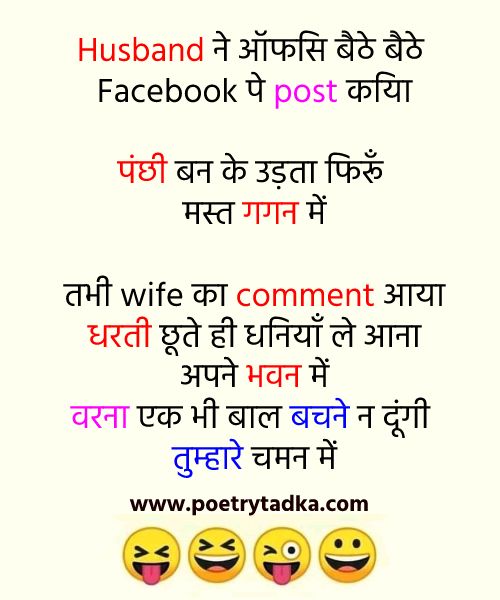 भूख प्यास निकट नहीं आवे..
मोबाइल जब हाथ में आवे
Bhookh pyaas nikat nahin aave..
Mobile jab haath mein aave.
मम्मी : लो खिचडी खा लो
मैं : मुझसे नहीं खाया जाता उसके बिना
मम्मी : चप्पल उठाते हुए, कौन है वो ?
मैं : अचार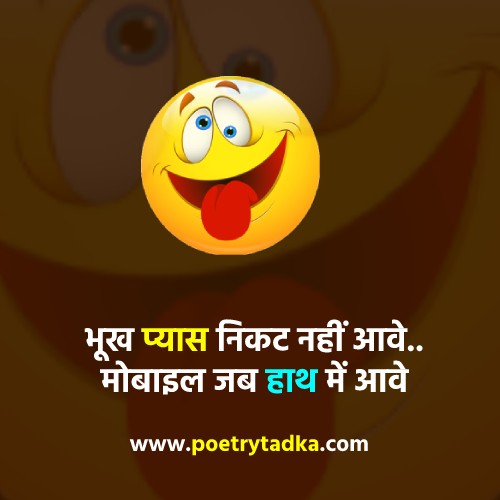 ek dost dusre dost se
bivi ka mikab ka kharcha bardast nahi hota
naa kare to bivi bardast nahi hoti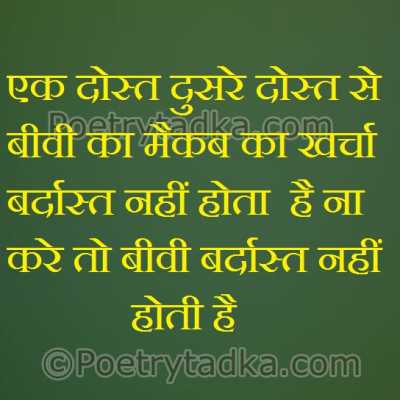 tichar:100 chuhe khakar billi....... chali
ladka: 100 chuha kha kar billi dhere dhere chali
tichar:mzak karta hai
ladka: wo to mai aap ka dil rakhne ke liae bola 100 chuha khakar billi kya billi ka baap bhi nahi chal sakta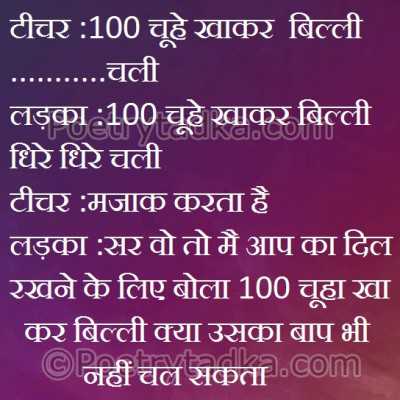 pati:roz kichan me jata chini ka dibba chek karta
bivi:roz kya dibba che karte ho
pati:doctar bola hai roz sugar chek kar liya karo kam hoga to btana