Facebook Shayari
काम ऐसा करो की नाम हो जाए, या फिर नाम ऐसा करो कि सुनते ही काम हो जाए। Looking Facebook Shayari In Hindi for Facebook post. Here we have published some best FB Shayari collections. And we hope you guys like these Facebook Shayari. काम ऐसा करो कि Facebook ही नही, जिंदगी में भी like मिले
तुझे सरे आम पुकारने के लिए जानाँ,
तेरे नाम की बिल्ली पाल रखी है।
Tujhe sare aam pukaarane ke lie jaanaan,
tere naam ki billi paal rakhi hai.

तेरी याद से तो बिल्ली अच्छी है,
वो तो बोलती है, मैं आऊँ... मैं आऊँ...
Teri yaad se to billi achchhi hai,
vo to bolati hai,
main aaoon... main aaoon...

तु मिल गई है तो मुझ पे नाराज है खुदा
कहता है की तु अब कुछ माँगता नहीं है.
Too mil gai hai to mujh pe naraz hai khuda
kahta hai ki too ab kuch mangta nahin hai.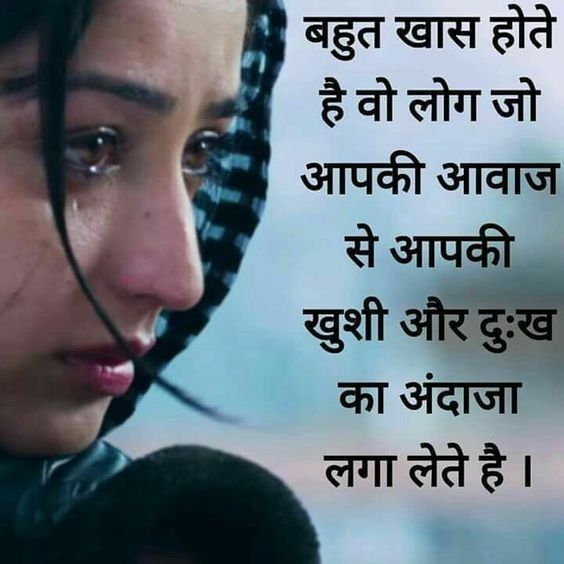 वो मुझे अच्छा या बुरा नहीं लगता,
वो मुझे बस मेरा लगता है।
Vo mujhe achchha ya bura nahin lagata,
vo mujhe bas mera lagata hai.

अब वो किसी और से कहते होंगे,
तुझसे बिछड़ेंगे तो मर जाएंगे।
ab vo kisee aur se kahate honge,
tujhase bichhadenge to mar jaenge.

खुश रहने का एक सीधा सा मंत्र है
हमेशा उम्मीद अपने आप से रखो किसी और से नही.
Khush rahne ka aik seedha sa mantra hai
hamesha ummeed apne aap se rakho kisi aur se nahin.
बोलना तो सब जानते हैं मगर,
कब और क्या बोलना है.
यह बहुत ही कम लोग जानते हैं.
Bolna to sab jante hain magar
kab aur kya bolna hai
yah bahot he kam log jante hain.

अल्फाजों की समझ नहीं है मुझमें
हाँ पर जज्बात लिखने का हुनर जानती हूँ.
Alfazon ki samajh nahin hai mujhme
han par jazbaat likhne ka hunar janti hun.

दिल बहलाने वाले हज़ार मिलेंगे लेकिन
मुझे तो दिल से चाहने वाला चहिए ।।
Dil bahlane wale to hazar milengey lekin
mujhey to dil se chahne wala chahiye.
चेहरे का रंग देखकर दोस्त मत बनाना दोस्तों,
तन का काला चलेगा मगर मन्न का काला नहीं.
Chehre ka rang dekhkar dost mat banana doston
Tan ka kaala chalega magar mann ka kaala nhin.

बेवफा लोग बढ़ रहे हैं धीरे धीरे
इक शहर अब इनका भी होना चाहिए.
Bewafa log badh rahe hain dheere dheere
ik shahar ab inka bhi hona chahiye.

मैं जानता हूं कहां तक उड़ान है उनकी,
मेरे ही हाथ से निकले हुए परिंदे हैं..!!
Main janta hun kahan tak udan hai unki,
mere he hath se nikle huye parinde hain.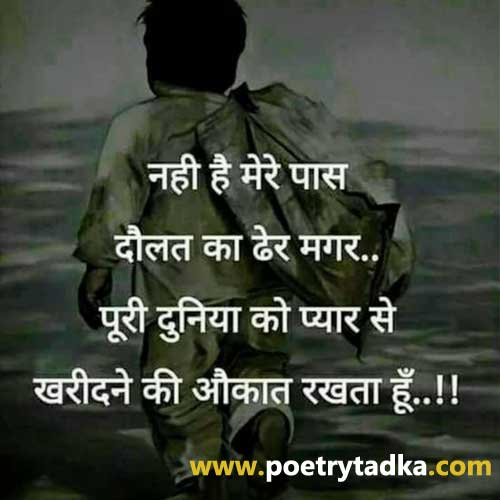 नहीं मेरे पास दौलत का ढेर मगर.....
पूरी दुनिया को प्यार से खरीदने की औकात रखता हूँ.
Nahin mere paas daulat ka dher magar.....
Poori duniya ko pyar se
khareedne ki aukaat rakhta hun.

वक़्त आने दो बेटा जवाब भी देंगे
हिसाब भी लेंगे और कह के लेंगे !!
Waqt aane do beta jawab bhi dengey
hisab bhi lengey aur kahke lengey.

ना हाथ थाम सके ना पकड़ सके दामन,
बड़े करीब से उठ कर चला गया कोई...
Na hath tham sake na pakad sake daman,
bade kareeb se uthkar chala gaya koi.