Attitude Status
जो उड़ने का शोंक रखते है, वो गिरने का खौफ नहीं रखते. Attitude status for Whatsapp in Hindi and English like royal attitude, love attitude status, attitude status for boys, desi attitude status and many more at poetry tadka attitude status page. Read and download your favourite attitude status in Hindi for social share like Facebook, Twitter, Koo App and many more.
New Attitude Status in Hindi
1. जो उड़ने का शोंक रखते है, वो गिरने का खौफ नहीं रखते। 2. दिखा उतना जितना तेरे पास हो, बात उतनी कर जितनी तेरी औकात हो। 3. जो इज्ज़त देगा उसी को इज्ज़त मिलेगी, हम हैसियत देखकर सर नही झुकाते। 4. हमारे दौर में तुम्हारा ज़ोर नही चलेगा।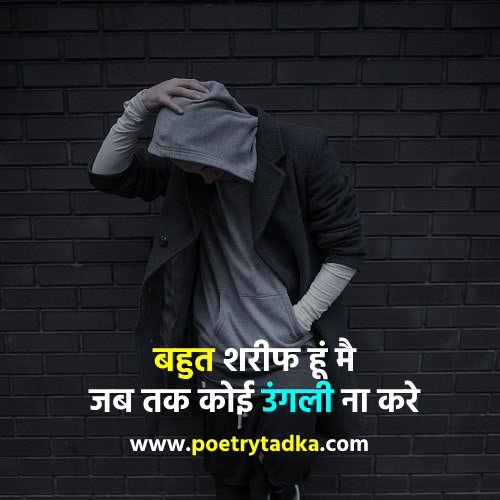 जिंदगी उसी के साथ खेलती है,
जो टक्कर का खिलाडी हो।
Zindagi usi ke sath keelti hai,
jo takkar ka khiladi ho.

अलग हूँ, पर गलत नहीं।
Alag hun, but galat nahin.

बहुत शरीफ हूं मै
जब तक कोई उंगली ना करे
Bahot shareef hun mai
jabtak koi ungli na kare.

जमीन पर टिक नही सकते और
बात आसमान की करते है
Zameen par tik nahin sakte aur
baat aasmaan ki karte hain.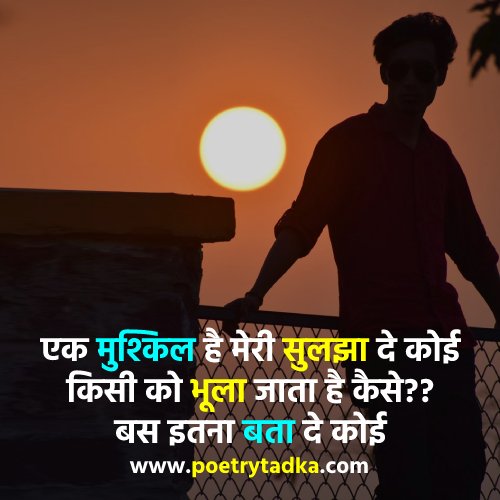 ये मत सोचना की भूल गया होगा
नाम, चेहरे और औकात सबकी याद है
Ye mat samajhna ki bhool gaya hoga
naam, chehra aur aukaat sabki yaad hai.

जलो मत हमें देखकर,
वरना राख हो जाओगे।
Jaloo mat hamen dekhkar
warna raakh ho jaoge.

मै खुद की मालकिन हूँ ,
किसी की नौकर नहीं।
Mai khud ki malkin hun
kisi ki naukar nahin.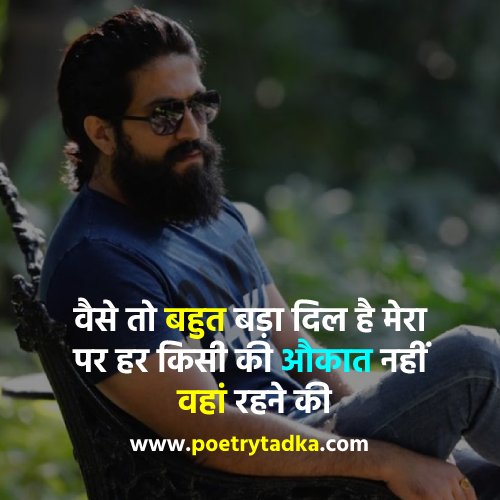 वैसे तो बहुत बड़ा दिल है मेरा पर
हर किसी की औकात नहीं वहां रहने की.
Waisey to bahot badi dil hai mere
pr har kisi ki aukaat nahin
wahan rahne ki.

जिगर वालों को डर से, कोई वास्ता नहीं होता।
हम वहां भी कदम रखते हैं जहाँ रास्ता नहीं होता।
Jigar walon ko dar se,
koi vaasta nahin hota.
ham vahan bhi kadam rakhte
hain jahan rasta nahin hota.

मुझमे कमियां बहुत सी होगी मगर,
एक खूबी भी है, मैं किसी से रिश्ता,
मतलब के लिए नहीं रखता।
Mujhme kamiyan bahut si hogi magar,
ek khoobi bhi hai, main kisi se rishta,
matlab ke liye nahin rakhta.

मैं वही हूं जिसका तू घंटा
कुछ उखाड़ नहीं सकता
Mai wahi hun jiska too ghanta
kuch ukhad nahin sakta.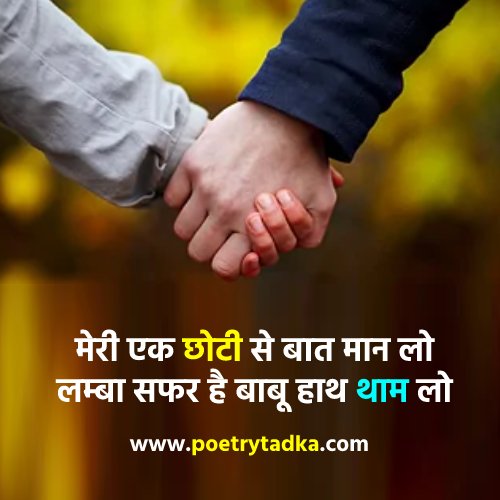 मेरी एक छोटी से बात मान लो,
लम्बा सफर है बाबू हाथ थाम लो,
Meri aik chhoti si baat maan lo
lamba safar hai babu hath tham lo.

मेरे ऐटिटूड की बात मत कर पगले,
जहाँ से मैं निकलती हूँ सब मेरे दीवाने हो जाते हैं।
Mere attitude ki baat mat kar pgle
jahn se main nikalti hun sab mere deewane ho jate hain.

प्यार तो ठीक है अगर ऐटिटूड है तो
बेबी तू अपने घर में ही ठीक है।
Pyar to theek hai agar attitude hai to
baby too apne ghar me he theek hai.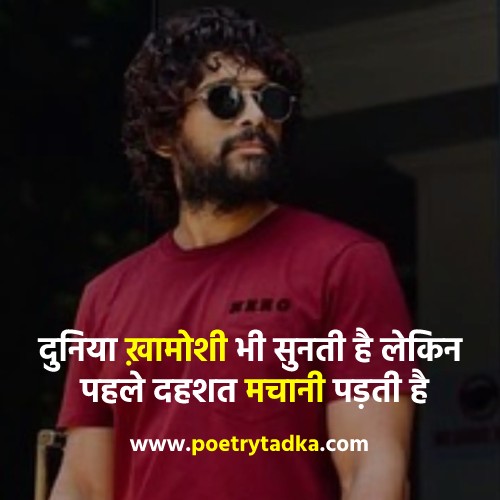 दुनिया ख़ामोशी भी सुनती है लेकिन
पहले दहशत मचानी पड़ती है !
Duniyan khamoshi bhi sunti hai
pahle dhshat machani padti hai.

इसी बात से लगा लेना मेरी शोहरत का अंदाजा,
वो मुझे सलाम करते हैं जिन्हें तू सलाम करता है।
Isi baat se laga lena meri shhrat ka ndaza
wo mujhey salam karte hain jinhe too salam karta hai.

एक दिन भी न निभा सकेंगे वो किरदार,
वो जो लोग मुझे देते हैं मशवरे हजार।
Aik din bhi na nibha sakengey wo kirdaa
wo jo log mujhey dete hain mashware hazar.