Urdu Shayari
A huge collection of latest shayari in urdu with English fonts to express your heart voice to front of your love. And here we have published like Sad Urdu shayari, love urdu shayari and romantic urdu shayari with wallpapers and many more urdu shayari images photos with cool design at poetry tadka اردو شاعری.

تم جو بچھڑے تھے جلد بازی میں تم روٹھ بھی تو سکتے تھے نا۔
Tum Jo bichde the Jaldbazi me
Tum Rooth bhi sakte the na??

‏سچے رشتے کچھ نہیں مانگتے سوائے وقت اور عزت کے
Sachchey rishtey kuch nahin mangte
Siwaye waqt aur izzat ke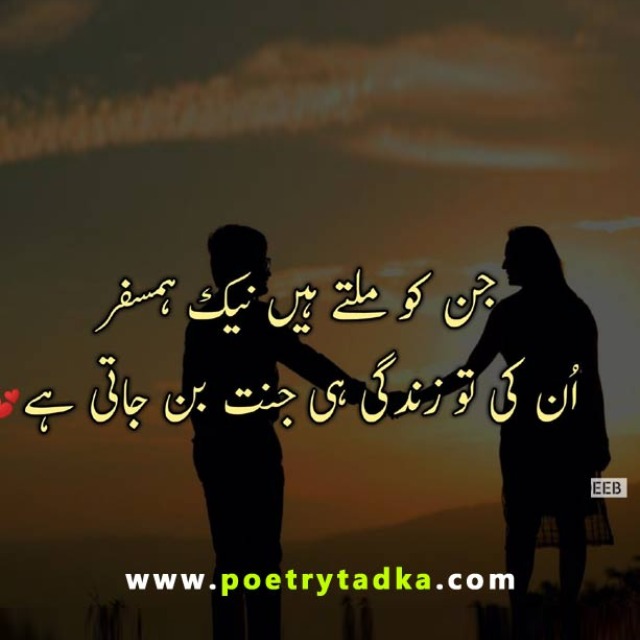 ,جن کو ملتے ہیں نیک ہمسفر
.انکی تو زندگی ہے جنّت بن جاتی ہے
jinako milate hain nek hamasafar,
unakee to zindagee hee jannat ban jaatee hai.

,تمہارے دل مے قید ہے ہماری دھڑکنیں
.دھدکتے رہنا ورنہ مر جاینگے ہم
tumhaare dil mein qaid hai hamaaree dhadakane,
dhadakate rahana varn mar jaenge ham.
Sirph behad chaahane se kya hota hai,
naseeb bhee hona chaahie kisee ka pyaar paane ke lie.
،صرف بیحد چاہنے سے کیا ہوتا ہے
.نصیب بھی ہونا چاہیے کسی کا پیار پانے کے لئے

Main mohabbat be panaah va baakamaal karoonga,
tumase nikaah karake apana ishq halaal karoonga.
،میں محبّت بےپناہ و با کمال کرونگا ،
.تمسے نکاح کرکے اپنا عشق حلال کرونگا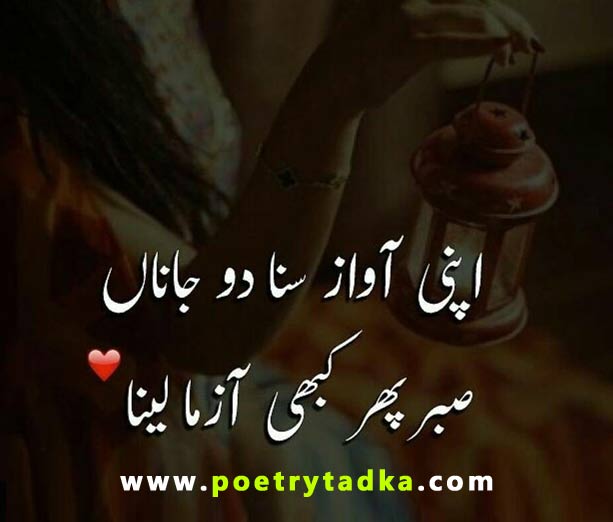 اپنی آواز سنا دو جاناں
صبر فر کبھی آزما لینا
Apanee aavaaz suna do jaana,
sabr phir kabhee aazama lena.

میری بے انتہا محبّت کی
اکیلی وارث ہو تم میری جاناں
Meree be intaha mohabbat kee,
akelee vaaris ho tum mera jaan.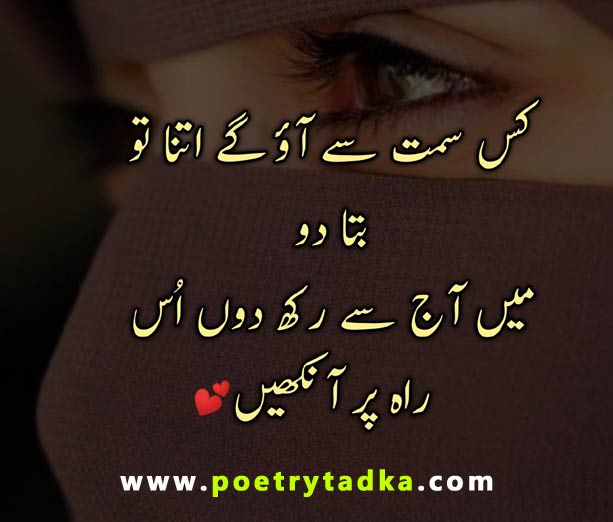 kis simt se aaoge itana to bata do,
main aaj se rakh doon us raah par aankhen.
کس سمت سے آؤ گے اتنا تو بات دو
میں آجسےرکھدوں اس راہ پر آنکھیں

thoda intazaar hee kar lete,
mere din bure the dil nahin.
تھوڑا انتظار ہے کر لیتے
میرے دن برے تھے دل نہیں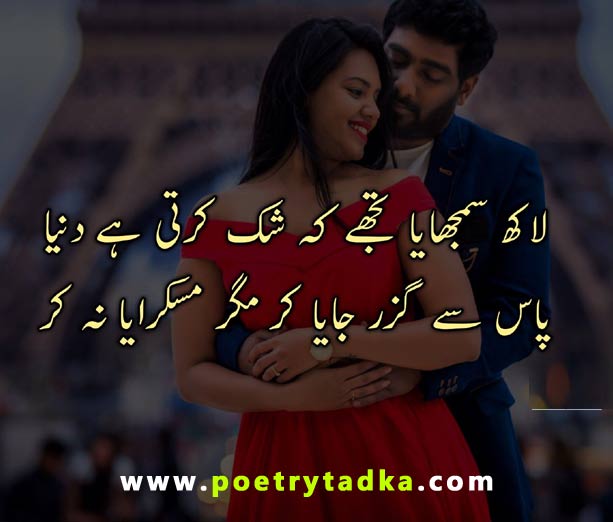 لاکھ سمجھایا کی شک کرتی ہے دنیا
پاس سے گجر جایا کر مگر مسکرایا نہ کر
laakh samajhaaya ki shak karatee hai duniya,
paas se gujar jaaya kar magar muskuraaya na ka.

وہ مجھے اچّھا یا برا نہیں لگتا
وہ مجھے بس میرا لگتا ہے
vo mujhe achchha ya bura nahin lagata,
vo mujhe bas mera lagata hai.


Thanks friends for reading our urdu shayari collection. And we home you liked above topic like sad shayari in urdu, Romantic Shayari in urdu and urdu love shayari by poetry tadka.