Shayari Wallpaper
Welcome to Poetry Tadka Shayari wallpaper page. Download a huge collection of Hindi Shayari Wallpaper with cool design Hindi mein shayari wallpaper like sad shayari wallpaper, shayari wale wallpaper, love shayari wallpaper, s name dp shayari, and many more Shayari Wallpaper Downloading in Hindi at poetry tadka.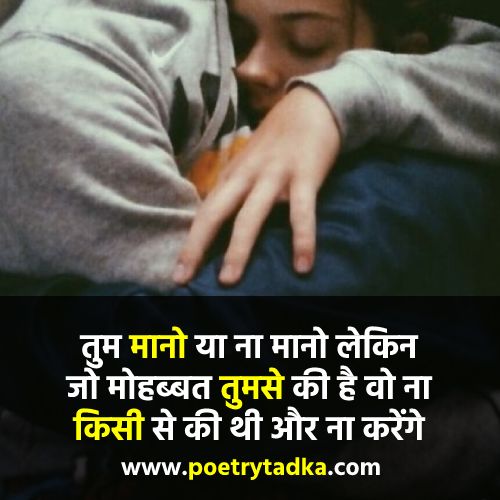 तू नाराज ना रहा कर
तुझे वास्ता है खुदा का,
एक तेरा ही चेहरा खुश देख
कर तो हम अपना गम भुलाते हैं...
Too naraz na raha kar
tujhey wasta hai khuda ka.
Aik tera he chehra khush dekh
kar to ham apna gam bhulate hain.
तुम मानो या ना मानो लेकिन
जो मोहब्बत तुमसे की है वो ना
किसी से की थी और ना करेंगे।
Tum mano ya na mano lekin
jo mohabbat tumse ki hai wo na
kisi se ki thi aur na karengey.

प्यार वो नहीं जो दुनियां को
दिखाया जाये बल्कि वो है
जो दिल से निभाया जाये
Pyaar wo nahin jo duniyan ko
Dikhaya jaye Balki wo hai
Jo dil se Nibhaya jaye.
फिक्र तेरी है मुझे
इसमें कोई शक नहीं
तुम्हे कोई और देखे
किसी को ये हक नही.
Fikr teri hai mujhey
isme koi shak nahin.
Tumhe koi aur dekhe
kisi ko ye haq nahin.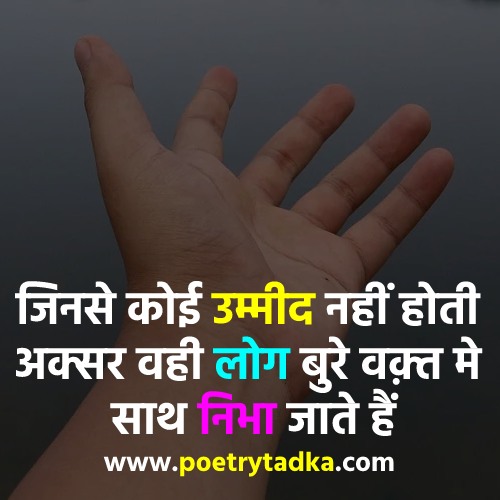 जिनसे कोई उम्मीद नहीं होती
अक्सर वही लोग बुरे वक़्त मे
साथ निभा जाते हैं
Jinse koi ummeed nahin hoti
aksar wahi log bure waqt
me saath nibha jaate hain.
जी तो लूँ मैं तुम्हें देखे बिना
पर आईना सी हो गयी तुम मेरे लिए।
Jee to lun mai tumhe dekhe bina
par aaina si ho gai ho tum mereliye.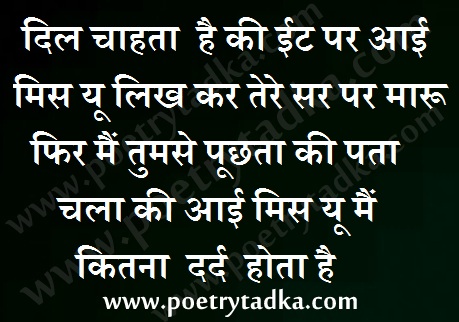 दिल चाहता है की ईट पर आई मिस यू लिख कर,
तेरे सर पर मारू फिर मैं तुमसे पूछता की,
पता चला की आई मिस यू मैं कितना दर्द होता है.
Dil chahta hai ki eit par I Miss You likh kar
tere sar par marun fir main tumse poochta ki
pata chala ki I Miss You me kitna dard hota hai.
मेरा दूल्हा भी इनता भुलाकड़ है,
पैदा होना भी भूल गया.
Mera dulha bhi itna bhulaou hai
ki paida hona bhi bool gaya.