Barish Shayari
Welcome to Barish Shayari ! Rain Shayari in Hindi ! बारिश पर शायरी page. Barish Shayari in Hindi, romantic rain Shayari for girlfriend and boyfriend. Rain Shayari for Husband & Wife In Hindi with many more बारिश पर शायरी at your loving website poetry tadka बारिश शायरी collections.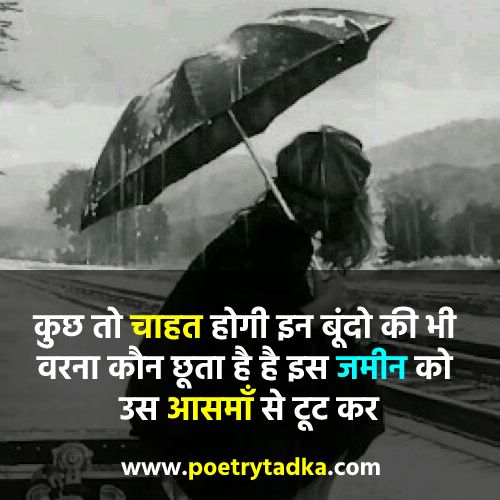 हम जागते रहे दुनिया सोती रही,
इक बारिश ही थी, जो मेरे साथ रोती रही.
Ham jagte rahe duniyan soti rahi
ik barish he thi jo mere sath roti rahi.

कुछ तो चाहत होगी इन बूंदो की भी
वरना कौन छूता है इस जमीन को
उस आसमाँ से टूट कर
Kuch to chahat hogi in boondon ki bhi
warna kaun chhoota hai is jameen ko
us aasmaan se toot kar.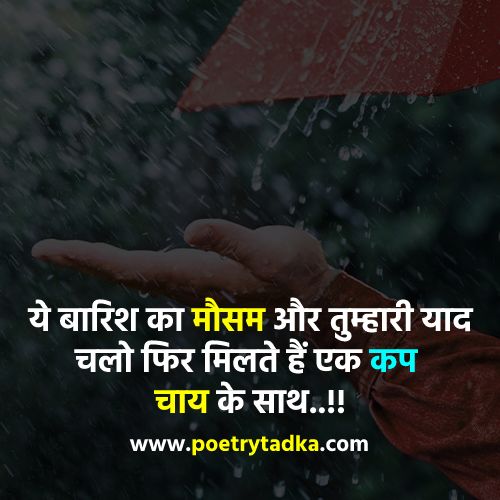 पहले बारिश होती थी तो याद आते थे,
अब जब याद आते हो तो बारिश होती है।
Pahle barish hoti thi to yaad aate the
ab jab yaad aate ho to barish hoti hai.

ये बारिश का मौसम और तुम्हारी याद
चलो फिर मिलते हैं एक कप
चाय के साथ..!!
Ye barish ka mausam aur tumhaari yaad
chalo phir milate hain ek kap
chaay ke saath..!!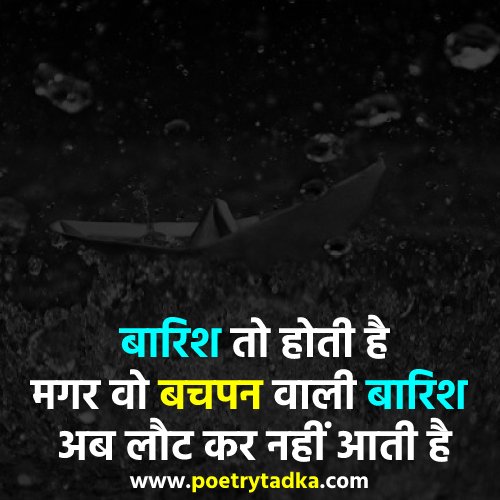 बारिश तो होती है मगर
वो बचपन वाली बारिश
अब लौट कर नहीं आती है।
Barish to hoti hai magar
wo bachpan wali barish
ab laut kar nahin aati.

ख़ुद को इतना भी न बचाया कर,
बारिशें हुआ करे तो भीग जाया कर
Khud ko itna bhi na bachaya kar
barish hua kare to bheeg jaya kar.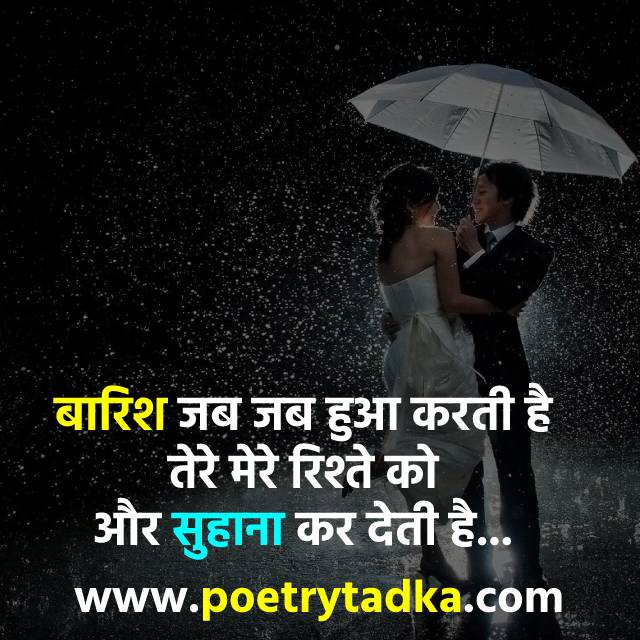 बारिश जब जब हुआ करती है
तेरे मेरे रिश्ते को और सुहाना कर देती है
Barish jab jab hua karti hai
tere mere rishte ko aur suhana kar deti hai.

रहने दो कि अब तुम भी मुझे पढ़ न सकोगे,
बरसात में काग़ज़ की तरह भीग गया हूँ मैं ।
Rahne do ki ab tum bhi mujhey padh na sakoge
barsaat me kagaz ki trah bheeg gaya hun main.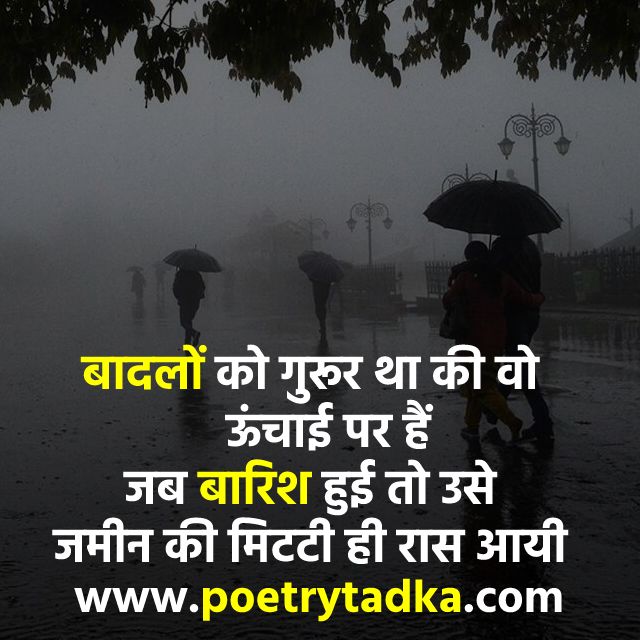 बादलों को गुरूर था की वो ऊंचाई पर हैं.
जब बारिश हुई तो, उसे जमीन की मिटटी ही रास आयी
Badlon ko guroor tha ki wo oonchai par hain
jab barish hui to usey jameen ki mitti ras aai.

कोई रंग नहीं होता बारिश के पानी में,
फिर भी फ़िजा को रंगीन बना देती है..!!
Koi rang nahin hota barish ke pani me
fir bhi fiza ko rangeen bana deti hai.