Urdu Poetry
Urdu Poetry is is good way to express your feeling to front of some one. And Urdu is a sweet language for indian. And Poetry In Urdu give the fun feeling to your loved one through reciting the Urdu Poetry. So go below and read latest collection of Urdu Poetry at Poetry Tadka website.

صفائیاں دینا تو دور کی بات ہے
ہمنے تو اپنے حق مے بولنا ہے چھوڈ دیا

اے اللہ
جو چیز میرے مقدّر مے نہیں ہے
اسمے مجھے مبتلا نہ کر
اور جو چیز میرے مقدّر مے ہے
اسے میرے لئے بہتر اور آسان فرما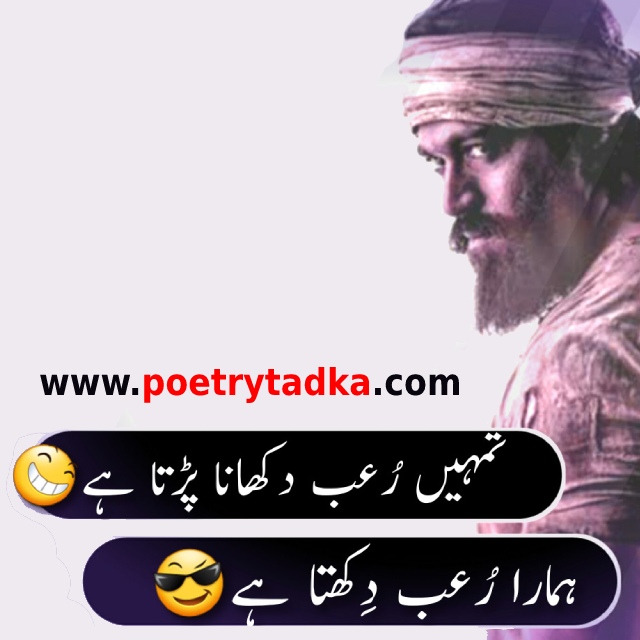 تمہیں رعب دکھانا پڑتا ہے
ہمارا رعب دکھتا ہے
Tumhe ruaab dikhana padta hai,
hamara ruaab dikhta hai.

تمہارے لشکروں کا کیا خوف
ہم تو خود اپنے ارادوں سے ڈرتے ہیں
tumhare lashkaron se kya khauf,
hum to khud apne iradon se darte hain.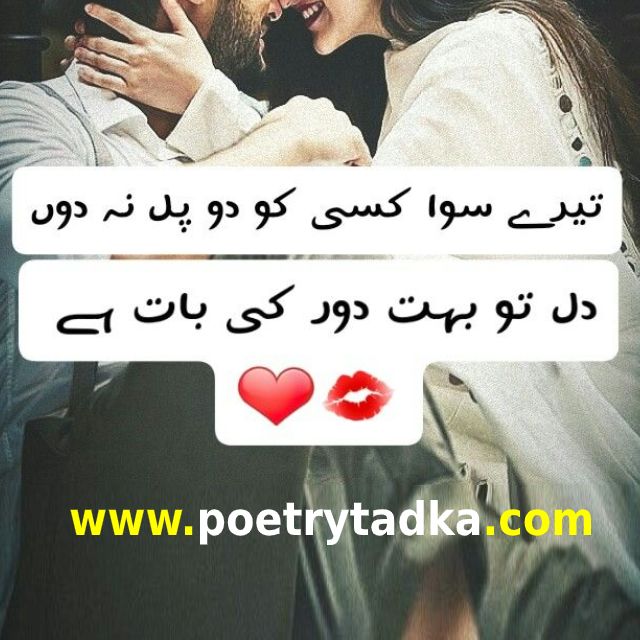 تیرے سوا کسی کو دو پل نہ دوں
دل تو بھوت دور کی بات ہے
Tere Siwa Kisi Ko Do Pal na Dun,
Dil to bahot doot ki baat hai.

جو انکو دیکھا تو بھول بیٹھے
سوال سارے جواب سارے
jo unko dekha to bhool baithey ,
sawal sare jawab sare.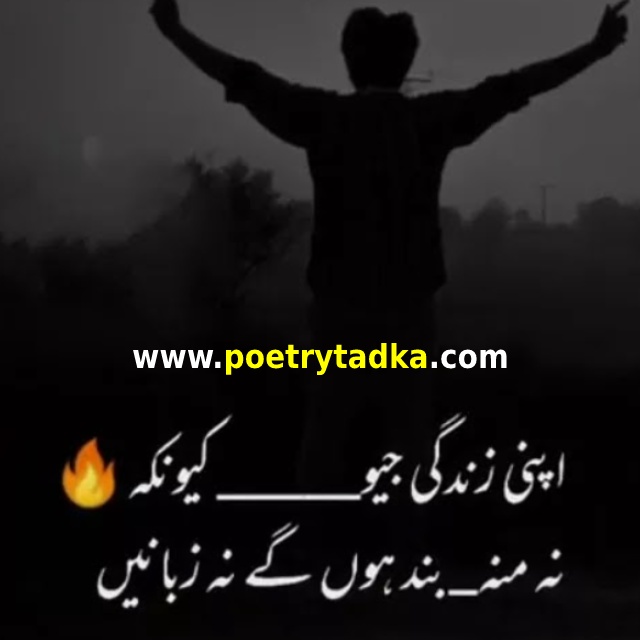 کمزور انسان کبھی معاف نہیں کرتا
کیونکی معاف کرنا مضبوط لوگوں کا کام ہے
The weak man never forgives
Because forgiving is the work of strong people

درخت جتنا اونچا ہوگا اسکا سایا اتنا ہے لمبا ہوگا
اسلئے اونچا بنننے کے بجایے بڑا بننے کی کوشش کریں
The taller the tree, the longer its shade
So try to be big instead of being tall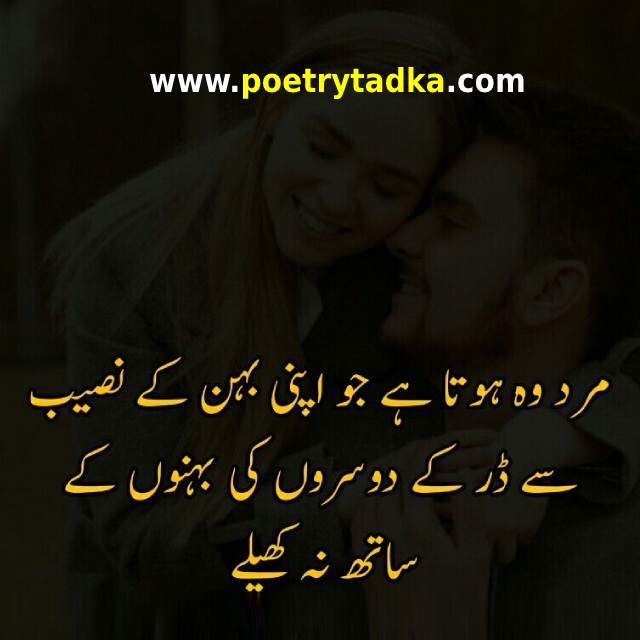 درخت جتنا اونچا ہوگا اسکا سایا اتنا ہے لمبا ہوگا
رشتے خون سے نہیں احساس کے ہوتے ہیں۔
اگر احسان نہیں تو اپنے بھی اجنبی لگتے ہیں۔
Relationships are about feelings, not blood.
If there is no kindness, then they also seem strangers.

جسم کو موت آتی ہے کردار کو نہیں
اسلئے اپنے کردار کو نہتر بناو
کیونکی لوگو تمھے موت کے بعد بھی یاد کریں
Death comes to the body, not to the character
So make your character better
Because people will remember you even after death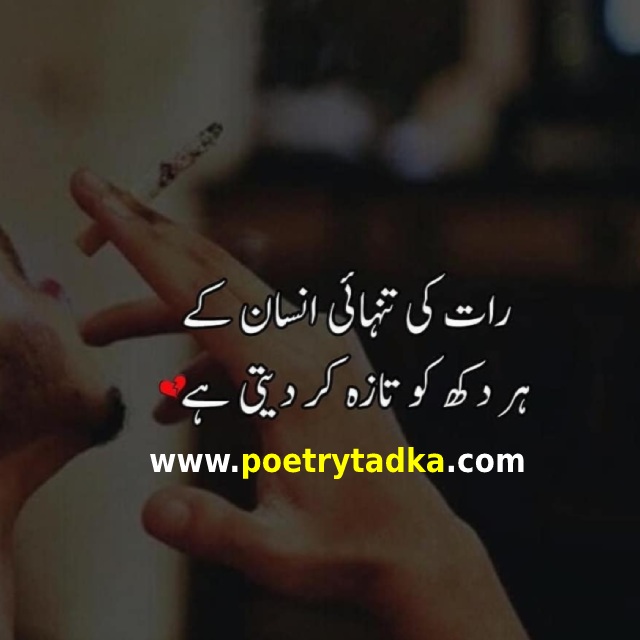 لوگوں کی باتیں پتھتھر کی ترہ ہوتی ہیں
انکو پیٹھ پر لادوگے تو یہ پیٹھ کوٹوڈ دینگے
People's words are like stones
If you put them on your back,
they will break your back.

کفر کے بعد سب سے بڑا گناہ دل کا دکھانا ہے
چاہے وو کسی مومن کا ہو یا کسی کافر کا
The greatest sin after disbelief is showing the heart
Whether he belongs to a believer or a disbeliever