Maa Shayari
Now you are Maa shayari page of poetry tadka. Here we have posted maa ke liye shayari for mother day. So go below and read latest mother day Shayari in Hindi at poetry tadka maa shayari in Hindi page. सारे जहाँ में नहीं मिलता बेशुमार इतना, सुकून मिलता है माँ के प्यार में जितना.
पूछता है जब कोई मुझसे कि
दुनिया में मुहब्बत अब बची
है कहाँ? मुस्कुरा देता हूँ मैं
और याद आ जाती है माँ

Poochta hai jo koi mujhse ki
duniyan me mohabbat ab bachi
hai kahan? Muskura deta hun main
Aur yaad a jati hai maa.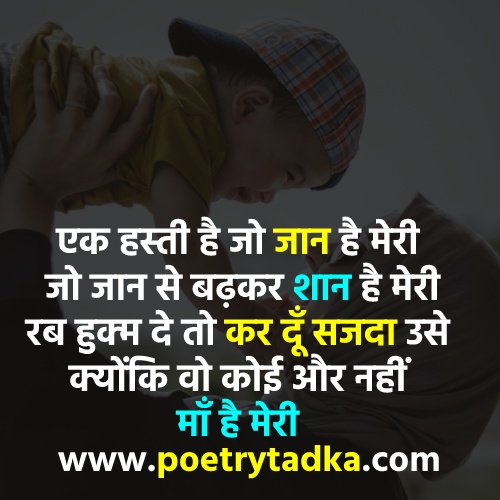 एक हस्ती है जो जान है मेरी।
जो जान से बढ़कर शान है मेरी।
रब हुक्म दे तो कर दूँ सजदा उसे
क्योंकि वो कोई और नहीं
माँ है मेरी
There is a personality who is my life.
The one who is more proud than my life is mine.
If the Lord commands, then I should do Sajda to her.
because she's no one else,
She is my mother.
माँ तो जन्नत का फूल है
दुनिया की मोहब्बत फिजूल है
माँ की हर दुआ कबूल है
माँ को नाराज़ करना इंसान तेरी भूल है।
माँ के क़दमों की मिटटी जन्नत की धूल है
हैप्पी मदर्स डे
सबने बताया कि आज मां का दिन है
कोई बताएगा कि वो कौन सा दिन है
जो मां के बिन है।।

Sabne bataya ki aaj mom ka din hai
koi batayega ki wo kaun sa din hai
jo mom ke bin hai.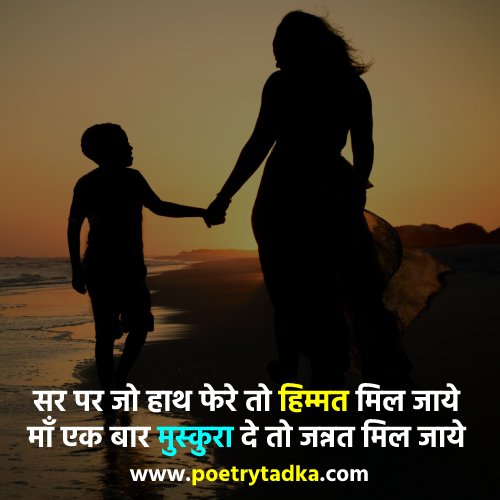 सर पर जो हाथ फेरे तो हिम्मत मिल जाये
माँ एक बार मुस्कुरा दे तो जन्नत मिल जाये
Sar par hath jo fere to himmat mil jaye
Mummy aik baar muskura de to jannat mil jaye.