Janam Din Shayari
जन्मदिन एक व्यक्ति के जन्म की सालगिरह है। इस अवसर पर हम आपके लिए कुछ जन्म दिन शायरी लेकर आये हैं। जो आप अपने प्यारों को उनके जन्मदिन पर भेज सहकते हैं। और उम्मीद करते हैं आपके जन्मदिन की शायरी आपके प्यारे पसंद करेंगे। Janamdin is the anniversary of a person's birth. On this occasion, we have brought some Janamdin Shayari for you. Which you can send to your loved ones on their janamdin. And hope your love will like your janam din mubarak Shayari.
हर दिन से प्यारा लगता है हमें ये ख़ास दिन
हम जिसे बिताना नहीं चाहते आप बिन
वैसे तो दिल देता है सदा ही दुआ आपको
फिर भी कहते है मुबारक हो जन्मदिन आपको.

Har din se pyaara lagata hai hamen ye khaas din.
Ham jise bitaana nahin chaahate aap bin.
Waise to dil deta hai sada hi dua aapako.
Fir bhi kahate hai mubaarak ho janmadin aapako.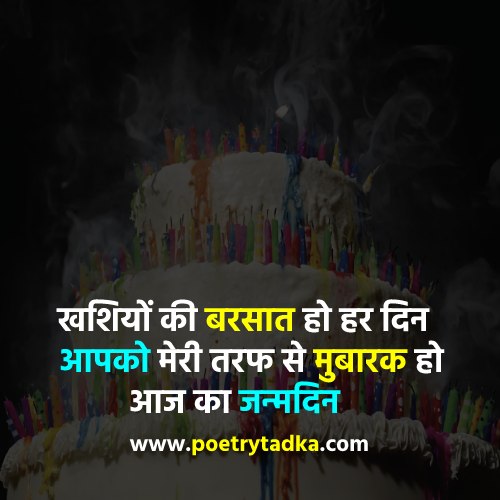 खशियों की बरसात हो हर दिन,
आपको मेरी तरफ से मुबारक हो,
आज का जन्मदिन।

khashiyon kee barasaat ho har din,
aapako meree taraph se mubaarak ho,
aaj ka janmadin.

एक तो कातिल सर्दी और तेरी यादो की धुँध

बेहाल कर रक्खा है तेरे इश्क के मौसम ने
हमारी तो दुआ है कोई गिला नहीं

वो गुलाब जो आज तक खिला नहीं

आज के दिन आपको वो सब कुछ मिले

जो आज तक किसी को कभी मिला नहीं
तुम्हारी इस अदा पे क्या जवाब दूँ

अपने यार को क्या तोहफा दूँ

कोई अच्छा सा फूल होता तो मंगवाता माली से

जो खुद गुलाब है उसको क्या गुलाब दूँ