Husband Wife Jokes
पति -तुम मेरी फिल्म में काम करोगी I
पत्नी -हां करूंगी. क्या करना होगा I
पति -कुछ नहीं बस नदी में जाकर खड़ी हो जाना I
पत्नी-फिल्म का नाम क्या है I
पति - गई भैंस पानी में II
बॉस ने अपने नये ऑफिस में एक कैलेंडर लगाया-
I AM THE BOSS, DON'T FORGET AND REMAIN IN YOUR LIMITS
(मैं बॉस हूँ भूलना नहीं और अपनी मर्यादाओं में रहना)
जब वह लंच के बाद लौटा तो अपनी टेबल पर उसे एक स्लिप मिली जिस पर लिखा थाI घर से आपकी श्रीमती जी का फोन आया था वह बहुत गुस्से में बोल रही थीं अपने साहब को कह देना जो केलेंडर घर से ले गये हैं चुपचाप शाम को वापस यहाँ पर लाकर टांग दे.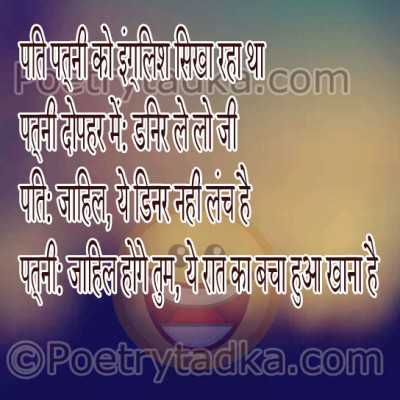 Pati patni ko english sikha raha tha.
Patni dopahar me: dinner le lo gee
Pati: Jahil, Ye dinner nahin lunch hai.
Patni: Jahil hoge tum, ye raat ka bacha hua khana hai
Husband ne bewi ko chewingum kharid-kar dia......
Wife: App apne liye kyon nahin liye???? Husband: Main to wesy he khamoosh rah sakta hun
Husband: Jann Socha call kar lun tum mujhe yaad kar rahi hogi. Wife: Aur Subah ladai hui thi wo kia tha????
Husband: Ohhh!! fate muhhh ghar da number lag gaya.