I Love you shayari
Last Updated
I love you shayari in hindi for girlfriend and boyfriend and life partner. I love you shayari in english and hindi fonts at poetry tadka. Latest designed romantic I Love you Shayari in hindi and english for for girlfriend and boyfriend at poetry tadka.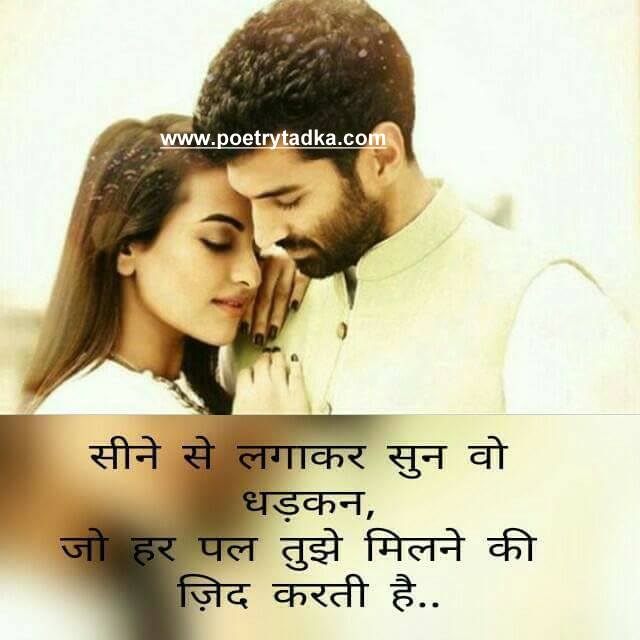 कोई नही आऐगा मेरी जिदंगी मे तुम्हारे सिवा
एक मौत ही है जिसका मैं वादा नही करता.
koy nahi aaiga meri zidangee me tumhaare siva
ek maut hi hai jisaka main vaada nahi karata.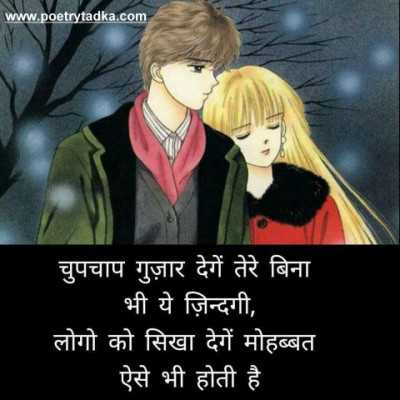 फ़रिश्ते ही होंगे जिनका इश्क मुकम्मल होता है
हमने तो यहाँ इंसानों को बस बर्बाद होते देखा है
farishte hi honge jinaka ishk mukammal hota hai
hamane to yahaan insaanon ko bas barbaad hote dekha hai
कुछ खूबसूरत पल याद आते हैं
पलकों पर आँसु छोड जाते हैं
कल कोई और मिले हमें न भुलना
क्योंकि कुछ रिश्ते जिन्दगी भर याद आते हैं
kuchh khoobasoorat pal yaad aate hain
palakon par aansu chhod jaate hain
kal koee aur mile hamen na bhulana
kyonki kuchh rishte zindagi bhar yaad aate hain
मुझे उन आंखों मे कभी आंसु अच्छे नही लगते...
जीन आंखों मे मै अकसर खुद के लिये प्यार देखता हूँ ..
सिर्फ़ तारीख़ ही तो बदली है यहाँ,.
सबकी ख़्वाहिशें तो आज भी वही हैं.
.
Rasto Mein Pathron Ki Kami Nahi Hoti
Dil Mein Khwabo Ki Kami Nahi Hoti
Hum Chahte Hai Unko Apna Banana,
Par Unke Paas Apno Ki Kami Nahi Hoti.