Dosti Status
Dosti status is one another page of poetry tadka for dosti status page. So go below and read dosti status in Hindi. And we hope you guys like our दोस्ती यारी स्टेटस.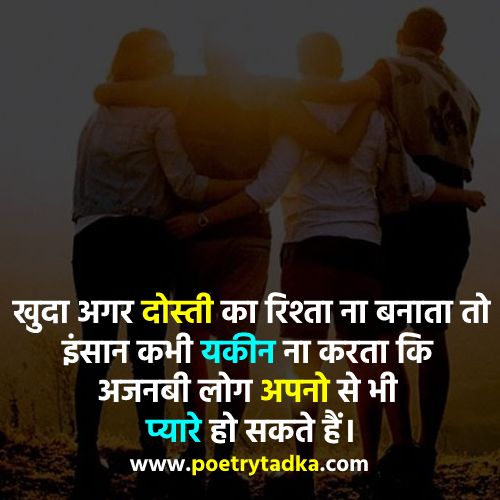 खुदा अगर दोस्ती का रिश्ता ना बनाता तो,
इंसान कभी यकीन ना करता कि
अजनबी लोग अपनो से भी प्यारे हो सकते हैं।

Khuda agar dosti ka rishta na banaata to,
insaan kabhi yakeen na karta ki
ajnabi log apno se bhi pyaare ho sakte hain.

फूलों ने अमृत का जाम भेजा है

तारों ने गगन से सलाम भेजा है

खुशियों भरी हो जिंदगी आपकी

यहे दिल से हमने पैगाम भेजा है
ज़िंदगी की कुछ खास दुआए लेलो हमसे

जन्मदिन पर कुछ नजराने ले लो हमसे

भर दे रंग जो तेरे जीवन के पलो में

आज वो हसी मुबारक बाद ले लो हमसे
उगता हुआ सूरज दुआ दे आपको

खिलता हुआ फूल खुशबु दे आपको

हम तो कुछ देने के काबिल नहीं है

देने वाला हज़ार खुशिया दे आपको
दुआ मिले बन्दों से खुशियां मिले जग से

साथ मिले अपनों से रेहमत मिले रब से

ज़िन्दगी में आप को बे पनाह प्यार मिले

खुश रहे आप दुनिया में ज्यादा सुब से