Husband Wife Shayari
Romantic Shayari for Husband Husband Wife, Wife Shayari, Shayari on Husband Wife relation, love Shayari for Husband, Hindi love Shayari for Husband, Husband Wife Shayari in Hindi, romantic Shayari for Wife, love Shayari for Wife, Shayari for Wife in Hindi, good morning Shayari for Wife, Husband Wife Shayari in Hindi and many more.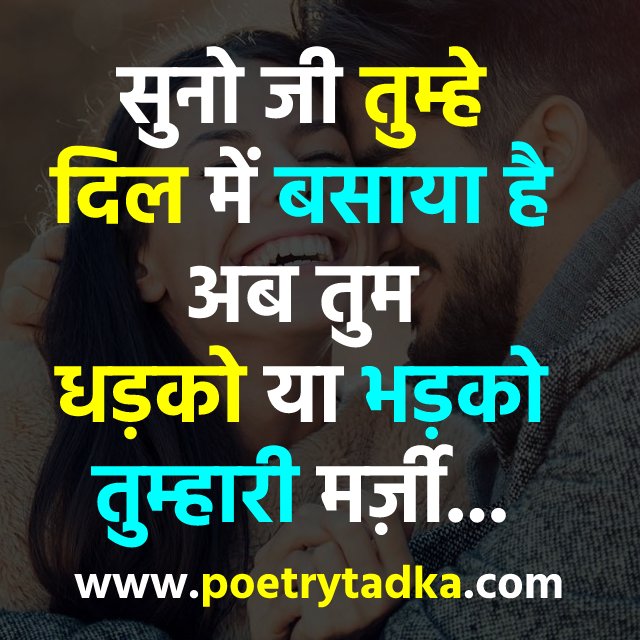 सुनो जी तुम्हे
दिल में बसाया है
अब तुम
धड़को या भड़को
तुम्हारी मर्ज़ी
Listen, you have settled
in my heart.
Now you beat or flare
your choice.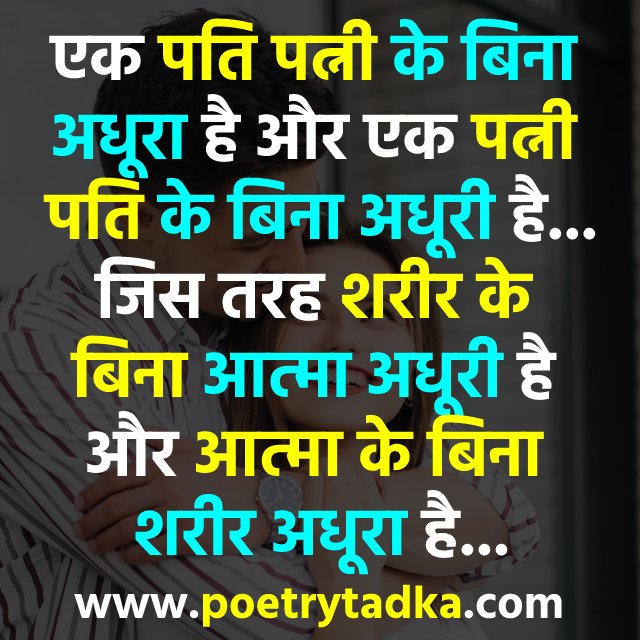 एक पति पत्नी के बिना अधूरा है
और एक पत्नी पति के बिना अधूरी है।
जिस तरह शरीर के बिना
आत्मा अधूरी है और
आत्मा के बिना शरीर अधूरा है।

A husband is incomplete without
a wife and a wife is incomplete
without a husband.
Just as the soul is incomplete
without the body and the body
is incomplete without the soul.
I love you sweet wife.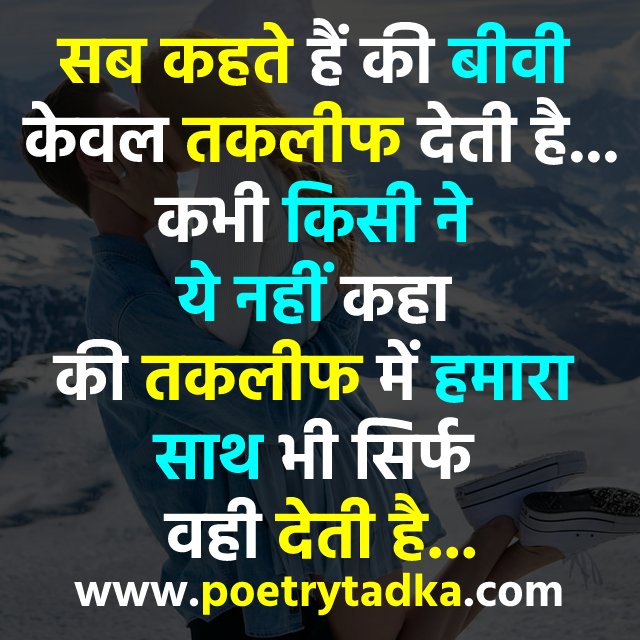 सब कहते हैं की बीवी
केवल तकलीफ देती है...
कभी किसी ने ये नहीं कहा
की तकलीफ में हमारा
साथ भी सिर्फ वही देती है...
Everyone says that wife only hurts.
No one ever said that only
she supports us in trouble.
तुम पूछ लेना सुबह से,
न यकीन हो तो शाम से।
ये दिल धड़कता है
तेरे ही नाम से।
You ask from morning,
If not sure then from evening.
This heart beats only for you.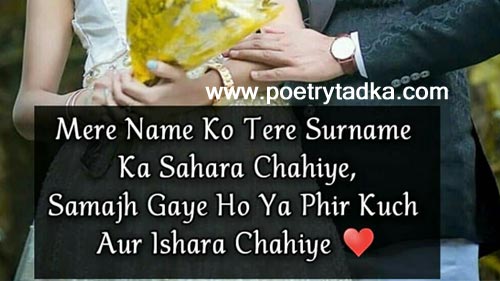 Mere naame ko tere surname ka sahara chahiye
Samajh gaye ho ya fir kuch aur ishara chahiye
Husband surname shayari