Birthday Shayari
See here largest collection birthday shayari in Hindi with image at poetrytadka. Express your feeling with Hindi's largest collections janam din shayari website with poetrytadka. Read, Post and share your favorite shayari on Facebook, Instagram, Google Plus and twitter with friends. Happy birthday Shayari in Hindi Janamdin Ki Hardik Shubhkamnaye in Hindi.

तमाम उम्र मुझे ज़िन्दगी का प्यार मिले,
खुदा करे ये खुसी तुमको बार बार मिले।
जन्मदिन की ढेर सारी शुभकामनाएं।
Many happy birthday wishes. बर्थडे शायरी फॉर लवर इन हिंदी.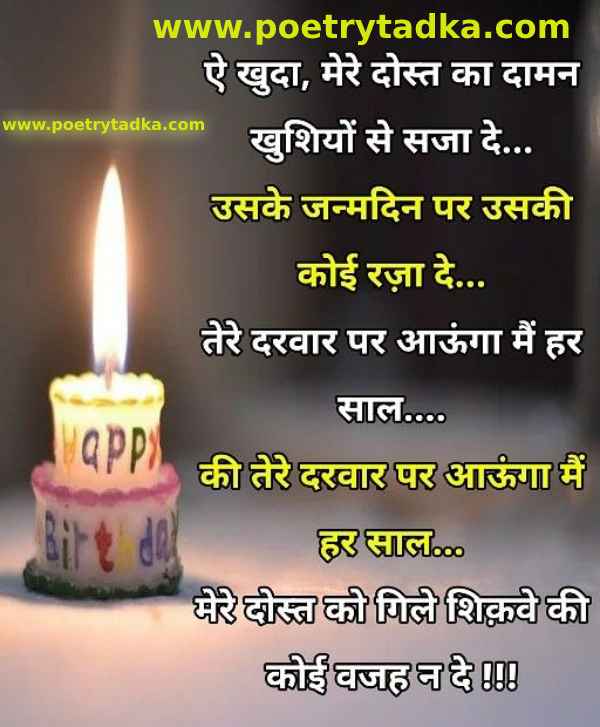 har pal to khusbo main khile,
chamke sada din raat tere.
khud ko kabhi tanha na samjh na,
meri duaa hai saath tere.

हर पल तो खुसबो में खिले,
चमके सदा दिन रात तेरे।
खुद को कभी तनहा न समझ न,
मेरी दुआ है साथ तेरे।

Latest birthday shayari for hindi lovers at Poetry tadka.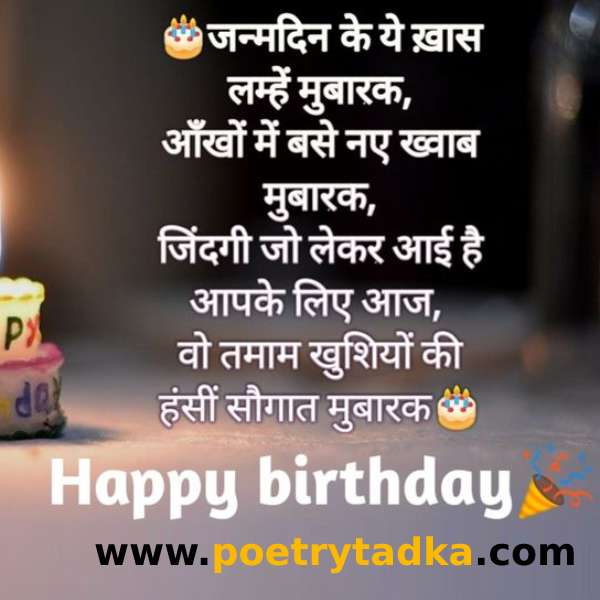 आँखों में तारों सी चमक
होंठों पे मुस्कान रहे
भरा दामन रहे खुशियों से
खिला चाँद सा मुखड़ा रहे

तमाम उम्मीदें हों पूरी आपकी
न कोई दिल में अरमान रहे
बने फूल रहगुजर आपकी,
मंज़िल आपकी शादिर रहे।

तारीफ आपकी इस अंदाज़ से हो बयां,
की तस्बिया न कोई बाकी रहे।
हर्फ़ आखिर ये दुआ है खुदा से,
की उसकी रहमत सदा आपके पास रहे।

Friend birthday shayari in Hindi for Poetry Tadka loving friends.

हैप्पी बर्थडे दोस्त ...
आपको जन्मदिन की बधाई व शुभकामनाएं
आने वाला प्रत्येक नया दिन,
आपके जीवन में अनेक सफलताएँ एवं खुशियाँ लेकर आये।
ईश्वर तुमको ऐश्वर्य, वैभव ,कीर्ति , यश
उन्नति, प्रगति, उत्तम स्वास्थ्य और समृद्धि प्रदान करे।

Happy Birthday friend...
May you bring many successes
and happiness in your life.
May God bless you with opulence,
fame, progress, good health and prosperity.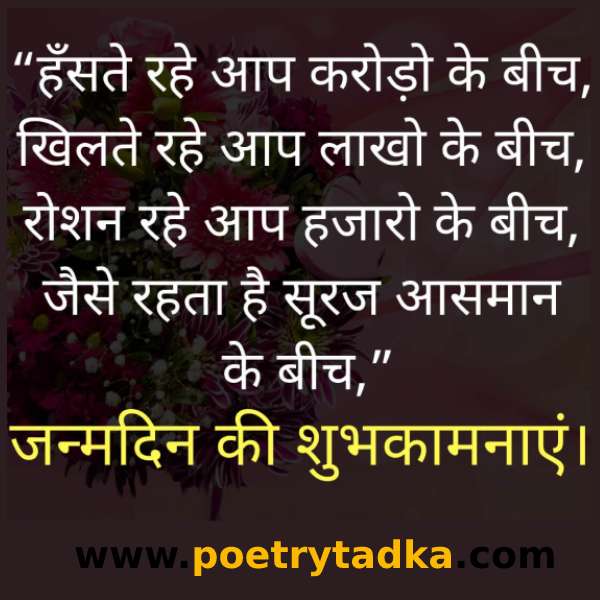 jab talak ye zameenO asmaan rahe,
opar wala teri zindagi salamat rakhe.
जब तलक ये ज़मीं आसमां रहे,
ऊपर वाला तेरी ज़िन्दगी सला मत रखे।

Janamdin ki hardik shubhkamnaye in hindi Poetry Tadka.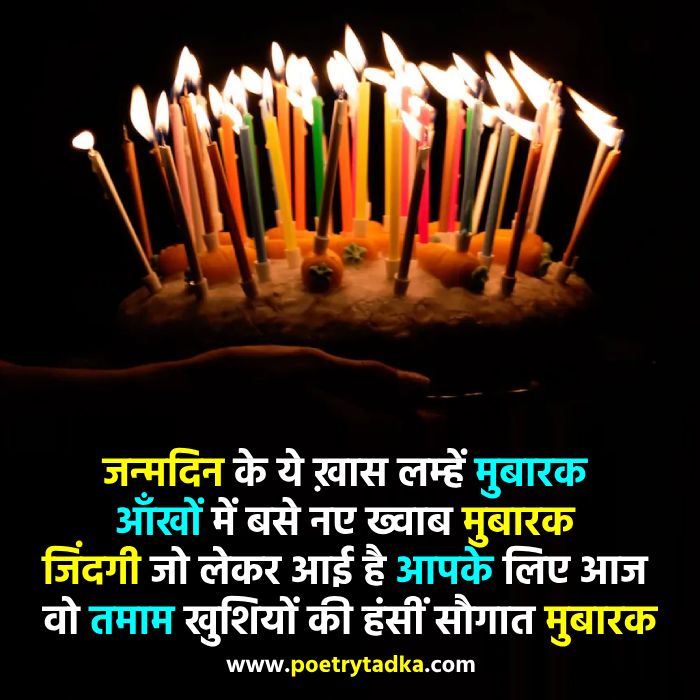 khuda kren ke naya saal tere daman main ho
wo saare phool khila de jo tere agan main ho

तुम्हारे जन्मदिन पर ये दुआ है हमारी
जितने हों चाँद तारे उतनी उम्र तुम्हारी
tumhaare birthday par ye dua hai hamaaree
jitane hon chaand taare utanee umr tumhaaree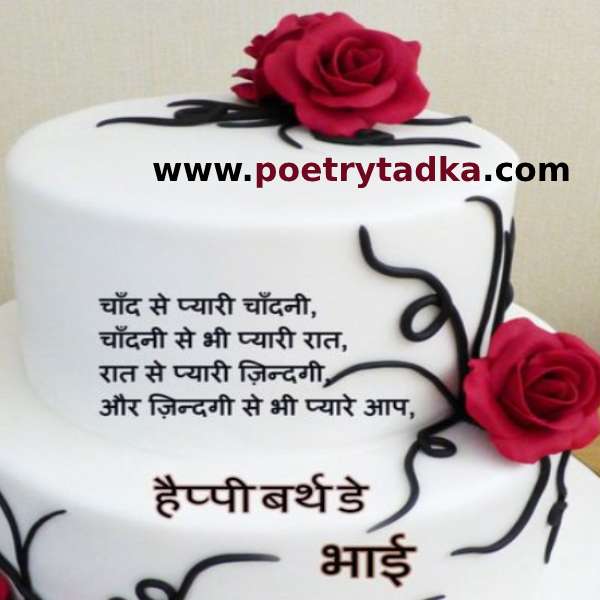 यही दुआ करता हूँ खुद से कि,
आपकी ज़िन्दगी में कोई गम न हो।
जन्मदिन पर मिले हज़ारों खुशिया,
चाहे उनमे शामिल हम न हों।
yahee dua karata hoon khud se ki,
aapakee zindagee mein koee gam na ho.
janmadin par mile hazaaron khushiya,
chaahe uname shaamil ham na hon.

मैं दुनिया के अमीर आदमीं में से एक हूँ,
क्योकि मेरे पास स्वीट पत्नी है।
हैप्पी बर्थडे मेरी जान।
main duniya ke ameer aadameen mein se ek hoon,
kyoki mere paas sveet patnee hai.
Happy birthday meri jaan.

जन्मदिन के लिए शायरी : क्या आप जन्मदिन के लिए शायरी ढूढ़ रहे है. अगर हां तो आप सही साईट पे आये है. यहाँ पे आप को हर तरह के शायरी मिल जायेंगें।
Birthday Shayari : kya aap janmadin ke lie shaayaree dhoodh rahe hai. Agar haan to aap sahee saeet pe aaye hai. Yahaan pe aap ko har tarah ke shaayaree mil jaayengen.