Funny Quotes
If you are looking funny quotes in Hindi then poetry tadka comedy quotes is best for you. Because at this page have unlimited comedy thoughts in English and Hindi fonts.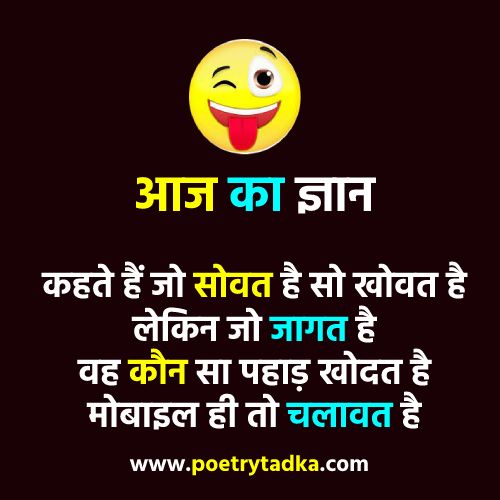 आज का ज्ञान
कहते हैं जो सोवत है सो खोवत है
लेकिन जो जागत है
वह कौन सा पहाड़ खोदत है
मोबाइल ही तो चलावत है
Aaj Ka Gyaan
Kahte hain jo sovat hai so khovat hai.
Lekin jo jaagat hai vah kaun sa
pahaad khodat hai.
Mobile hee to chalaavat hai
पहले दो लोग झगड़ते तो तीसरा छुडवाने जाता था
आजकल तीसरा विडिओं बनाने लगता है
वक़्त के साथ सब बदल जाता है
पुराने जमाने में जिसे ठेंगा कहते थे वो आजकल लाईक कहलाता है

pahale do log jhagadate to teesara chhudavaane jaata tha
aajakal teesara video banaane lagata hai
waqt ke saath sab badal jaata hai
puraane jamaane mein jise thenga kahate the
vo aaja kal Likes: kahalaata hai

सुनो लड़कियों..जो तुम्हे सच में चाहता होगा वो तुम्हे रब से मांगेगा और पा भी लेगा

suno ladakiyon..jo tumhe sach mein chaahata hoga vo tumhe rab se maangega aur pa bhi lega
Listen Girls funny status in Hindi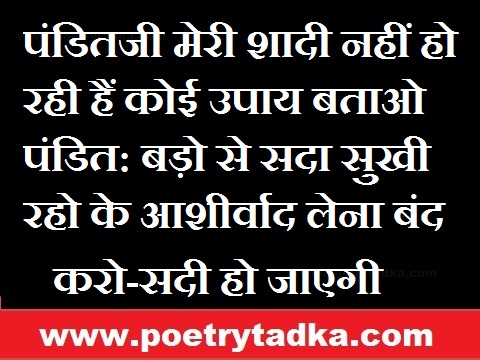 pandit ji meri shadi nahi ho rhi hai
koi upay btaao !
pandit : bado se sda sukhi raho ke
ashirwad lena band karo
shadi ho jaaegi
रास्ते पलट देते हैं हमारे देश के नौजवान
जब कोई आकर यह कह दे कि.
आगे पुलिस वाले चालान काट रहे हैं..

raaste palat dete hain hamaare desh ke naujavaan
jab koy aakar yah kah de ki.
aage pulish vaale chaalaan kaat rahe hain..