कभी हमसे भी पूँछ लो हाल-ए-दिल जनाब !
कभी हम भी कह सकें दुआ है आपकी !!
फकीर मिज़ाज़ हूँ मैं अपना अंदाज औरों से जुदा रखता हूँ !
लोग मंदिर मस्जिदों में जाते है, मैं अपने 'दिल में ख़ुदा रखता हूँ !!
अच्छे लगे जो तुम सो हमने बता दिया !
नुक्सान ये हुआ की तुम मगरूर हो गए !!
Raaj to hamara har jagah pe hai...... Pasan karne walon ke dil men, aur na pasand karne walon ke dimaag me. Online free Attitude status in hindi with pic photo images at poetry tadka.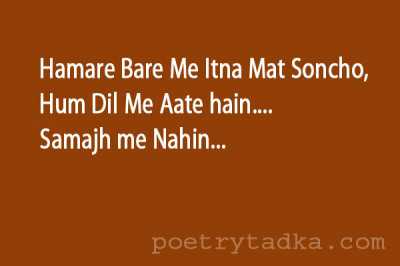 Hamare Bare Me Itna Mat Soncho, Hum Dil Me Aate hain.... Samajh me Nahin...