Sacchi Baten
Mann ko shanti karne ke liye poetry tadka par Sacchi Baten jaroor padhen. Hum ummed karte hain aapko ye जिंदगी की सच्ची बातें शायरी post pasand aayengi.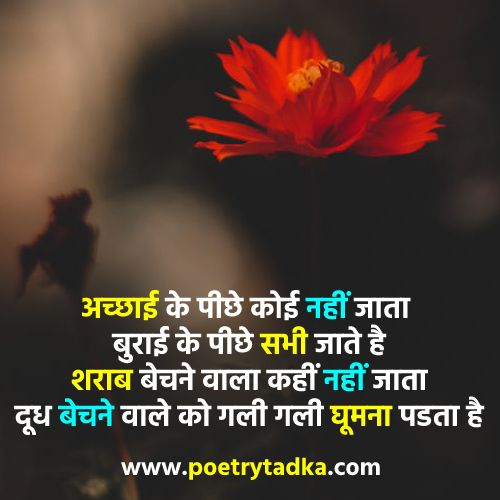 अच्छाई के पीछे कोई नहीं जाता।
बुराई के पीछे सभी जाते है।
शराब बेचने वाला कहीं नहीं जाता।
दूध बेचने वाले को गली गली घूमना पडता है।
Achchai ke peeche koi nahin jata
burai ke peechey sabhi jate hain.
Sharab bechne wala kahin nahin jata
doodh bechne wale ko gali gali ghoomna padta hai.
जब लोग किसी को पसन्द करते हैं तो
उसकी बुराई भूल जाते हैं और जब किसी
से नफरत करते हैं तो उसकी अच्छाई भूल जाते हैं.
Jab log kisi ko pasand karte hain to
uski burai bhool jate hain. Aur jab kisi
se nafrat karte hain to uski achchai bhool jate hain.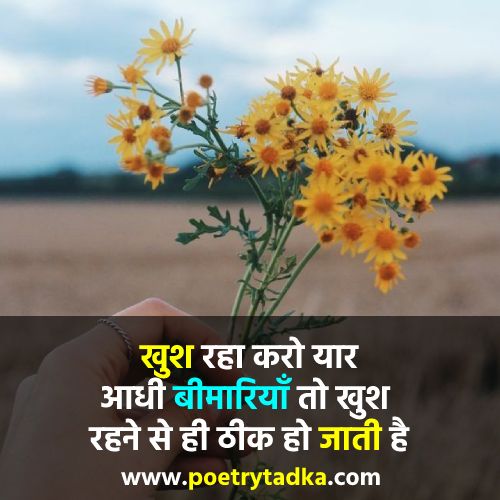 खुश रहा करो यार
आधी बीमारियाँ तो खुश
रहने से ही ठीक हो जाती है.
Khush Raha karo yaar
aadhi beemariyan to khush
rahne se he theek ho jati hai.