Ghamand Shayari
मत कर इतना घमंड इस खूबसूरती पर नहीं तो बहुत शर्मिंदा होना पड़ेगा, अभी वक्त है संभल जाओ नहीं तो रोना भी पड़ेगा !! Now we are going to share some Ghamand Shayari for our poetry tadka users. And we hope you guys like our Ghamand Status collection. घमंड शायरी, अहंकार शायरी, ahankar shayari, गुरूर शायरी, guroor shayari, Ghamand Shayari.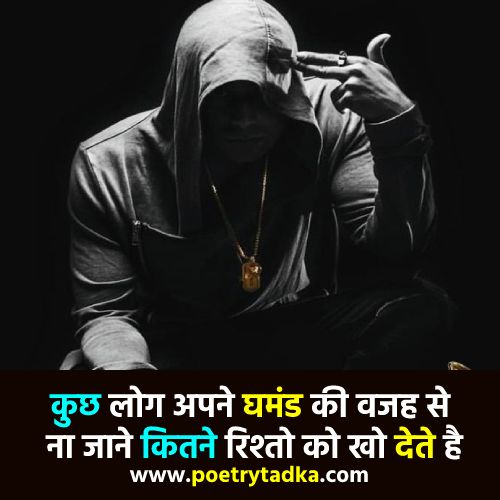 कुछ लोग अपने घमंड की वजह से
ना जाने कितने रिश्तो को खो देते है

जब घमंड इंसान के सिर पे चढ़ जाता है
तब इंसान कुछ देख नहीं पाता है
और जब घमंड चूर-चूर होता है तो
हर रिश्ता उस इंसान से दूर होता है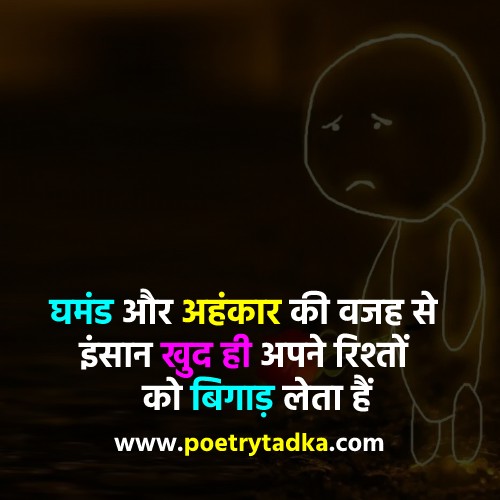 घमंड और अहंकार की वजह से
इंसान खुद ही अपने रिश्तों को
बिगाड़ लेता है

Ghamand aur ahankaar kee vajah se
insaan khud hee apane rishton ko
bigaad leta hai.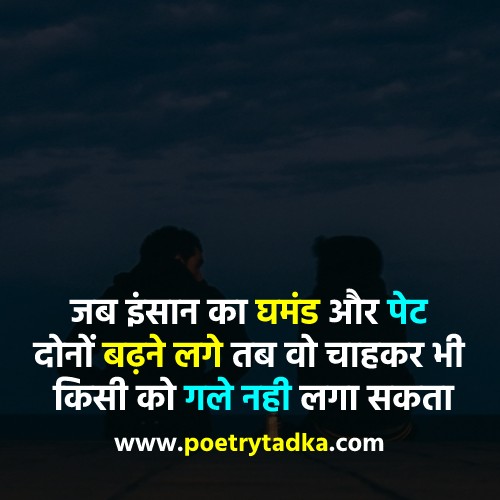 जब इंसान का घमंड और पेट
दोनों बढ़ने लगे तब वो चाहकर भी
किसी को गले नही लगा सकता ।।

Jab insaan ka ghamand aur pet
donon badhane lage tab vo chaahakar bhee
kisee ko gale nahee laga sakata ..

घमंड से भी अक्सर
खत्म हो जाते हैं कुछ रिश्ते
कसूर हर बार गलतियों की नहीं होता

Ghamand se bhi aksar
khatm ho jaate hain kuchh rishte
kasoor har baar galtiyon ki nahin hota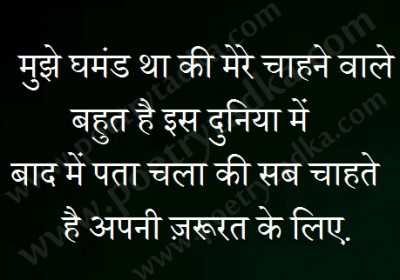 मुझे घमंड था की मेरे चाहने वाले बहुत है इस दुनिया में,
बाद में पता चला की सब चाहते है अपनी ज़रूरत के लिए.

Mujhe Ghamand tha ki mere
chahane vaale bahut hai is duniya mein,
Baad mein pata chala kee
sab chaahate hai apanee zaroorat ke lie.