Birthday Wishes
All in one birthday wishes in Hindi for best friend, brother, sister, son, wife and many more जन्मदिन की हार्दिक शुभकामनाएं at happy birthday wishes in Hindi page by poetry tadka website.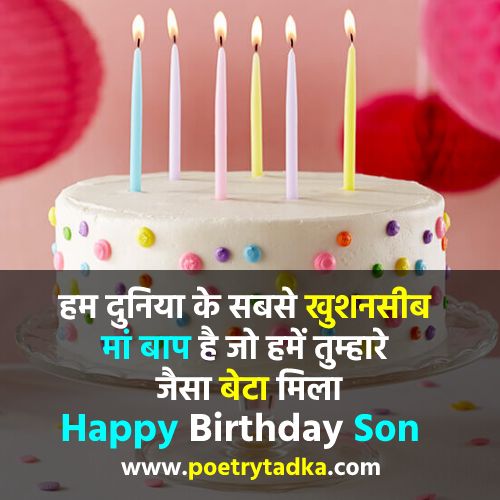 हम दुनिया के सबसे खुशनसीब
मां बाप है जो हमें तुम्हारे
जैसा बेटा मिला!
Hum duniyan ke sabse khushnaseeb
maa baap hain jo hamen tumhare
jaisa beta mila.

मेरा प्यारे बेटे जिस दिन से तुम
मेरे जीवन में आए हो, मैं तुम्हें
एक महान व्यक्ति बनने की इच्छा रखता हूं।
मुझे यकीं है वो एक दिन जरुर पूरी होगी।
Mere pyare bete jis din se tum
mere jeewan me aaye ho main tumhen
aik mahan vyakti banne ki ichcha rakhta hun.
Mujhey yaqeen hai wo aik din jaroor poori hogi.

मेरे बच्चे, तुम अब बड़े हो गए हो
लेकिन मेरे लिए हमेशा ही छोटे बच्चे रहोगे
Mere bachchey tum ab abde ho gaye ho,
lekin mere liye hamesh he chhote bachchey rahoge.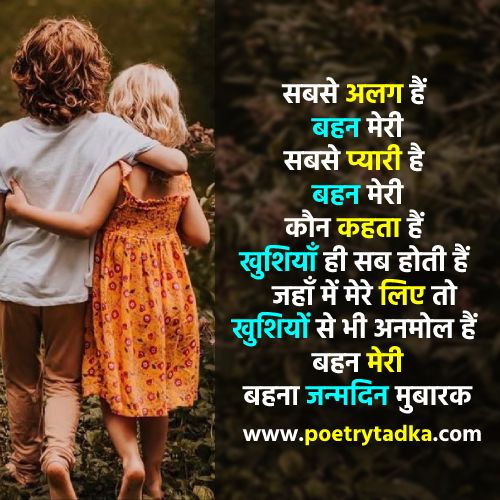 सबसे अलग हैं बहन मेरी,
सबसे प्यारी है बहन मेरी,
कौन कहता हैं खुशियाँ ही सब होती हैं
जहाँ में मेरे लिए तो खुशियों
से भी अनमोल हैं बहन मेरी।
जन्मदिन मुबारक हो प्यारी बहना...
Sab se alag hai bahen meri
sabse pyari hai bahen meri.
Kaun kahta hai khushiyan he sab hoti hai
jahan me mere liye to khushiyon se bhi
anmol hai bahen meri. Happy bday pyari bahena.

वो किस्मत वाले हैं जिनके पास
आप जैसी बहन है बहन टीचर
भी होती है और दोस्त भी !
हैप्पी बर्थडे दीदी...!
WO qismat wale hote hain jinke pas
aap jaisi bahen hai. Bahen teacher
bhi hoti hai aur dost bhi.
Happy Birthday DiDi...!

दीदी, आप मेरी सब कुछ हैं और इससे भी
ज्यादा मुझे लगता है कि मैं निश्चित रूप से
सबसे भाग्यशाली में से एक हूं!
जन्मदिन मुबारक।
Didi aap meri sab kuch hain aur isse bhi
zyadah mujhey lagta hai ki main nishchit roop se
sabse bhagyashali me se aik hun.
Didi Janmdin mubarak.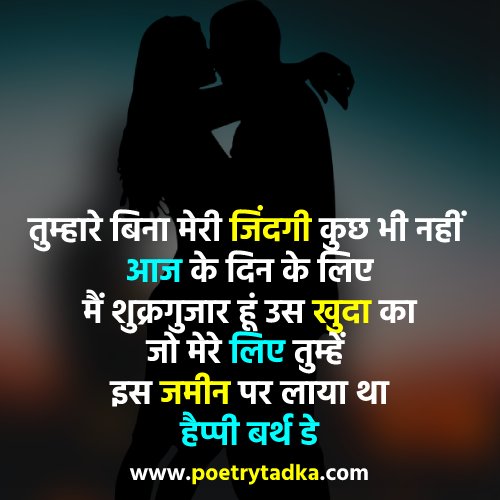 तुम्हारे बिना मेरी जिंदगी कुछ भी नहीं
आज के दिन के लिए मैं शुक्रगुजार हूं
उस खुदा का जो मेरे लिए तुम्हें
इस जमीन पर लाया था
हैप्पी बर्थ डे
Tumhare bina meri zindagi kuchh bhi nahin.
Aj ke din ke lie main shukragujar hun us khuda ka.
Jo mere lie tumhen is jamin par laya tha.
Happy birthday my dear wife.

जिंदगी तभी खूबसूरत होती है जब
जिंदगी को खूबसूरत बनाने वाला साथ हो
इस खूबसूरत लम्हे में साथ होने के लिए
तहे दिल से शुक्रिया, हैप्पी बर्थडे माय स्वीट वाइफ.
Zindagi tabhi khoobsoorat hoti hai jab
zindagi ko khoobsoorat banane wala sath ho.
Is khoobsoorat lamhe me sath hone ke liye
tahe dil se shukriya. Happy birthday pyari wife.

कभी हम झगड़ते तो कभी रूठ जाते,
कभी चाय के कप के साथ हम जज्बात बयां करते,
कभी आप दोस्त तो कभी हमसफ़र नजर आये,
कितने हसी थे वो लम्हें, मुझे गर्व है तुम पर.
Kabhi hum jhagadte to kabhi rooth jate.
Kabhi chai ke cup ke sath hum zazbaat bayan karte.
kabhi aap dost to kabhi hamsafar nazar aaye.
kitne haseen the wo lamhe, mujhey naaz hai tum par.
I Love you Meri Jaan.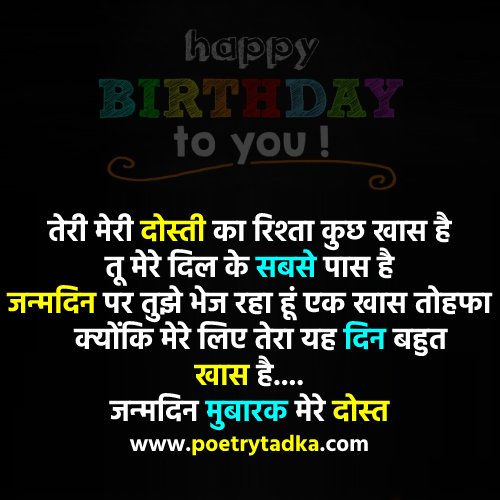 तेरी मेरी दोस्ती का रिश्ता कुछ खास है
तू मेरे दिल के सबसे पास है
जन्मदिन पर तुझे भेज रहा हूं एक खास तोहफा
क्योंकि मेरे लिए तेरा यह दिन बहुत खास है....
जन्मदिन मुबारक मेरे दोस्त
Teri meri dosti ka rishta kuchh khaas hai
Too mere dil ke sabase paas hai
Janmadin par tujhe bhej raha hoon ek khaas tohapha
Kyonki mere lie tera yah din bahut khaas hai....
Happy birthday my friend.

तू दोस्त नहीं, जिंदगी है मेरी,
और लानत है ऐसी जिंदगी पर ।
Too dost nahin zindagi hai meri,
Aur lanat hai aisi zindagi par.

जन्मदिन की बहुत बहुत बधाई
आने वाला हर साल खुशियों से भरपूर हो.
Janmdin ki bahot bahot badhai
aane wala har sal khushiyon se bharpoor ho.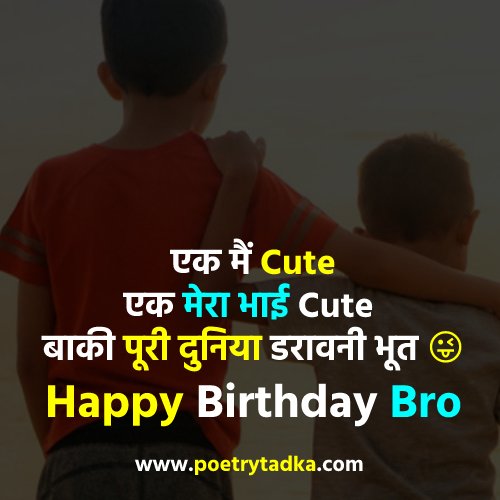 एक मैं Cute
एक मेरा भाई Cute
बाकी पूरी दुनिया डरावनी भूत 😜
Ek main cute.
Ek mera bhai cute.
Baki poori duniya daravani bhoot 😜

भाई है तू मेरा सबसे न्यारा,
मुबारक हो तुझे जन्मदिन यह प्यारा,
नज़र न लगे खुशियों को कभी तेरी,
ना गम की कोई शिकन आये उस चेहरे पे,
जो है इस दनिया में सबसे प्यारा ।
Bhai mera too sabse nyara
mubarak ho tujhey yah janmdin pyar
nazar na lage khushiyon ko kabhi teri
na kabhi gam ki sikan aaye us chehre pe
jo hai is duniyan me sabse pyara.

मेरे भाई को जन्मदिन मुबारक
आज के स्पेशल दिन का खूब आनंद लो!
तुम्हारे लिए ढ़ेर सारा प्यार।
Mere bhai ko janmdin mubarak
aajke special din ka khoob aanand lo.
Tumhare liye dher sara pyar.