Baat Nahi karne ki Shayari
Hey friends if you are looking baat nahi karne ki shayari or aap baat kyu nahi karte shayari in Hindi then your are right palce. Be with us and go to this page and बात नहीं करने की शायरी at Poetry Tadka. कभी किसीसे बात करने की आदत मत डालना क्यों की अगर वो बात करना बंद कर दे तो दुबारा जीना मुश्किल हो जाता है?
छोड़ दिया मैंने भी किसी को परेशान करना
जिसकी खुद मर्जी ना हो बात करने की
उससे जबरदस्ती क्या करना
I also stopped bothering anyone.
Those who do not want to talk themselves,
why force them.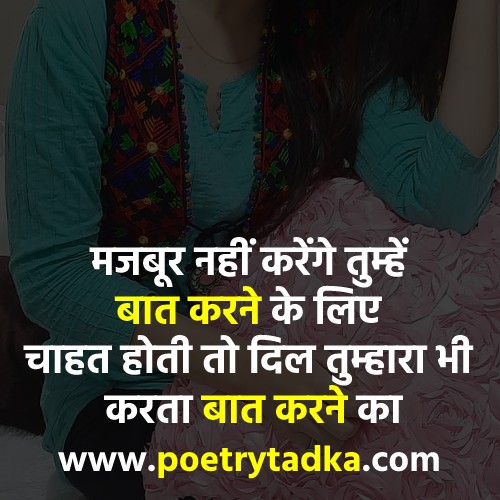 कभी वक्त मिले तो सोचना जरूर
वक्त और प्यार के अलावा
तुमसे मांगा ही क्या था

मजबूर नहीं करेंगे तुम्हें
बात करने के लिए
चाहत होती तो दिल तुम्हारा भी
करता बात करने का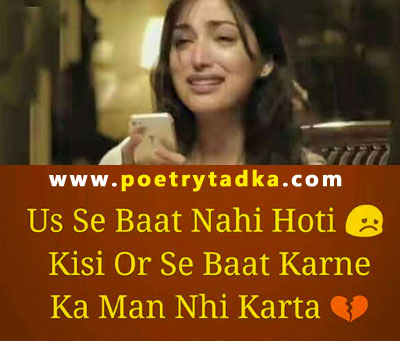 उनसे बात नहीं होती
किसी और से बात
करने का मन नहीं करता
unase baat nahin hotee
kisee aur se baat
karane ka man nahin karata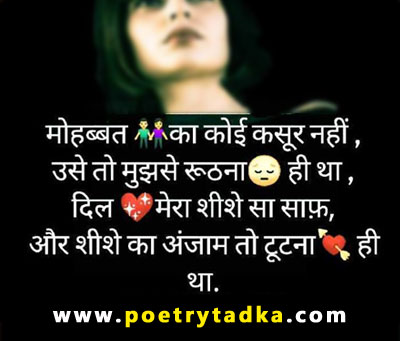 कभी किसीसे बात करने की आदत मत डालना
क्यों की अगर वो बात करना बंद कर दे
तो दुबारा जीना मुश्किल हो जाता है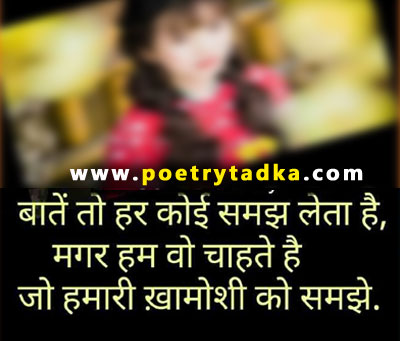 बातें तो हर कोई समझ लेता है
मगर हम वो चाहते हैं
जो हमारी खामोशी को समझे
baaten to har koee samajh leta hai
magar ham vo chaahate hain
jo hamaaree khaamoshee ko samajhe