Ziddi Shayari
This is poetry tadka ziddi shayari page and also read here Ziddi status, Ziddi quotes, ziddi sms along with zid shayari in Hindi at जिद्दी शायरी page.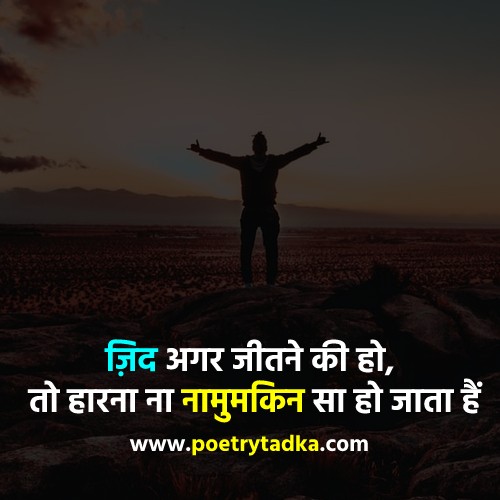 ज़िद अगर जीतने की हो,
तो हारना ना नामुमकिन सा हो जाता हैं।

Zid agar jeetane kee ho to harna
na naamumakin sa ho jaata hain.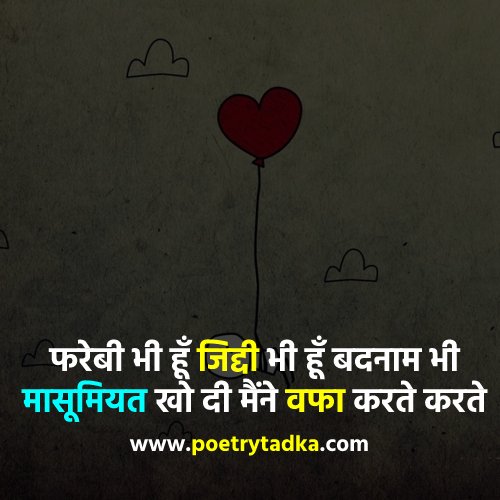 फरेबी भी हूँ जिद्दी भी हूँ बदनाम भी
मासूमियत खो दी मैंने वफा करते करते
Farebi bhi hoon Ziddi bhi hoon badnaam bhi
masoomiyat kho dee mainne wafa karate karate

सुनो तुम जिद्दी हो ना तो
फिर मुझे अपनी जिद बना लो
Suno tum Ziddi ho na to
phir mujhe apanee Zid bana lo.
दिल करता है की लिपट जाऊँ रूह बन कर तेरे जिस्म से
कि जब तू मुझ से जुदा हो तो मेरी जान निकल जाये
Ziddi Status In Hindi, ziddi shayari
तेरा हुस्न बयां करना मकसद नहीँ था मेरा
ज़िद कागजों ने की थी और कलम चल पड़ी
Ziddi Status In Hindi, Ziddi Shayari Hindi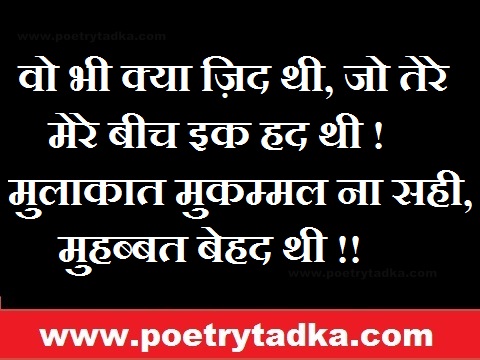 वो भी क्या ज़िद थी, जो तेरे मेरे बीच इक हद थी
मुलाकात मुकम्मल ना सही, मुहब्बत बेहद थी
Ziddi Status In Hindi, Shayari On Ziddi