Teachers Shayari Guru Shayari
A teacher (also known as a faculty teacher or, in some contexts, Associate in Nursing educator) may be a one who helps students to accumulate data, ability or virtue. And here we have put some teacher shayari for their respect on teacher student shayari in hindi, hindi shayari for teachers on farewell, teacher vidai shayari in hindi, teachers day shayari in hindi, shayari on teacher student relationship in hindi and many more teachers shayari, Guru Shayari and teachers day shayari in hindi.
Jeewan me jo rrah dikhaye
Sahi tarah chala sikhaye
Mata pita se pahle aata
Jeewan me sada aadar pata
Sabko maan partistha jisme
Seekhi kartavyanistha jisme
Wah mera path darsak hai jo
Mere man ko bhata
Wah mera teacher kahlata
Kabhi hai shant kabhi hai dheer
Swabhav me sad gambheer
Mann me dabi rahe ye ichcha
kash mai us jaisa ban pata
jo mera teacher kahlata
Teachers shayari
in hindi on teacher day.
Jeewan ke har andhere me roshni dikhate hain aap
Band ho jaye har darwaje naya rasta dikhate hain aap
Sir kitabi gyan nahin Jeewan jeena sikhate hain aaap
Teacher student shayari
Aggyanto ko door kar gyan ki jyoti jalayi hai
Guru ke charanon me rahkar hame viddya pai hai
Galat rah me bhatke jab ham
Tab guru ne raah dikhai hai
Teachers day shayari in hindi
गलती उसी से होती है जो मेहनत से काम करता है - निकम्मों की ज़िन्दगी तो दुसरो की बुराई खोजने में ख़त्म हो जाती है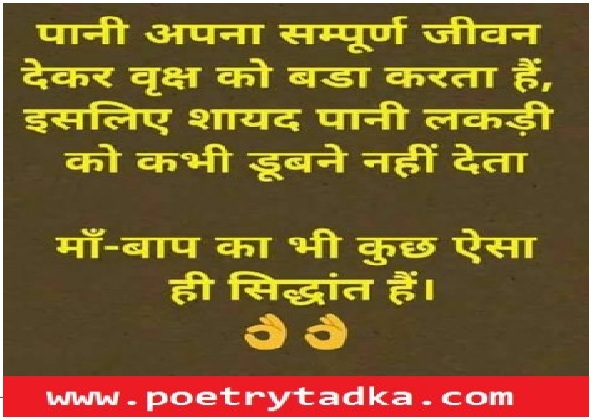 पानी अपना सम्पूर्ण जीवन देकर वृक्ष को बड़ा करता है - इसलिए शायद पानी लकड़ी को कभी नही डूबने देता - माँ बाप भी कुछ ऐसा ही सिद्धांत है