Shayari on Eyes
Now we are going to share Shayari on eyes like 2 line shayari on beautiful eyes in hindi, tareef shayari on eyes and many more Aankhen Shayari at poetry tadka website.
कुछ तो है तेरी आंखों में,
वरना यू ही देखने वाले नहीं मरते
There Is Something In Your Eyes,
Otherwise Those Who See Do Not Die.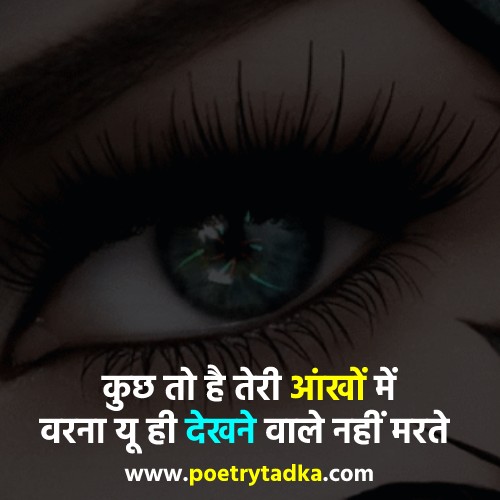 हमने देखा है बहुत गौर से,
तेरे चेहरे पे तेरी आँखें कमाल करती हैं
Ie Have Seen Very Carefully,
Your Eyes Shine On Your Face.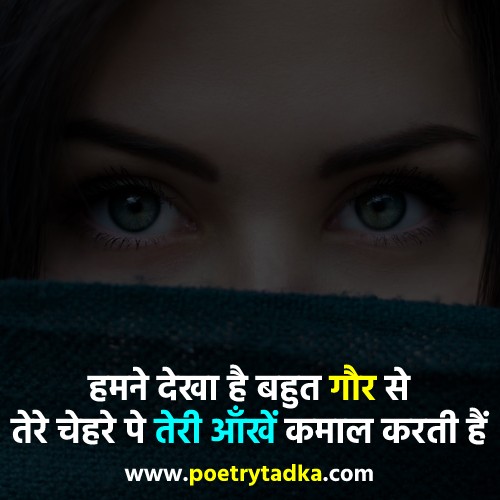 Wo Bolte Rahe Hum Sunte Rahe
Jawab Annkhon Me Tha Hum Sunte Rahe
वो बोलते रहे हम सुनते रहे
जवाब आँखों में था हम सुनते रहे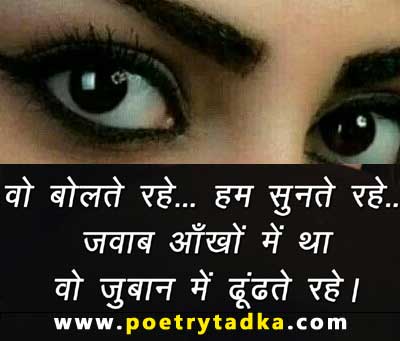 क़ैद खाने हैं बिना सलखो के
कुछ यूँ चर्चे हैं तुम्हारी आँखों के
Qaid Khane Hain Bina Salkhon Ke,
Kuch Youn Charche Hain Tumhari Ankhon Ke.

जो उनकी आँखों से बयां होते हैं,
वो लफा शायरी में कहाँ होते हैं
Jo Unkii Aankhon Se Bayan Hote Hain,
Wo Lafa Shayari Me Kahan Hote Hain.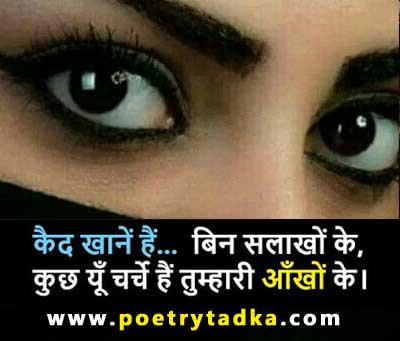 जाने क्यों डूब जाता हूँ हर बार इन्हें देख कर,
इक दरिया हैं या पूरा समंदर हैं तेरी आँखें ।
Jaane Kyon Doob Jaata Hoon
Har Baar Inhen Dekh Kar.
Ik Dariya Hain Ya Poora
Samandar Hain Teree Aankhen.