Republic Day Shayari
जैसे कि हम जानते हैं 26 जनवरी 1950 को 26 जनवरी 1950 को अपने देश में भारतीय साशन और कानून व्यवस्था लागू हुई। इसलिए लिए हर साल 26 जनवरी को गणतंत्र दिवस के रूप में मनाया जाता है। 26 जनवरी के अवसर पर हमने कुछ शायरी पोस्ट किआ हैं। उम्मीद करता हूँ आप लाईक करेंगे । As we know, on 26 January 1950, Indian rule, law and order came into force in our country. That is why every year 26 January is celebrated as Republic Day. We have posted some Republic Day Shayari on the occasion of 26 January. I hope you will like. So go below and read 26 January Shayari in Hindi by poetry tadka.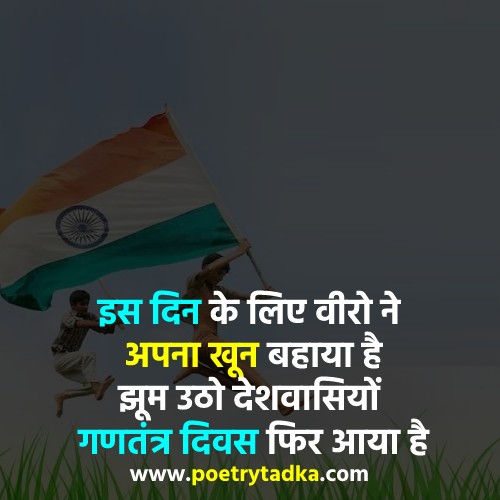 इस दिन के लिए वीरो ने अपना खून बहाया है,
झूम उठो देशवासियों गणतंत्र दिवस फिर आया है

Heroes have shed their blood for this day,
Wake up countrymen, Republic Day has come again.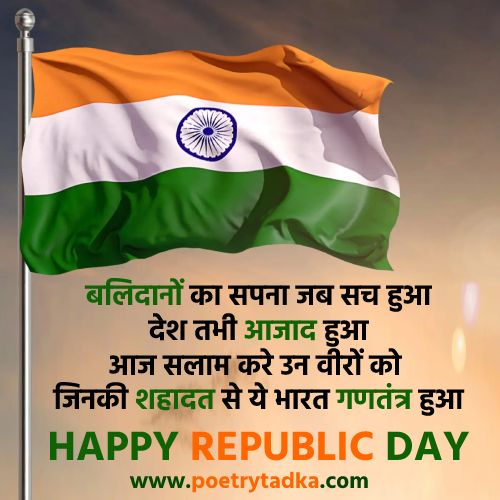 बलिदानों का सपना जब सच हुआ,
देश तभी आजाद हुआ,
आज सलाम करे उन वीरों को,
जिनकी शहादत से ये भारत गणतंत्र हुआ।

When the dream of sacrifices came true,
then the country became independent.
Salute those heroes today, due to whose
martyrdom this India became a republic.
HAPPY REPUBLIC DAY.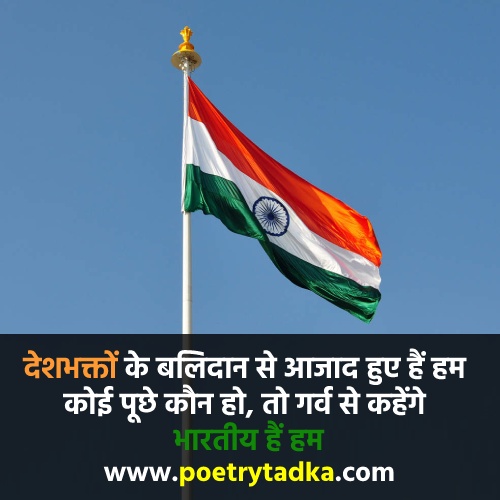 देशभक्तों के बलिदान से आजाद हुए हैं हम
कोई पूछे कौन हो, तो गर्व से कहेंगे
भारतीय हैं हम।
Deshabhakton ke balidaan se
aajaad hue hain ham.
Koee poochhe kaun ho,
to garv se kahenge Bharatiya hain ham.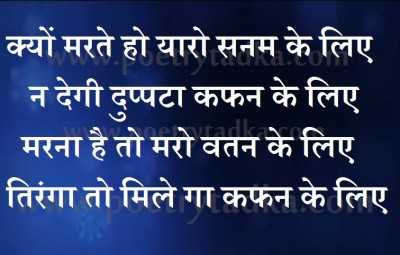 क्यों मरते हो यारो सनम के लिए

न देगी दुप्पटा कफन के लिए

मरना है तो मरो वतन के लिए

तिरंगा तो मिले गा कफन के लिए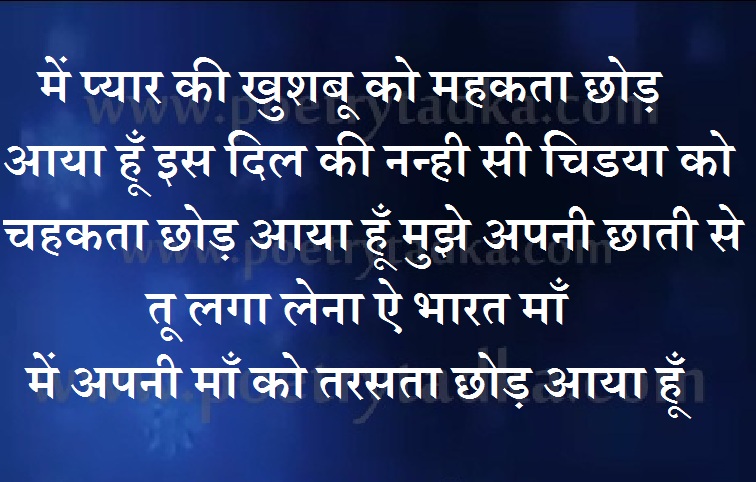 में प्यार की खुशबू को महकता छोड़ आया हूँ

इस दिल की नन्ही सी चिडया को चहकता छोड़ आया हूँ

मुझे अपनी छाती से तू लगा लेना ऐ भारत माँ

में अपनी माँ को तरसता छोड़ आया हूँ