Raksha Bandhan Shayari
राखी प्यार और स्नेह का त्यौहार है। जो भाई बहन के प्यार को दर्शाता है। पवित्र रिश्ते का त्यौहार होने कारण इस त्यौहार की हमारे देश भारत में बहुत मान्यता है। और पोएट्री तड़का भी आपको ढेर सारी सुभकामनाओं के साथ कुछ रक्षा बंधन शायरी आपके लिए लाया है। उम्मीद करते हूँ की ये राखी शायरी आपको पसनद आएँगी। Raksha Bandhan (Rakhi) is a festival of love and affection. Which shows the love of brother and sister. Being a festival of sacred relationships, this festival has a lot of recognition in our country India. And Poetry Tadka has also brought you some Raksha Bandhan Shayari for you with lots of good wishes. Hope you will like this Rakhi Shayari colection as given below.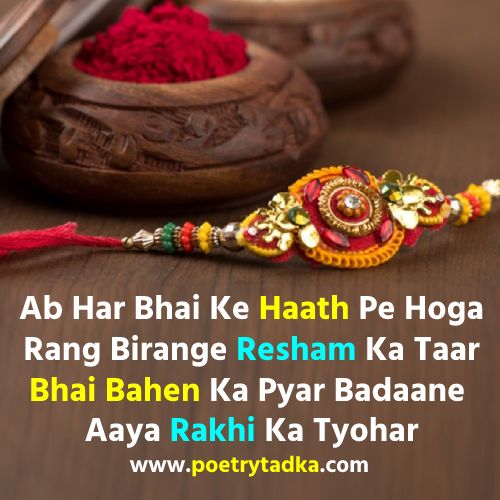 Ab Har Bhai Ke Haath Pe Hoga
Rang Birange Resham Ka Taar.
Bhai Bahen Ka Pyar Badaane
Aaya Raksha Bandhan Ka Tyohar.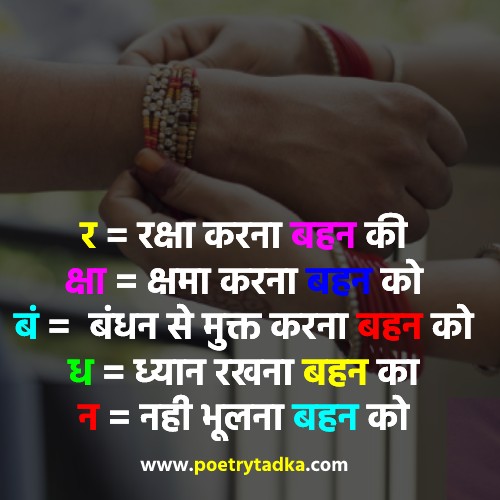 र = रक्षा करना बहन की
क्षा = क्षमा करना बहन को
बं = बंधन से मुक्त करना बहन को
ध = ध्यान रखना बहन का
न = नही भूलना बहन को
Ra = raksha karana bahan kee
Chha= Chhamama karana bahan ko
Ban = Bandhan se mukt karana bahan ko
Dh = Dhyaan rakhana bahan ka
N = Nahee bhoolana bahan ko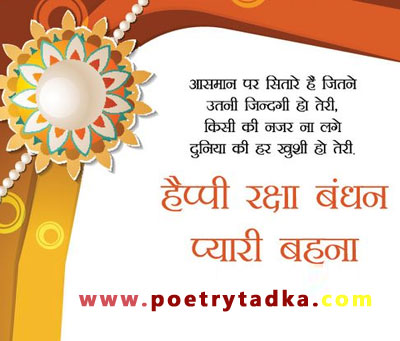 आसमान पर हैं सितारे हैं जितने
उतनी जिन्दगी हो तेरी
किसी की नजर न लगे
दुनिया की हर खुसी हो तेरी।
हैप्पी रक्षा बंधन प्यारी बहना।
Aasamaan par jitne sitaare hain
Utni zindagi ho teri.
Kisi ki najar na lage
duniya ki har khusi ho teri.
Happy Raksha Bandhan Bahna.
आपके लिए मेरा यह दिल
यही दुआ करता है की
कामयाबी आपके कदम चूमे
और आप हमेश जिंदगी में
सफल रहें। शुभ राखी
Aapake lie mera yah dil
yahi dua karata hai ki
kaamayaabi aapake kadam choome
aur aap hamesha Zindagi mein
safal rahen.

याद है हमारा वो बचपन वो
लड़ना झगड़ना और मना लेना
यही होता है भाई बहन का प्यार
और इसी को बढ़ाने के लिए
आ रहा है राखी का त्यौहार
Yaad hai Hamara Wo bachapan
Wo ladana Jhagadna aur mana lena.
Yahi hota hai bhai bahan ka pyaar.
Aur isi ko badhaane ke liye
aa raha hai Rakhi ka tyohar.