One Sided Love Shayari
Now at this page find one sided love Shayari in Hindi for show some one. Also read one side love quotes in Hindi at this page. So go below and we hope you guys like our one sided love Shayari & quotes collections.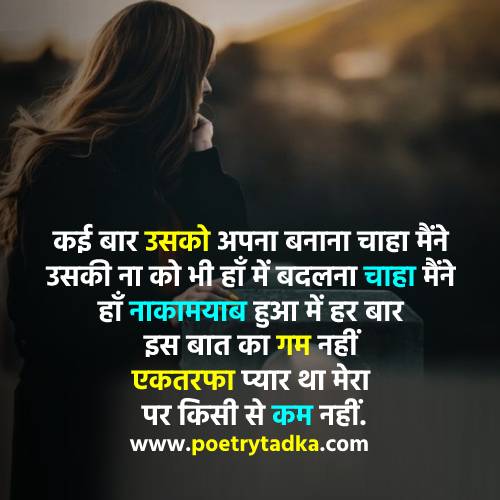 कई बार उसको अपना बनाना चाहा मैंने
उसकी ना को भी हाँ में बदलना चाहा मैंने
हाँ नाकामयाब हुआ में हर बार
इस बात का गम नहीं
एकतरफा प्यार था मेरा
पर किसी से कम नहीं.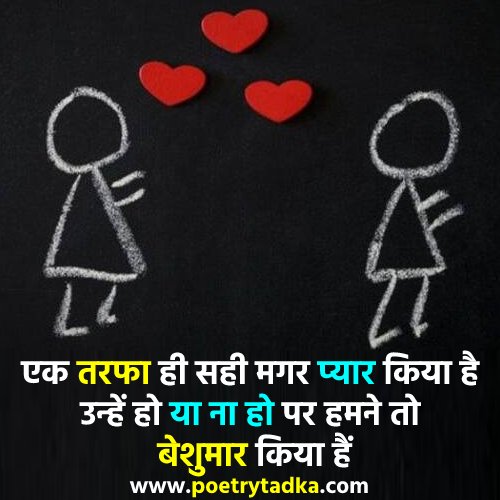 एक तरफा ही सही मगर प्यार किया है
उन्हें हो या ना हो पर हमने तो बेशुमार किया हैं
Ek tarfa pyar he sahi magar pyar kiya hai
unhen ho ya na ho par hamane to beshumaar kiya hain.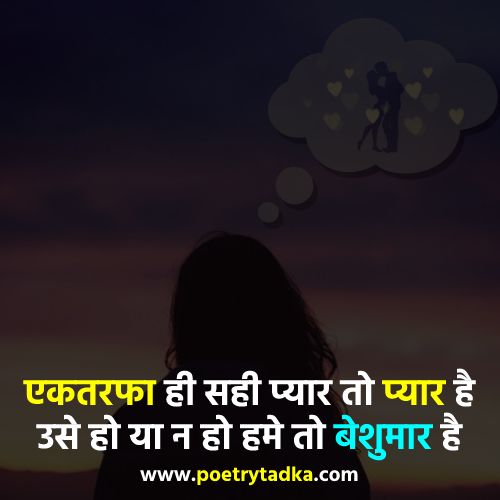 एकतरफा ही सही प्यार तो प्यार है
उसे हो या न हो हमे तो बेशुमार है
One sided hee sahee
pyaar to pyaar hai.
Use ho ya na ho
hame to beshumaar hai.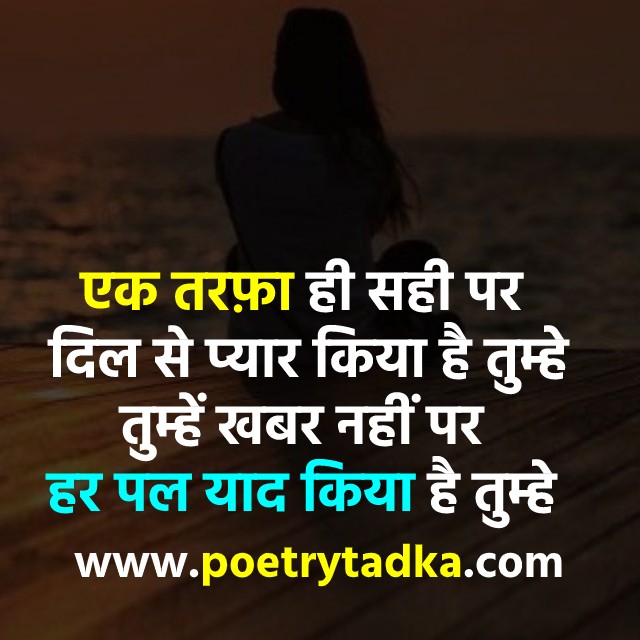 एक तरफ़ा ही सही पर दिल से प्यार किया है तुम्हे।
तुम्हें खबर नहीं पर हर पल याद किया है तुम्हे।
I have loved you from my heart only on one side.
You are not aware but have missed you every moment
एक तरफा उस कब्र की मानिंद होती है,
जिसका कोई वारिस नहीं होता।
मैं तुम्हें चाँद कहूँ ये मुमकिन तो है मगर,
लोग तुम्हें रात भर देखें ये मुझे गवारा नहीं।
Shayari on one sided love in Hindi.