New year wishes in hindi
Last Updated
We have assembled some best post of new year wishes for you in Hindi. Obviously, Hindi is our public language. Thus, here we are to introduce you the New Year Wishes in Hindi for 2022. With these current post, you can wish anybody that too in various ways. The days are gone when you used to send similar message to various individuals. Presently, you can send distinctive directive for various individuals. You should simply pick one new year hindi wish for an individual and send it.
छु न सकूँ मैं आसमां को तो कोई गम नहीं,
बस छु जाऊँ दोस्तों के दिल को ये भी तो ये
भी आसमां से काम नहीं।
Chhu na sakoon main aasamaan ko to koee gam nahin,
bas chhu jaoon doston ke dil ko ye bhee to ye
bhee aasamaan se kaam nahin.
साथ इसके सुबह साथ इसके शाम होती है,
दोस्त के लिए दोस्ती सारा जहाँ होती है।
Saath isake subah saath isake shaam hotee hai,
dost ke lie dostee saara jahaan hotee hai.
हर दम हो खुशियां साथ, कभी न हो दामन खाली।
मेरी तरफ से पूरे परिवार को,
नववर्ष की बधाई और खुशहाली।
Har dam ho khushiyaan saath, kabhee na ho daaman khaalee.
meree taraph se poore parivaar ko,
navavarsh kee badhaee aur khushahaalee.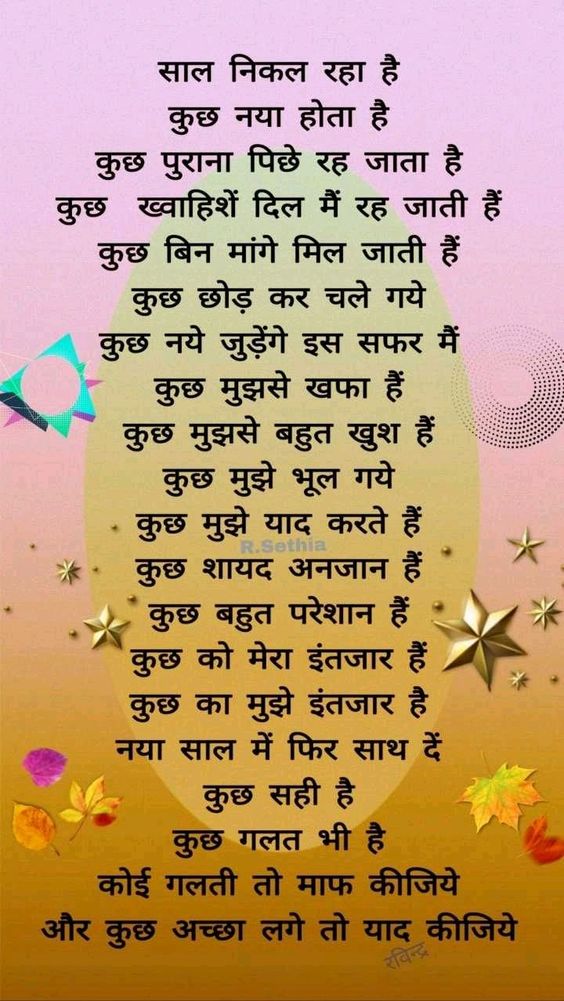 Happy New year 2022 wishes in hindi